Dribbles Animation & 155 Slides Huge Style Jquery slideshow
Deze demo gebruikt en Balance thema. De pijlknop is gemaakt van een groen rondje met een groene pijl erin; de pijl wordt transparant wanneer de muis eroverheen gaat, wat een leuk effect geeft. Thumbnails zijn simpel: kleine witte stippen die groen zijn wanneer ze worden geselecteerd. De beschrijving staat in Source Sans Pro. Dit ziet er modern uit op een witte, transparante achtergrond.

AANPASSINGEN
De tekstelementen van de presentatie kunnen tijdens het ontwikkelen worden aangepast. De kleur kan bijvoorbeeld worden aangepast om bij de achtergrond te passen. In dit voorbeeld verschijnt de tekst grijs in een wit vak. Hoewel er geen links aan de tekst gekoppeld zijn in deze demo, is het in je eigen presentaties eenvoudig om lezers direct naar verschillende delen van je online winkel of site door te leiden. Dit demo is een voorbeeld van de 'On-demand image loading'-optie.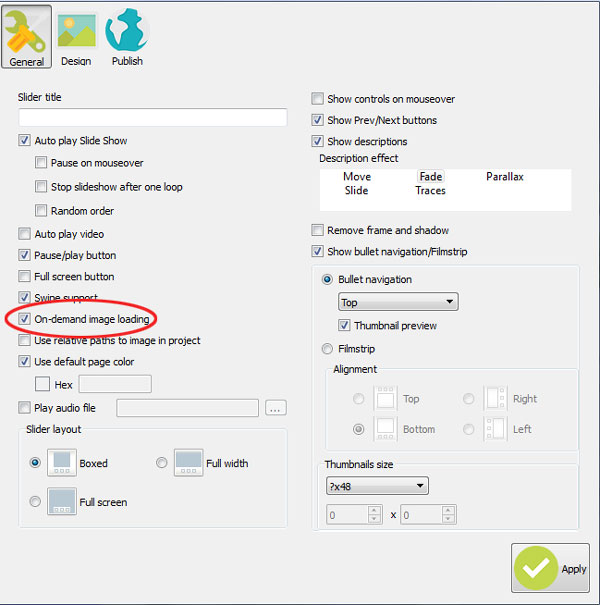 Wanneer je deze optie inschakelt, zullen alle afbeeldingen ter plekke worden geladen; je hoeft geen tijd te verspillen tot al je afbeeldingen op de pagina geladen zijn. Iedere afbeelding laadt alleen wanneer je op de navigatiestip klikt of wanneer je op de vorige/volgende-pijl klikt. Deze functie zorgt dat de slider sneller werkt. Wanneer je hem in wilt schakelen, klik je op 'Slider' – 'Eigenschappen'. Hier kun je de 'On-demand image loading'-checkbox vinden. Selecteer die; je kunt nu je slideshow vullen met enorme hoeveelheden afbeeldingen.
TOEGANKELIJKE SLIDESHOW
Omdat hij gebouwd is met gebruik van de laatste webtechnologie, is deze presentatie gevuld met erg toegankelijke elementen die naar de achtergrond verdwijnen wanneer de muis niet wordt bewogen. De pijlen die verder- en terugspoelen (getoond als groene cirkels) verschijnen bijvoorbeeld alleen wanneer ze nodig zijn. Dit zorgt dat mensenm in staat zijn om te zien wat jij hen kunt bieden, en snel meer kunnen ontdekken zonder door de tekst overvallen te worden. De overgangen verlopen soepel, een nieuwe afbeelding komt snel uit de achtergrond naar voren zoals in een oude projector. Dit geeft de kijker de kans om snel te zien wat eraan komt, en intussen toch op dezelfde slide te blijven wanneer dat gewenst is.
Het communiceren van de kenmerken van je product naar klanten is een uitdaging in deze snelle, mobiele wereld. Mensen hebben eenvoudigweg de tijd niet om tijd te verspillen aan het lezen van pagina's vol tekst. Interactieve media zijn effectiever gebleken wanneer het gaat om het bereiken van potentiële klanten. Deze media, zoals WOWSlider Presentaties, kunnen worden gebruikt in traditionele én mobiele omstandigheden, en kunnen van nut zijn voor het tonen materiaal van alles tussen productiesites tot ecommercegelegenheden.