Overview Of Mobirise Free Website Maker
The year of 2019 has certainly seen a number of different web design trends which are being followed by all of the professionals in order to rank their designed websites higher in search engines. If you are looking for information regarding such trends of 2019, then you have landed on the right page. We have taken the liberty of mentioning a few of the prominent trends of web development so far. Without further ado, let's take a closer look at these trends.
* Ensuring the web design is absolutely responsive and mobile-friendly
* The utilization of the UI patterns
* The utilization of rich animations
* Excessive use of micro interactions
* Utilization of material design as against the flat design
A few of the prominent tools and free website builders already available in the market which are frequently used by the newbies to create own website are as follows:
1&1
Adobe Muse
bOnline
Bootstrap Studio
BuildYourSite
DoodleKit
Drupal
Duda
GoDaddy
Homestead
Imcreator
iPage
Jigsy
Jimdo
Macaw
Moonfruit
Mozello
Network Solutions
One.com
OnePager
Pinegrow
Puzl
SimpleSite
Simvoly
SITE123
Sitebuilder.com
Sitey
SnapPages
Squarespace
StartLogic
Strikingly
uCoz
Ucraft
uKit
Virb
volusion
Voog
WebEden
Webnode
Webs
Websitebuilder.com
Webstarts
Webydo
Weebly
Wix
Yola
Zoho Sites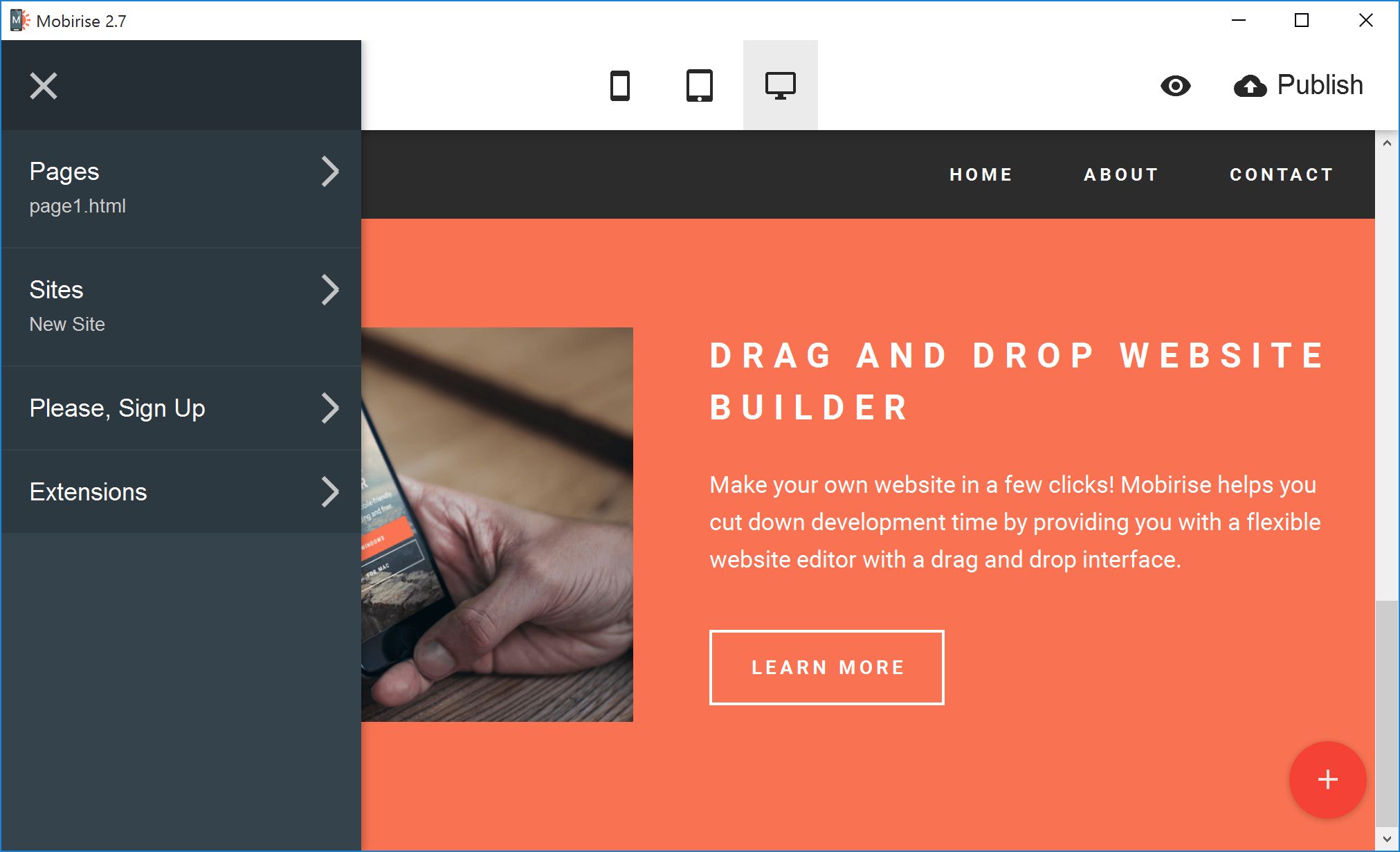 What Is Mobirise Website Maker?
Mobirise is a user friendly application that works offline and is compatible with Windows as well as Mac operating system. It is capable of serving the following purposes:
* Creating a website that is not too complicated
* Creating landing pages
* Creating portfolios
* Creating resumes to be used online
* Creating services, events, or products
* Creating promo sites for applications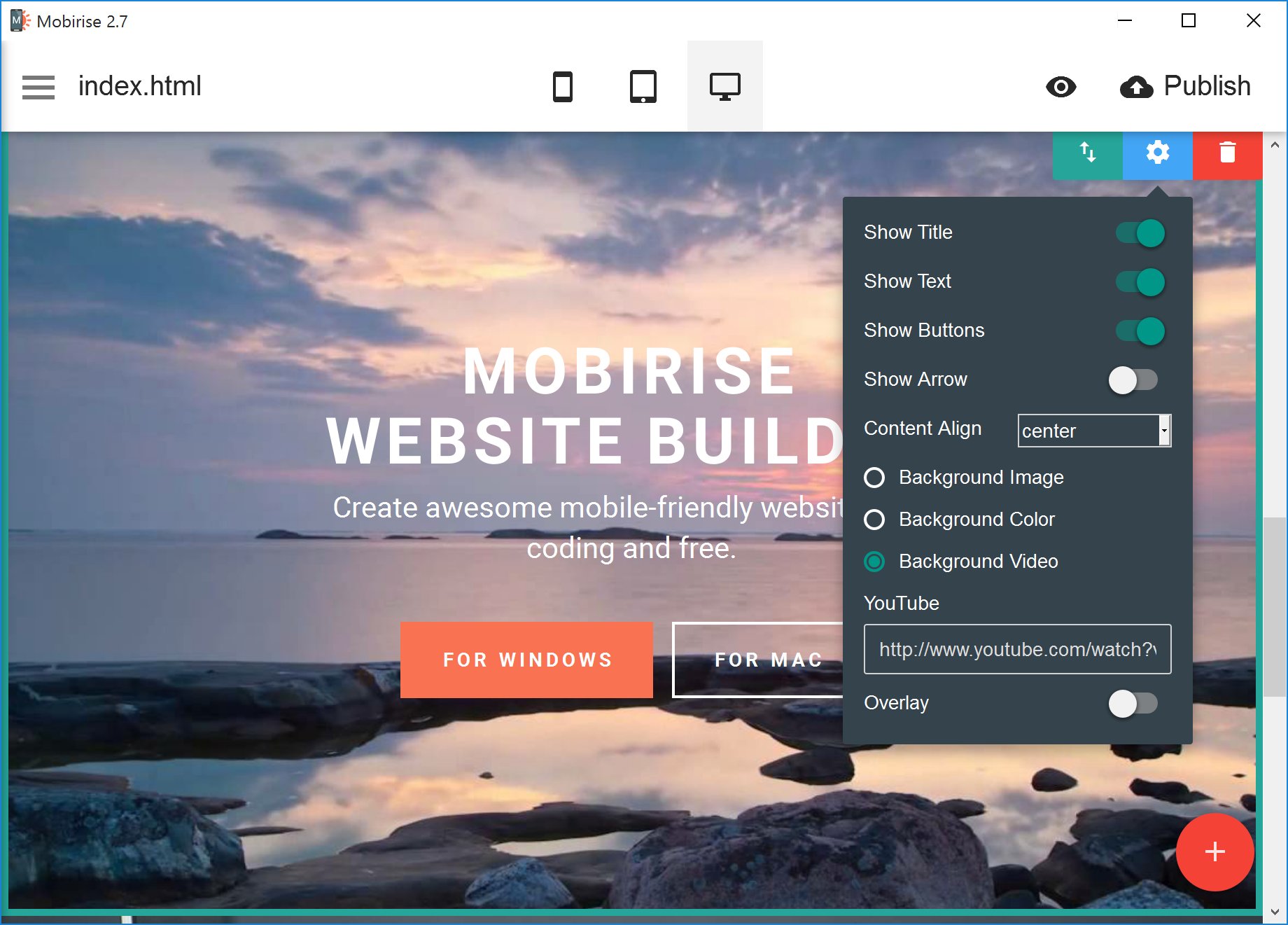 Who Is It For?
If you happen to be someone who aren't familiar with the complications which may be involved in web development, then Mobirise is a perfect solution for you. It enables the designers to avoid excessive and frustrating coding and visualize most of their work simultaneously. It may as well help a great deal for the pro-coders in dealing with the small customers' projects or to come up with a prototype in an efficient fashion.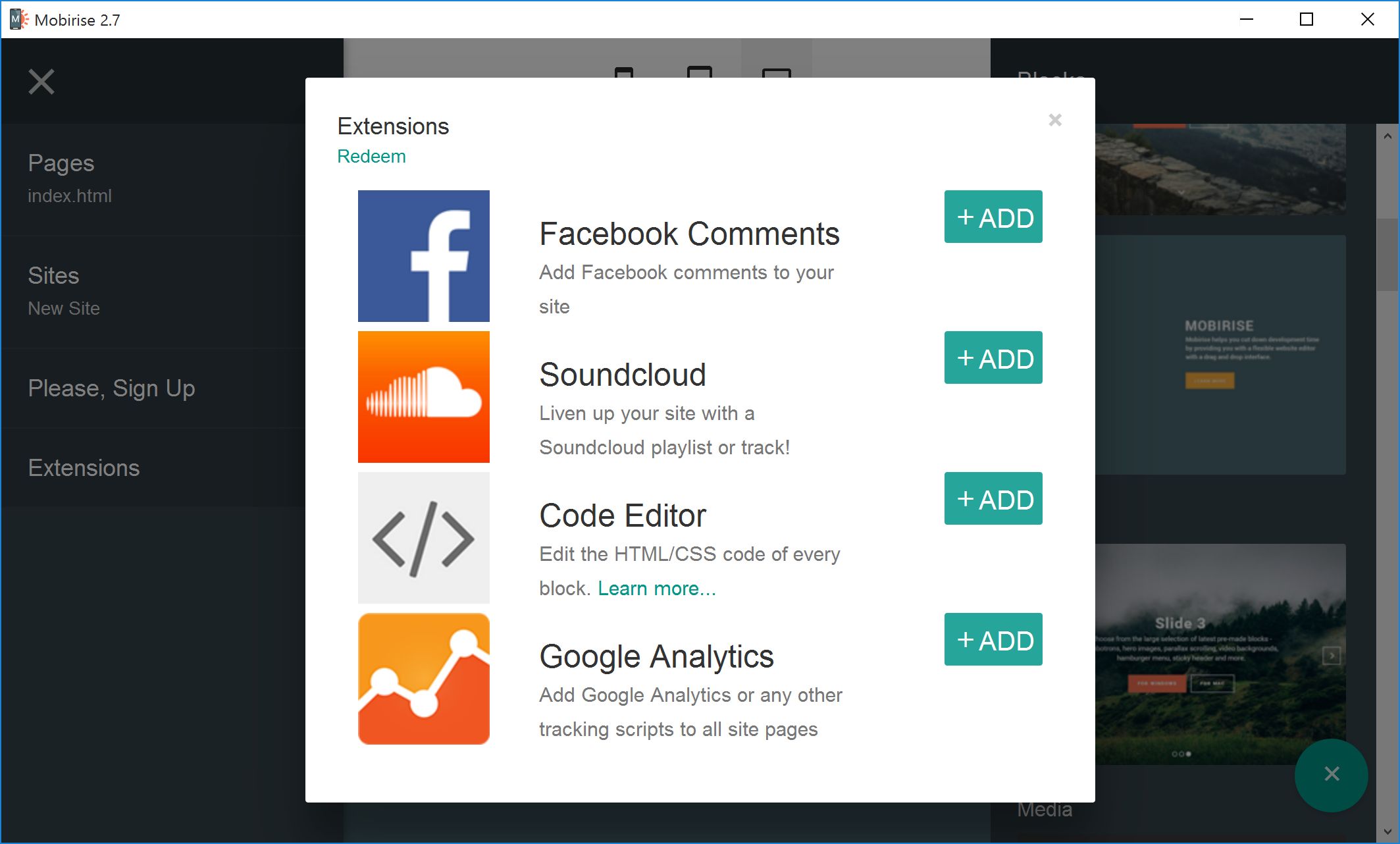 Why Choose Mobirise?
Following may be the differences which sets Mobirise apart from the competition that may be available in the market:
* Minimalistic, the most convenient interface that you can find in the market
* Offers the latest techniques and website blocks with an added benefit of mobile-friendliness
* No matter if you are using it for commercial or non-profit purposes, the downloadable software is absolutely free of cost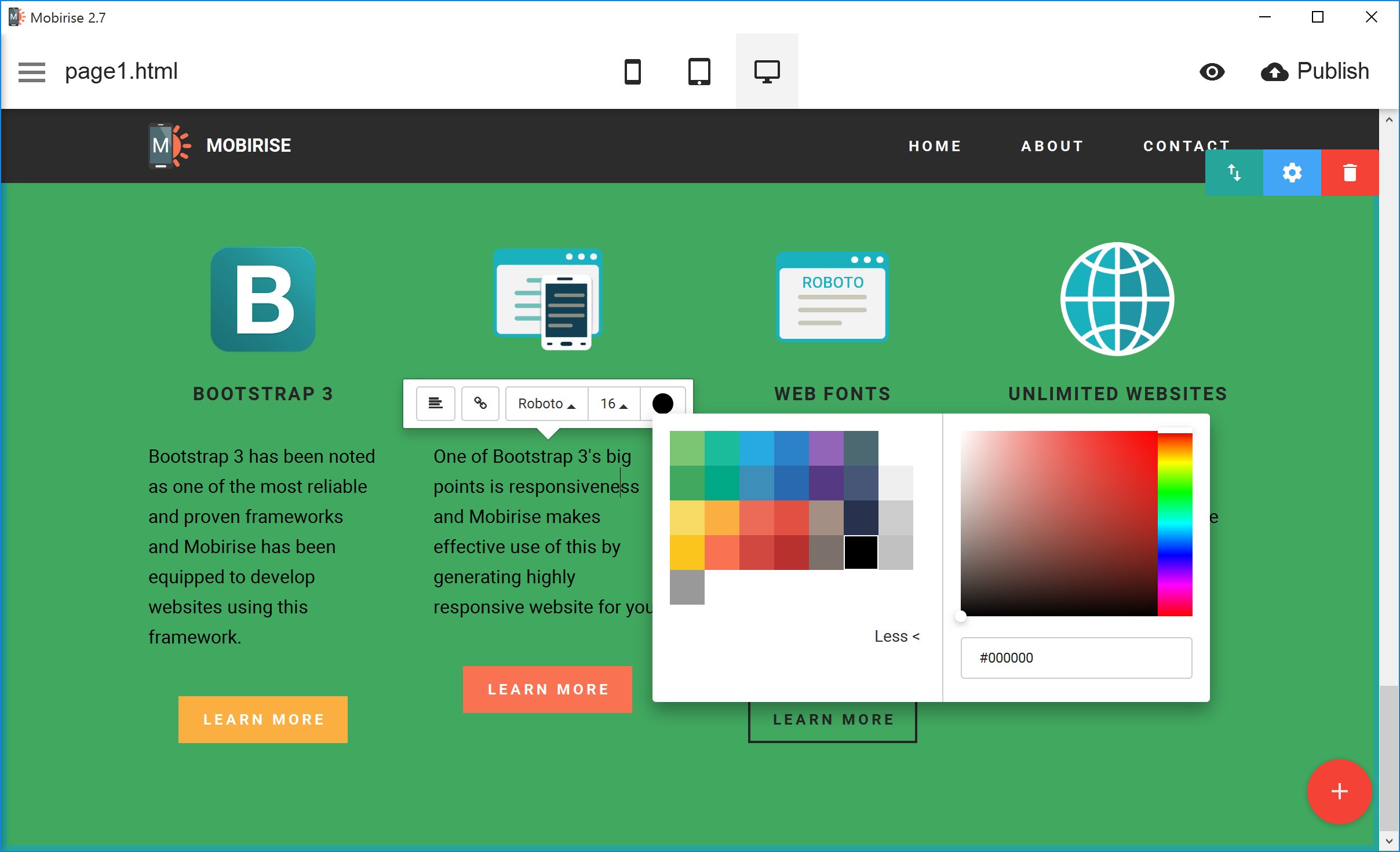 Features:
A few of the prominent features that the free landing page maker has to offer may include and are not confined to the following:
* Enables you to boost the ranking of your page with mobile-friendliness that Google loves
* Primarily based on the bootstrap 4 framework that is extremely user-friendly for the people who are not much into coding
* Enables you to work with the latest pre-made blocks in large selection which may include and are not confined to the full screen intro, content slider, bootstrap carousal, responsive gallery for images, video backgrounds, parallax scrolling, hamburger menu, sticky header etc.
* You can conveniently publish your website to not only a FTP server but to a local drive as well. You can also use a host like Amazon S3, Github, or Google drive. You no longer have to confine yourself to a single service provider or a platform
* Offers a built in image content slider, contact form, image gallery and mobile menu
* Enables you to make use of a video background and multiple different google fonts
* All of the important social buttons and google maps are built into the software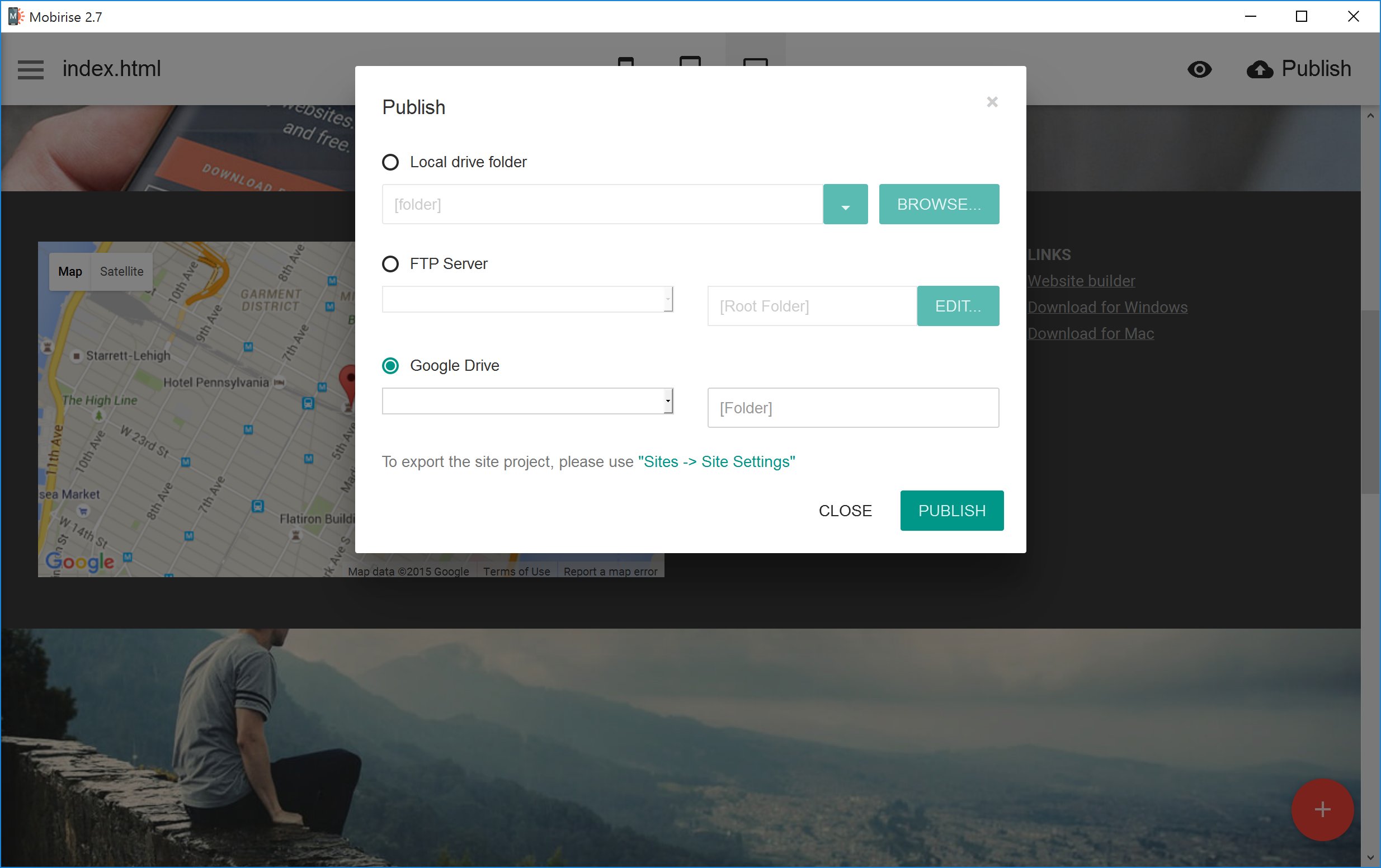 Easy To Use:
With a convenient to use drag and drop interface, Mobirise Website Maker makes web development as easy as it has never been before. Furthermore, since the software can be conveniently downloaded for absolutely no charges and works offline, you can easily develop your own website even if you are not a tech savvy.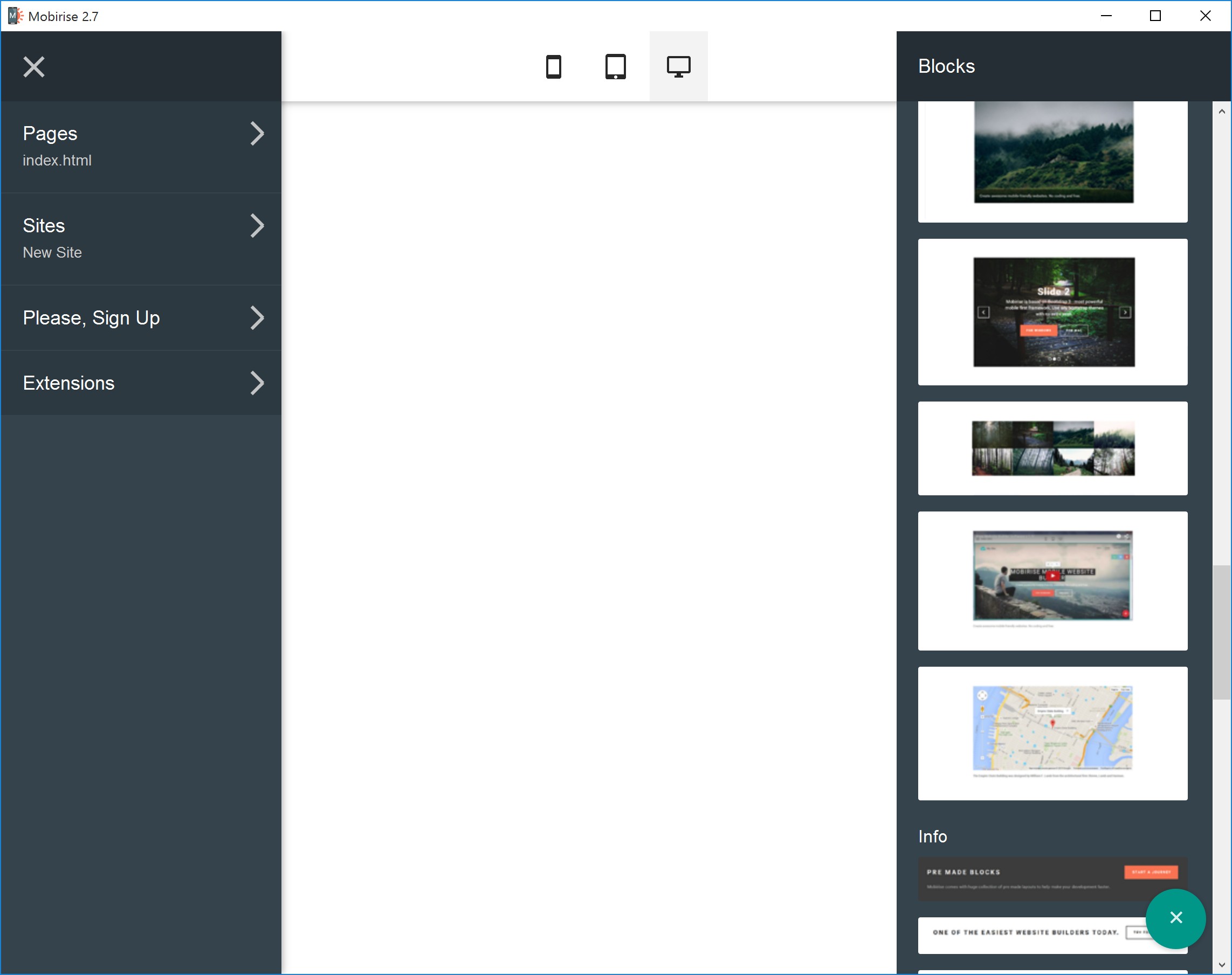 Mobile Friendly/Responsiveness:
Mobirise free website builder understands the importance of a mobile friendly and responsive website without which Google refuses to rank the page higher in its searches. This is why all of the websites and landing pages created with the help of Mobirise are highly responsive and mobile friendly in order to make them appear higher in Google searches.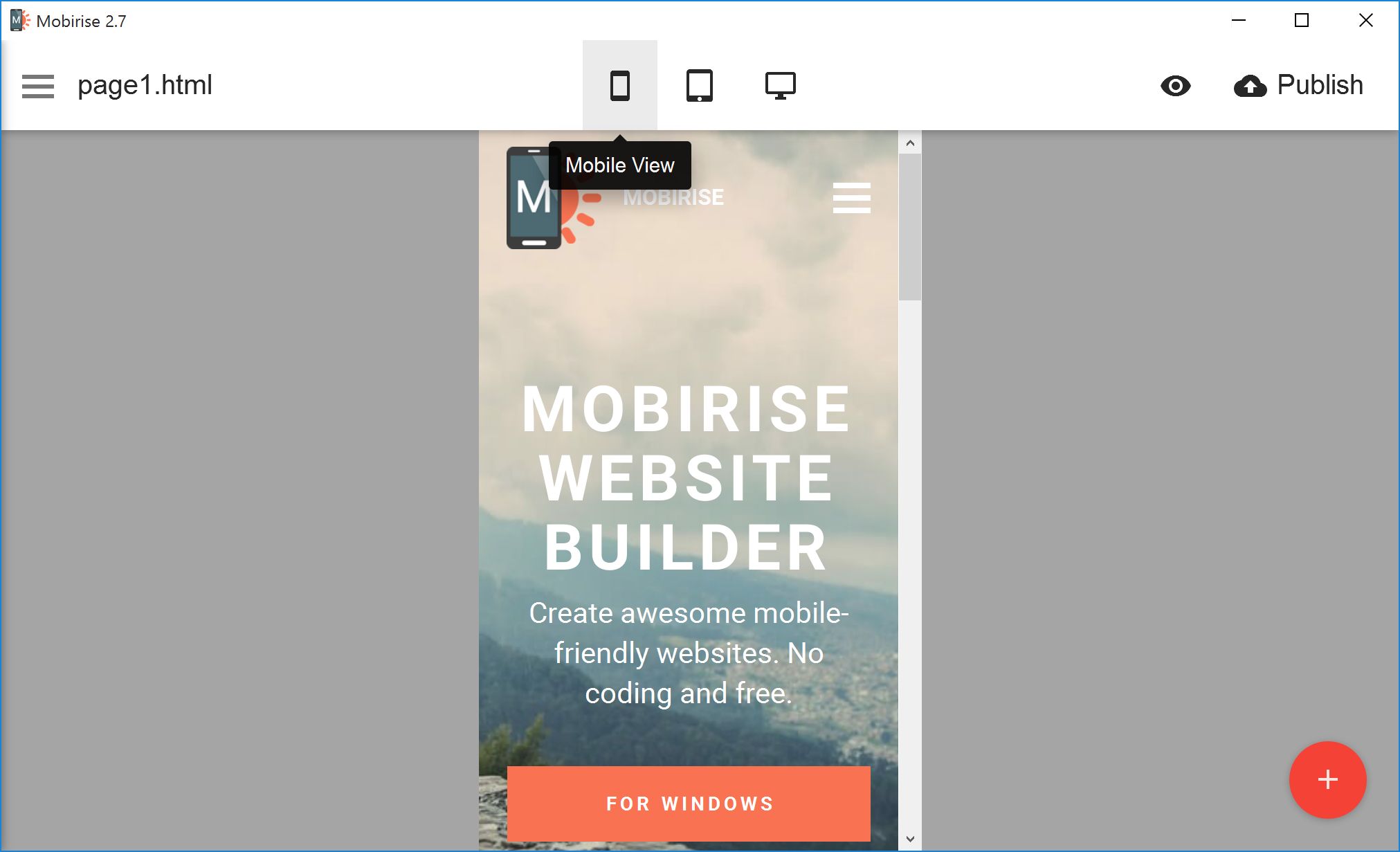 Conclusion:
In the light of the information mentioned above, it won't be wrong to conclude that Mobirise free website maker software enables you to develop your own website with a drag and drop interface that is user friendly and absolutely free of cost. You can design your small to medium sized website in an efficient fashion without having to confine yourself to a single service provider. Once you have designed your website up to your specifications, you can then choose from a range of hosts to publish your website. Since the software is absolutely free and works offline, it is certainly worth a shot.