Host your website on GitHub Pages in a few clicks! GitHub Pages Tutorial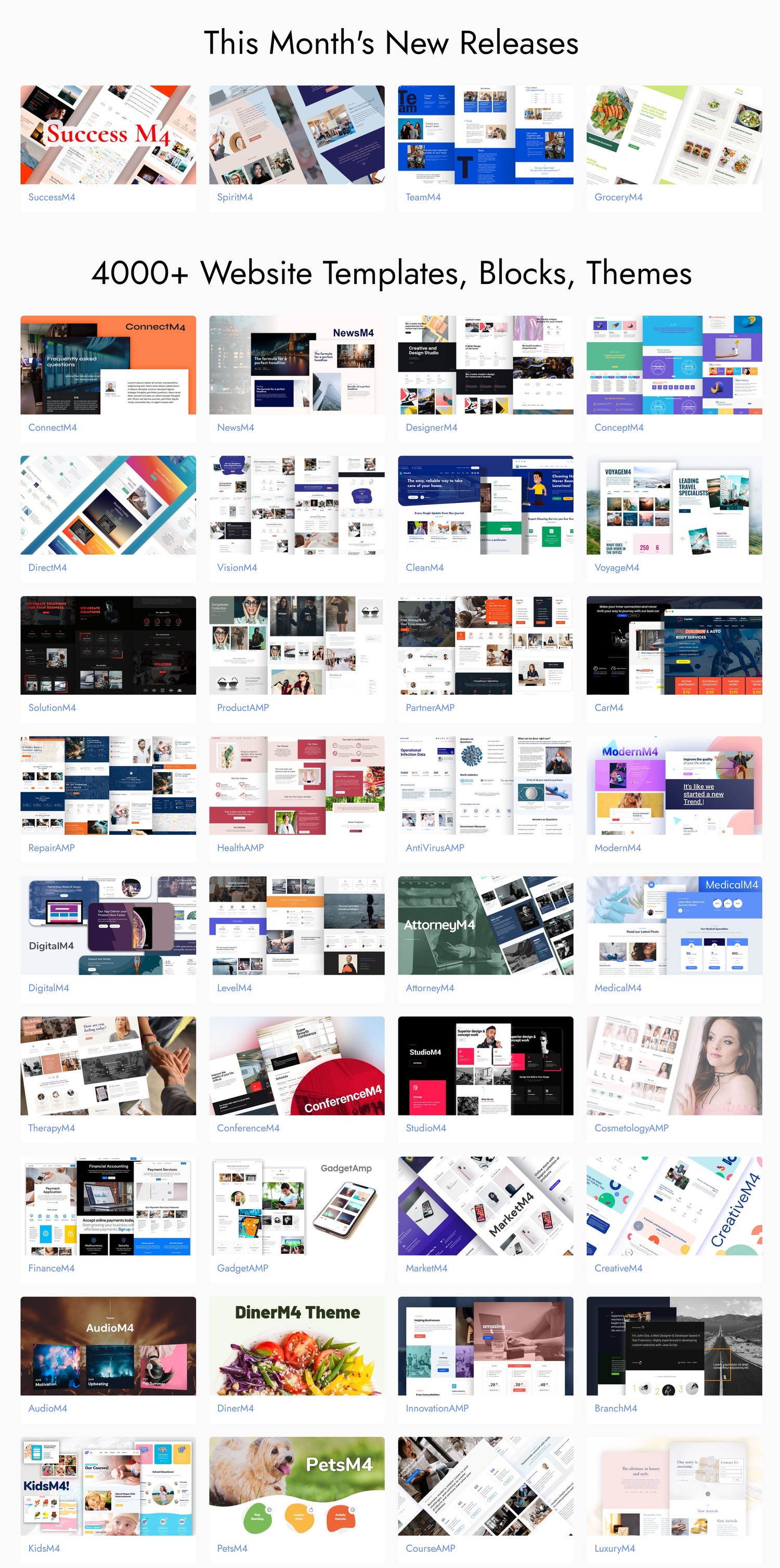 Easiest way to host your website on GitHub Pages
Generally in our work over the internet we need strong and reliable partners to lean on – like the mail service we commit out link with the world, the news sites we trust to let us know what's important or the cloud platforms to take care of our precious files and projects. Among these there is a very special place dedicated for the reliable hosting provider we trust to carry the info presenting us or our companies to the world – an information which in days when the internet is all over around us can be crucial for the future of our ventures.
Good news is there is a new reliable solution for both creating mobile friendly webpages and hosting them securely for free due to the great cooperation between Mobirise WebPage Builder and GitHub Pages.
Made for developers GitHub has fast quality servers providing 99.9% uptime to the hosted content and since this summer everything hosted on the GitHub Pages gets transferred by secure connection by default – convenient and safe. And with the help of the intuitive and easy to use Mobirise WebPage Builder creating great looking mobile friendly web pages and publishing them to the GitHub free hosting gets almost instantly without the need of knowing anything about code.
So basically in order to show your content to the world you need to take just a few simple steps:
Set up your hosting - Get free GitHub account
Go straight to
and enter your preferred details picking up a username and filling in your email and password. Picking your username do have in mind it will also be the name displaying in your GitHub pages domain afterwards like: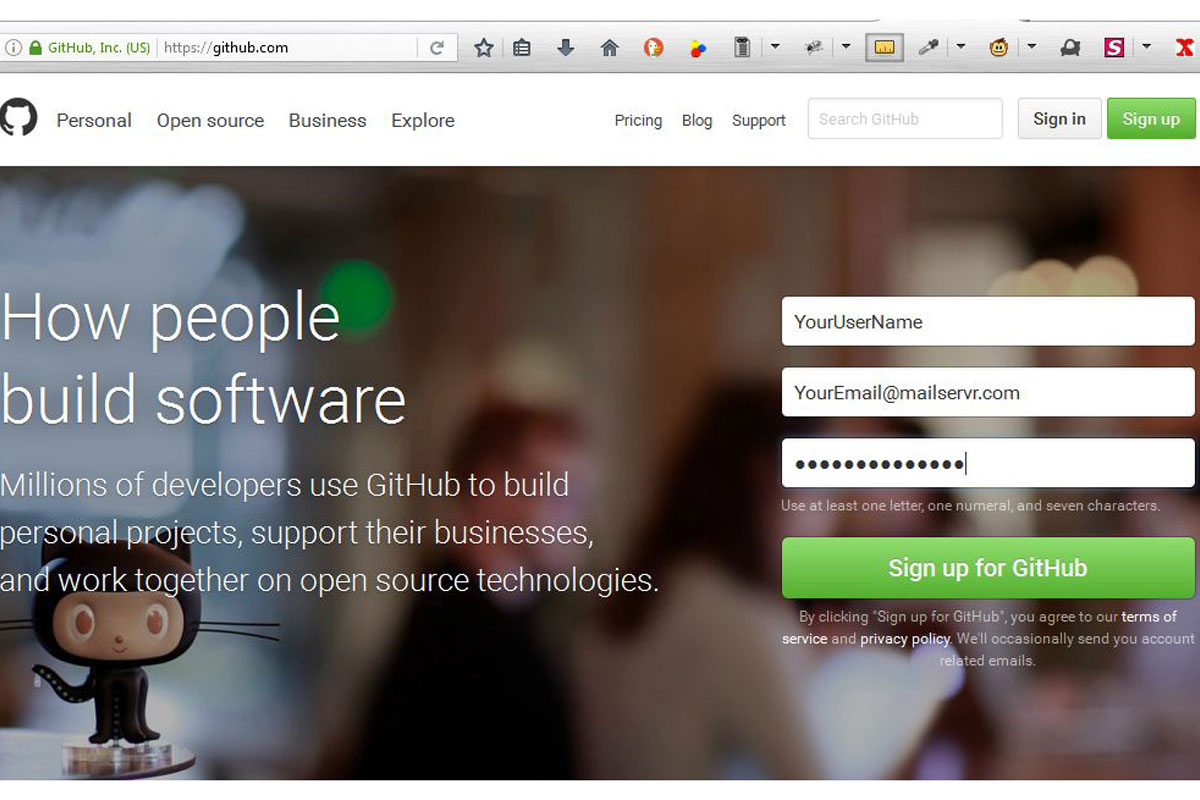 On the next screen confirm you want unlimited resources for free and click on the Continue button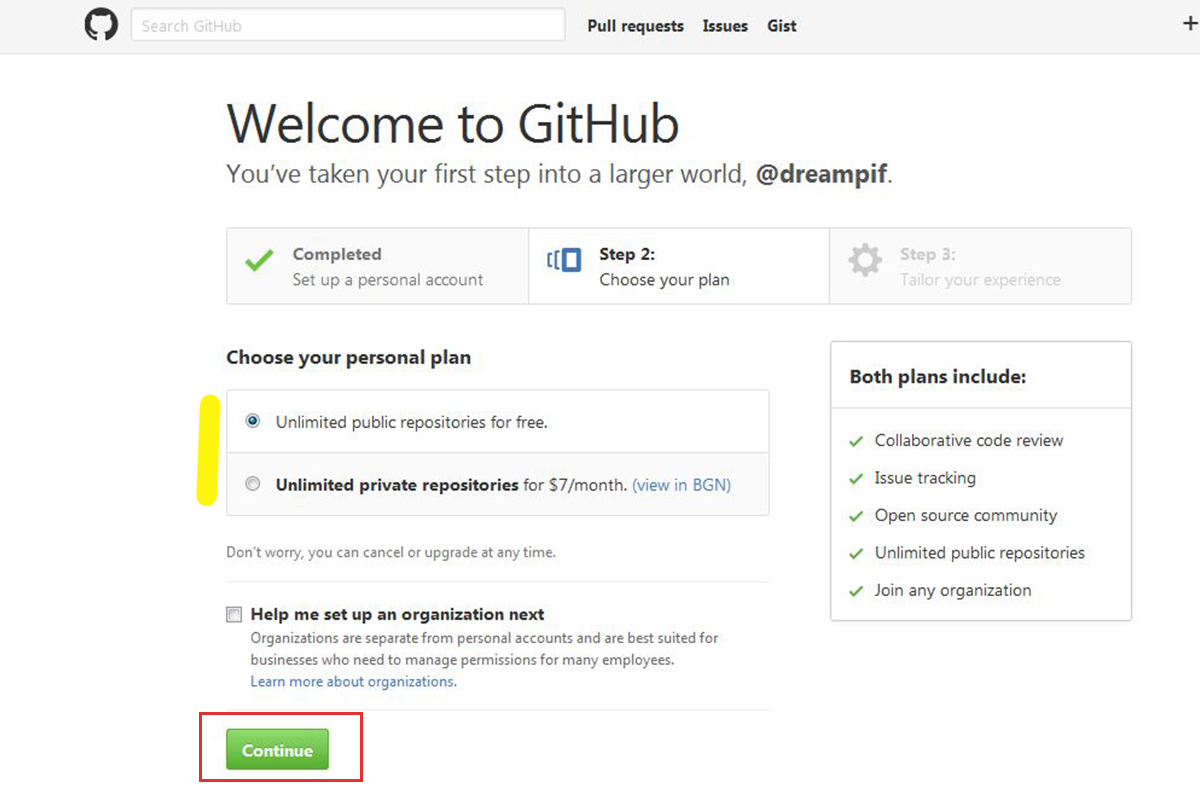 By this time you should have received a confirmation email asking you to verify your email address – just click on the link and you're all set up with your new fast and secure free hosting solution.
Build your simple site in few clicks
Now for the fun part – let's get you packed up with the powerful tool for creating your web pages just like typing in your text editor. In order to do this you'll need the free Mobirise Mobile Website Builder.
Go to
and click on the button corresponding your OS – Windows or Mac – to download the installation package.
Download for Windows Download for Mac
Mobirise Builder is an offline web page building solution so you don't need to be connected to the net to create but just for uploading the content to your secure free GitHub domain. After downloading extract the archive and install like any other regular application.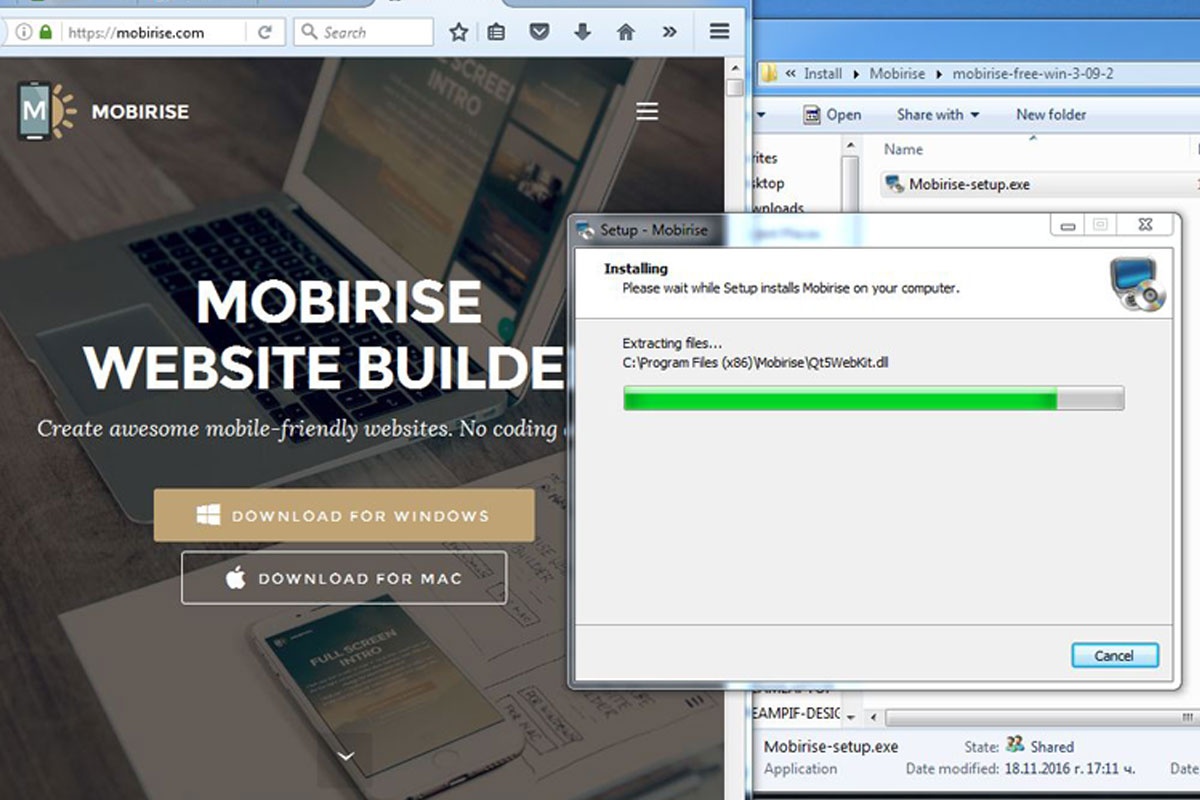 After the installation is complete you'll be asked to associate your email with a Mobirise Builder account – it's quite simple – just enter your email address and the password will be emailed to you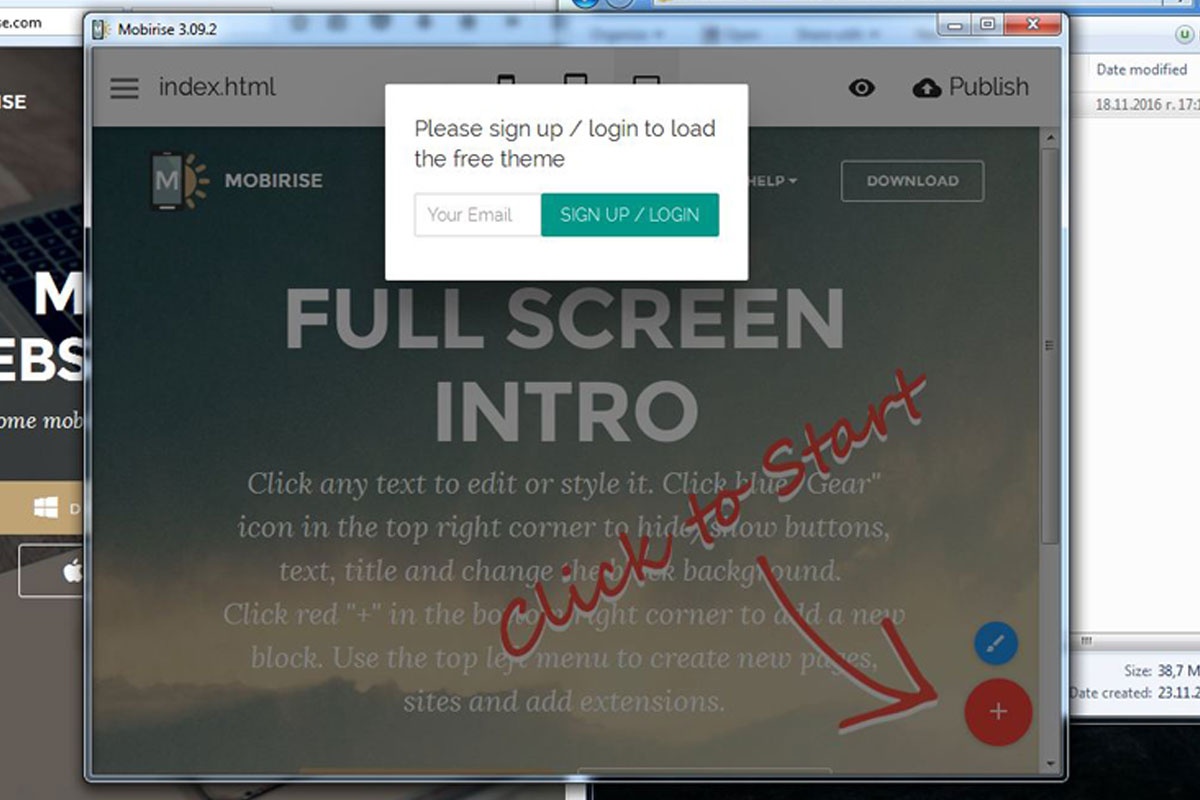 Make sure to read the whole email since along with the password it also contains some useful information to help you get started even faster. After reading the email just copy your password and paste it in. Now believe it or not you're just a few clicks away from publishing your amazing content.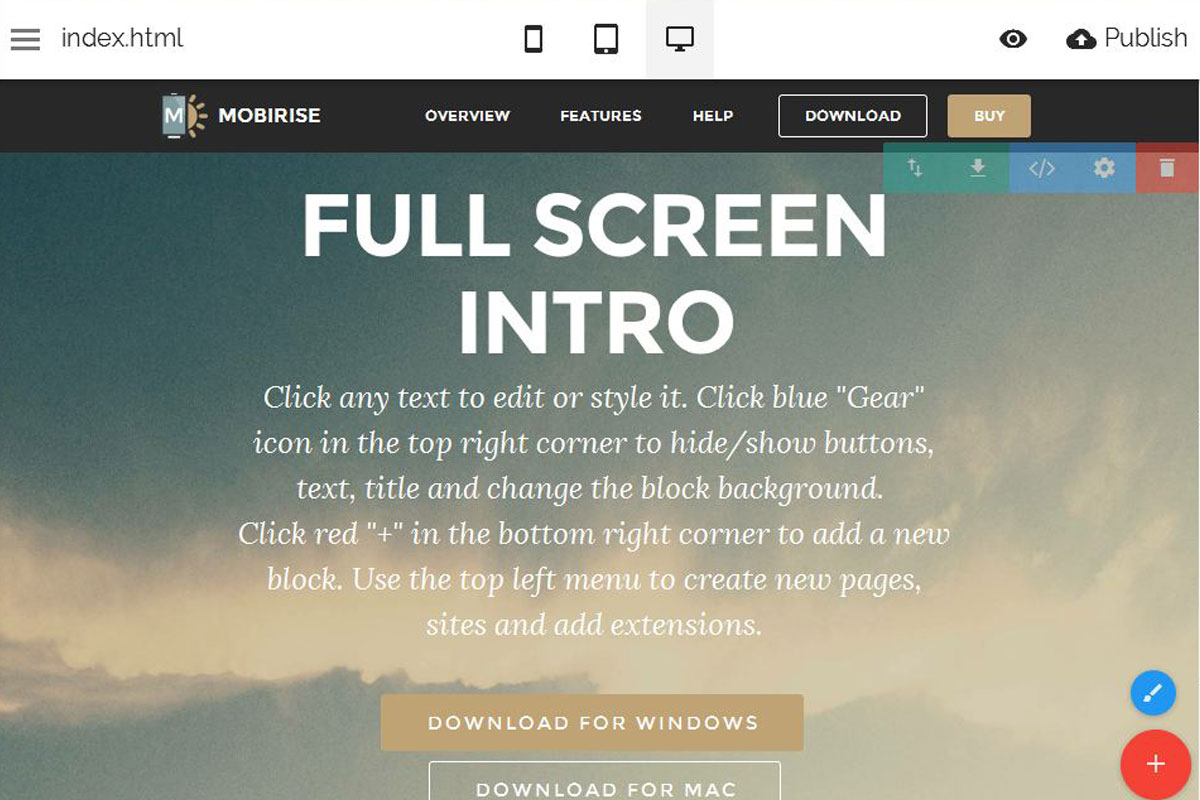 Working with the Mobirise Builder is quite easy and intuitive – you've got a cozy blocks palette emerging from the right or your screen when you click the big red plus button – just drag the blocks you think will fit best the content you have in mind and edit the contents just like you would in your ordinary text redactor. Any block can be just dragged at a different place any time you decide it should be. Setting different styling and appearance options gets easily done through each block's Properties Panel.
What you see in Builder window is what actually gets displayed when the page will be loaded in browser. The blocks you insert automatically transform to fit accordingly the screen of any device. You can check the appearance on different devices anytime by clicking the icons switching the view. Adding more pages and setting different options for each page and the project globally is done from the Hamburger button in the top left corner of the window where you can also manage your subscription and add more features to your application and from the Style editor (the blue brush button) you can control your entire site's appearance changing it entirely in a few clicks.
You can preview the results of your work locally in your browser at any time using the preview button and when you think it's ready to be shown to the world from your secure free hosting – just go to the Publish dialog box and select the GitHub option.
Traditionally as you maybe have noticed if you took some time exploring GitHub pages initial help files in order to be able to use your new fast hosting you need to create a repository matching your user name first. When creating your web pages with Mobirise Builder you can freely omit this step since the Builder does it for you – all you need to do is enter your username and confirm you own this account entering the password the first time you use it for uploading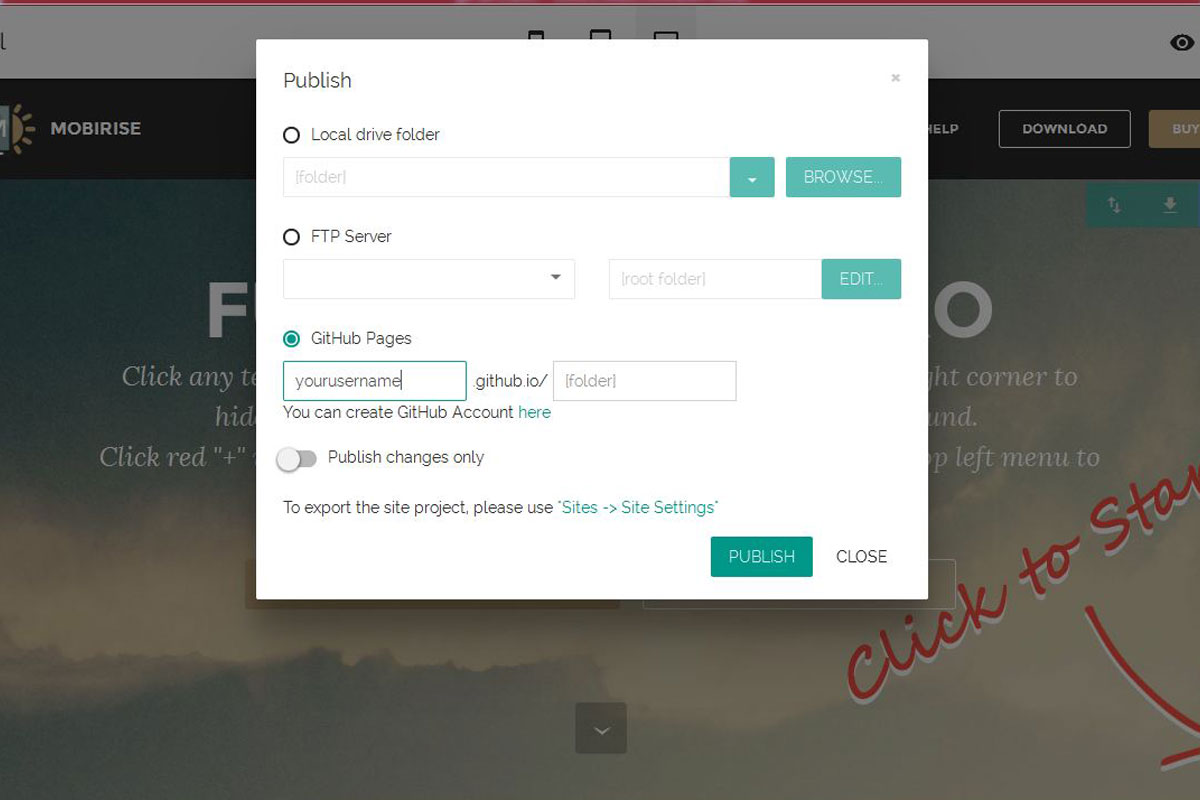 Optionally you can define a subfolder to place your page into in case you want to host multiple projects.
Everything gets done from The Mobirise Builder interface – you don't need to take any additional actions except defining the place to upload your pages once.
Updating your projects comes to be even easier since the Builder has remembered the settings you've used from the last upload and automatically reapplies them – all you need to do is select the GitHub option and hit Upload – that's it – your updated site will display online in just a matter of minutes.
Conclusion
So in case you were wondering is it possible to create an amazing mobile friendly web page and host it for free on a blazing fast free and secure server with a worldwide admitted reputation and secure connection by default without knowing nothing more but how to write an email – now you know!
There is nothing standing in the way of your brilliant ideas – you can show them to the world this very day with the help of Mobirise Mobile Web Builder and GitHub Pages.