Newest Responsive HTML5 Templates That Will Impress You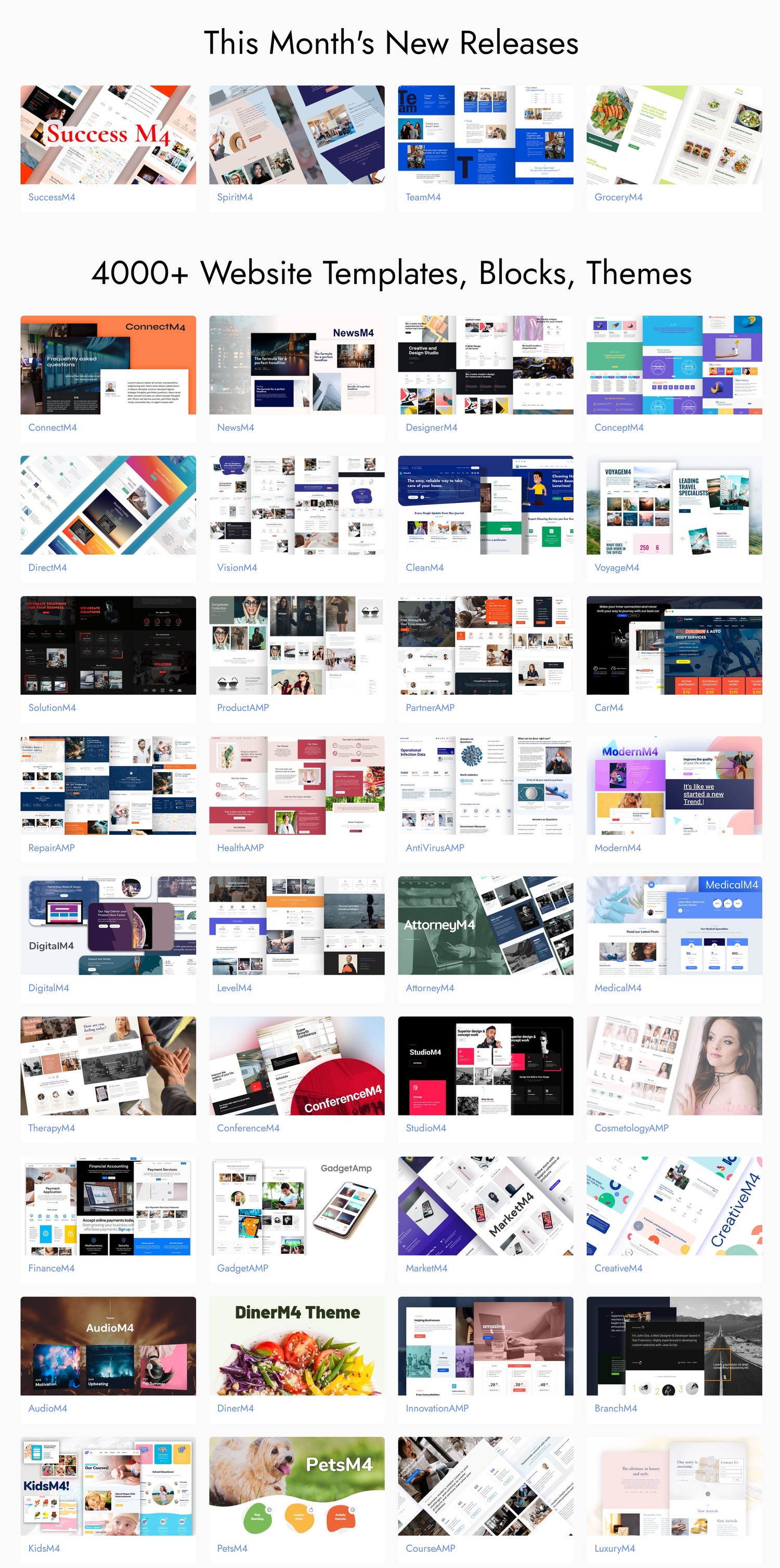 In recent years the businesses have become more focused on their online sales channels because a majority of their target audience is active across a wide range of platforms online. It is now easier to reach more people online to grow your business. While this can be done through social media, you need an excellent website where your target audience can be directed to view your products or services.
The importance of a website cannot be overlooked; it gives you the opportunity to clearly show and describe the products you are selling to the thousands of potential customers who will visit your site. A visitor is converted to your customer when they visit your website, and they are convinced about getting value from your services, so they proceed to make a purchase. This is the ultimate goal of every business owner who has a website; however, this goal can only be achieved when you have the best website.
The Mobirise Solution
Many years ago, you would have had to pay huge sums of money to get a website designed and customized for your business. This method worked, but most times the website was not exactly what the client needed, and many changes had to be made; now you can design your website to your taste and reflect the value you are offering your customers with Mobirise with its responsive HTML5 templates.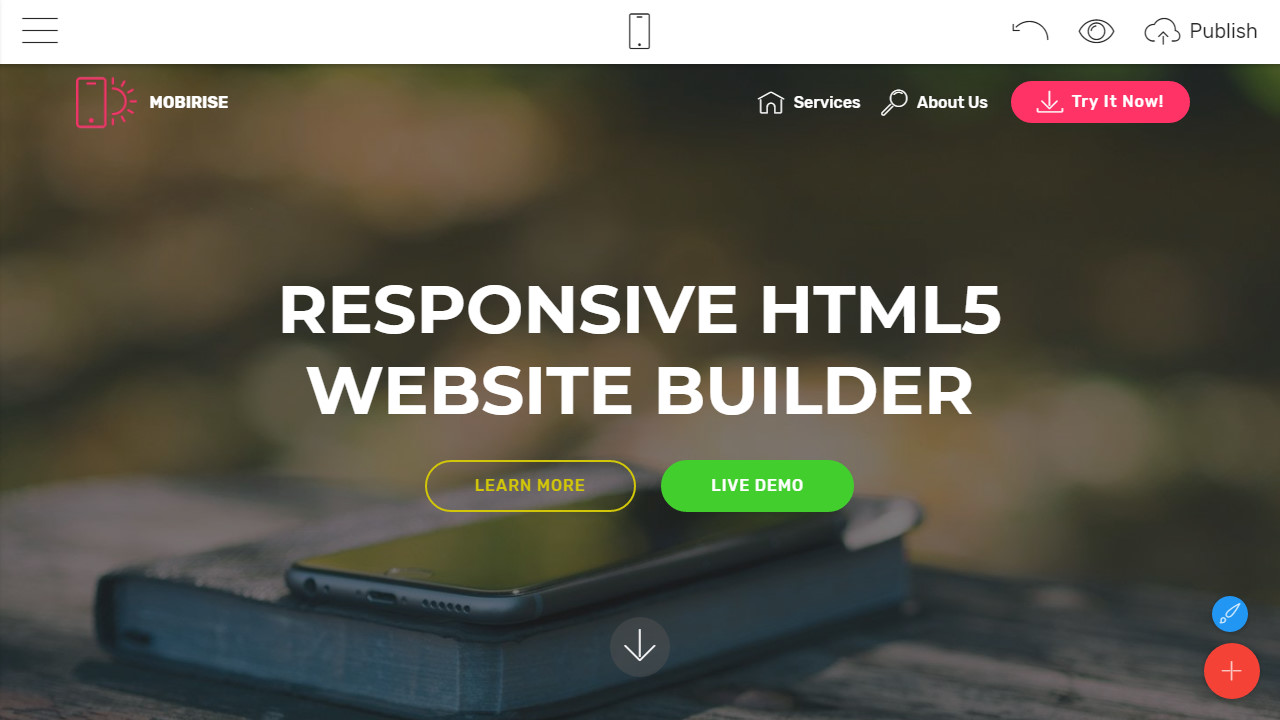 Now you can get your professional website for your business within minutes, and you don't need to have coding skills.
Mobirise Website Builder
The Mobirise application has been designed as a tool that you can use to design your website independently. It features the latest website design trends and other important features such as customizable responsive html5 templates for your website, optimized view for all mobile devices and computers, compatibility with the Windows and Apple operating systems, etc. it gives you leverage to design a perfect website for your business.
Customizing your website
There are so many design options that you can use to customize your website with the Mobirise website builder. These settings can also be edited. When the website is ready, you will be proud of your accomplishments after previewing your work.
Customizing your website is easy. The features and options are there on the side tabs, all you need to do is drag and paste anywhere you want on the website layout. Your website can be customized to have a unique landing page, for your portfolio, blog, online shop, product sales, web services, etc. Mobirise offers the best-predesigned responsive HTML5 templates.
Customizable features include insertion of progress bars, pricing tables, contact forms, overlay color effects, menu, transparency, parallel scrolling, shop box, images and videos, live demos, etc.
Mobirise Themes
It is important that your online visitors have a good user experience on your website. You can make your website user-friendly by applying the right HTML5 Bootstrap templates which will appeal to your target audience while clearly displaying your products and services. Mobirise responsive html5 templates have been developed for a range of services and purposes that will meet your needs. And you can choose from over 400 website modules which feature the latest website design trends to make your site have a modern and appealing appearance.
Have a look at the featured responsive html5 templates on Mobirise; the application is very easy to use. Simply download the Mobirise application and select one of your preferred responsive html5 templates and start designing your website at your own pace.
HotelM4 theme
This is a specially designed Bootstrap one-page template for everyone who needs to build the perfect website for hotels or similar businesses in the hospitality industry.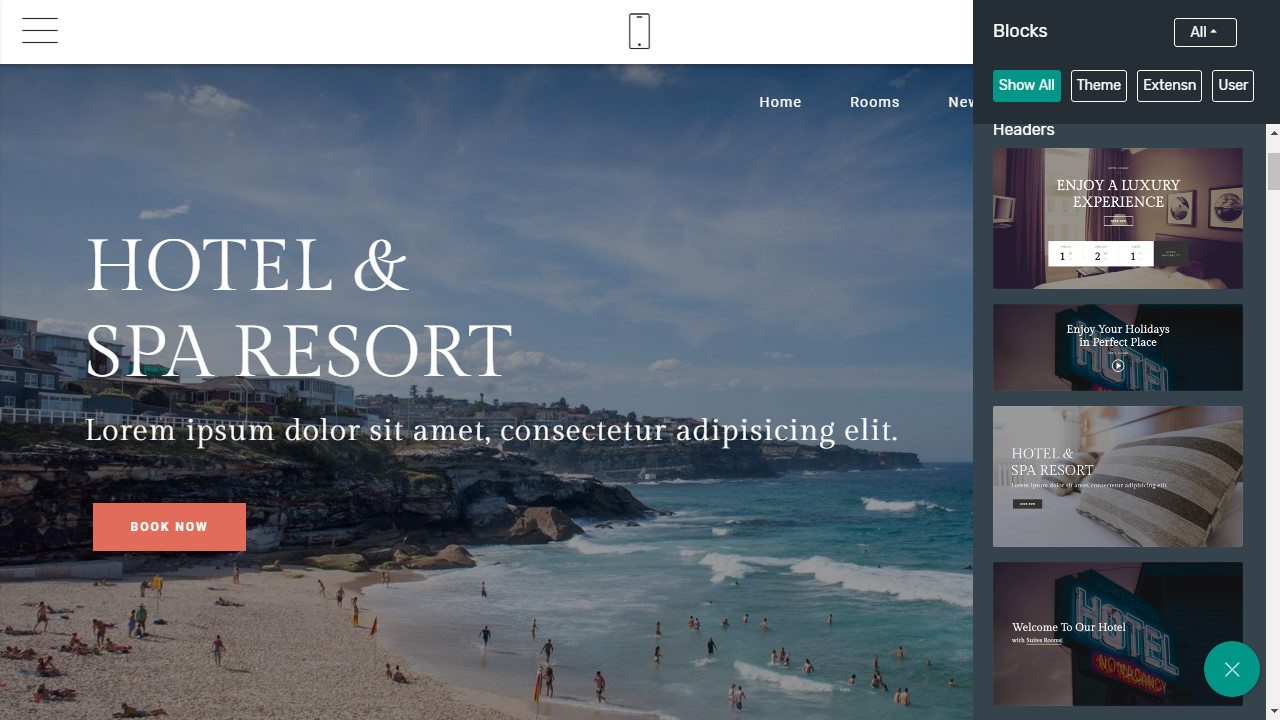 It is very easy to use; you will be able to customize the features on your website using the live demo features, Intros with your preferred video playing in the background, preferred headers and galleries to display the interior and exterior features of your hotel to your audience. Our HotelM4 free Bootstrap 4 template also gives you the opportunity to create blocks to introduce your visitors to the hotel staff who will be attending to their needs, pricing tables, and sliders to improve the aesthetic look of your website.
You can also integrate your social media accounts to make it easier for your online audience to find your brand.
CommerceM4 theme
This Mobirise theme is perfect for your online store for all kinds of products.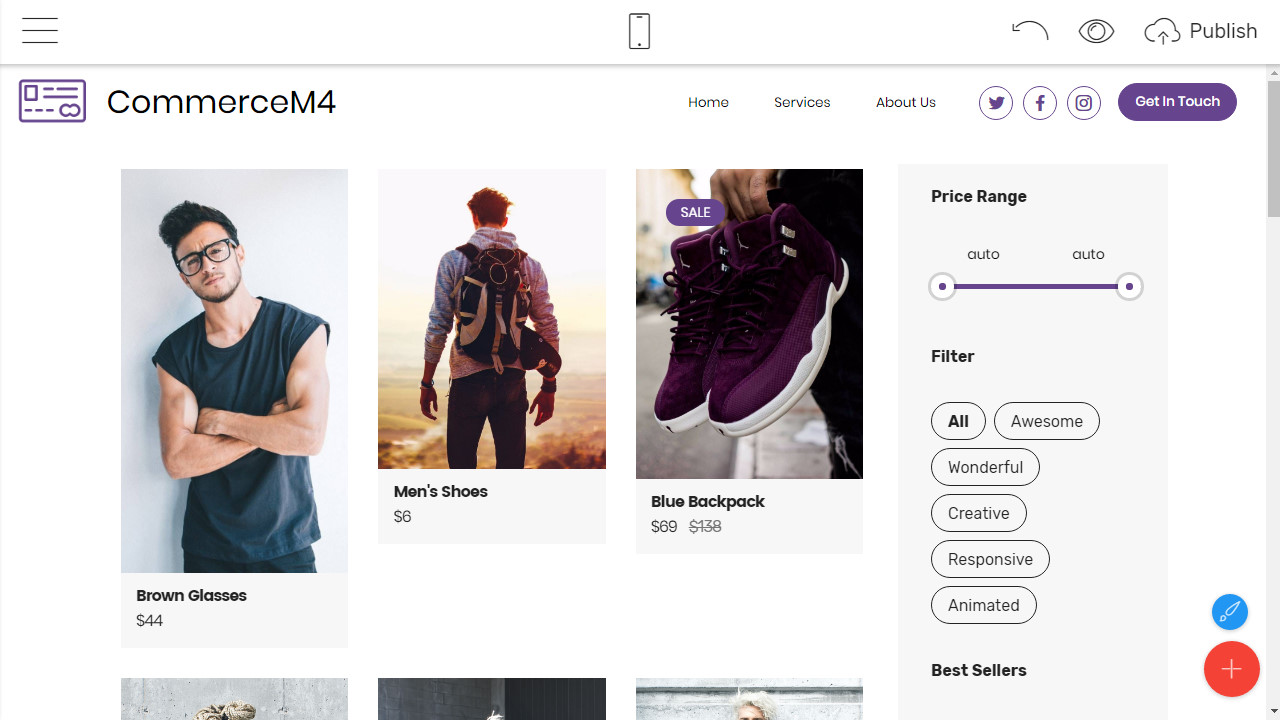 It features pricing tables, shop boxes, contact forms, social media integration, galleries and sliders to showcase your products and free mobile icons to enhance your website. You can modify the block parameters to suit your taste perfectly. The CommerceM4 Mobirise theme is very easy to use, and you can optimize your website for mobile view.
Colorful designs, attractive pictures, and a user-friendly interface, it is guaranteed to help your visitors have a wonderful experience when they visit your online stores.
RestaurantM4 theme
Everyone who visits a restaurant expects to have a great time with family and friends while eating delicious meals. This is what should be reflected on your restaurant's website, and you can achieve it with the RestaurantM4 theme. It is very easy to use when designing your site, and this theme from other responsive html5 templates is also user-friendly, the blocks and other parameters can be ordered in a way that your visitors find it easy to locate what they want.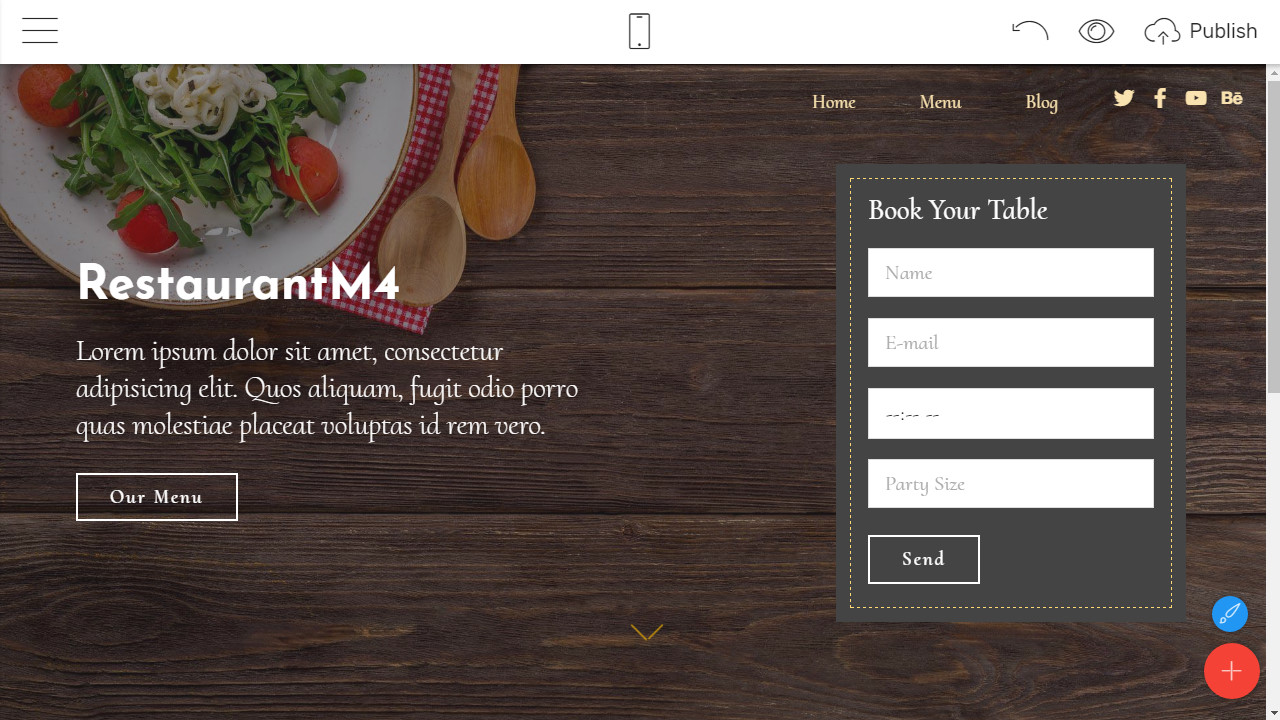 It is important that the website for your restaurant is user-friendly because most times, your visitors have many other options to check online and if they experience any difficulty while checking your web page they will simply move on to the next option. But this won't happen when you use the Mobirise RestaurantM4.
Pictures are important on a restaurant website are you can take advantage of the galleries and sliders to show your visitors the delicious meals they can enjoy during a visit. You can also fix pricing tables, social media integration, testimonials, contact forms and website blocks to feature the latest recipes and your chefs recommended menus for breakfast lunch or dinner. The options are endless with the Mobirise RestaurantM4.
StoreM4 Theme
This theme is spectacular, with this theme; you can achieve a goal of having your online store as opposed to other responsive html5 templates. Become an online entrepreneur without further delay; make your ideas come alive with the Mobirise StoreM4 theme.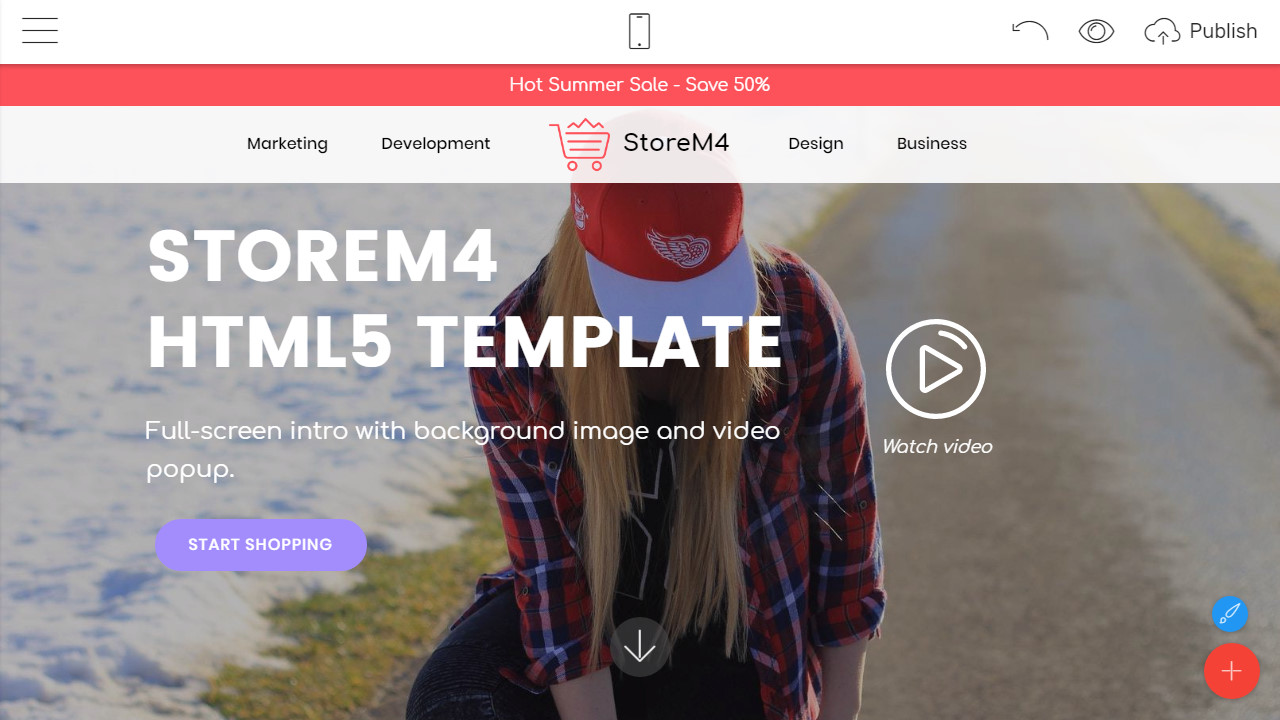 It includes features such as spacious block designs which allows you to conveniently and vividly showcase your products, and you have over 80 website blocks to use exclusively for your brand, it is awesome. With as many as 80 blocks you can showcase your latest collections such as autumn unique collection, casual collection, men's shoes, ladies shoes, accessories of all kinds, children's designs, bags and every product you sell.
You can also have FAQ sections, price tables, introduce your sales team and live demos for all your products. Social media integration is essential for online stores to enhance interaction with your audience and this feature is available in this StoreM4 theme. Download Mobirise website builder to get started today.
AgencyM4 Theme
Offer your professional business solutions to clients all around the world through your website.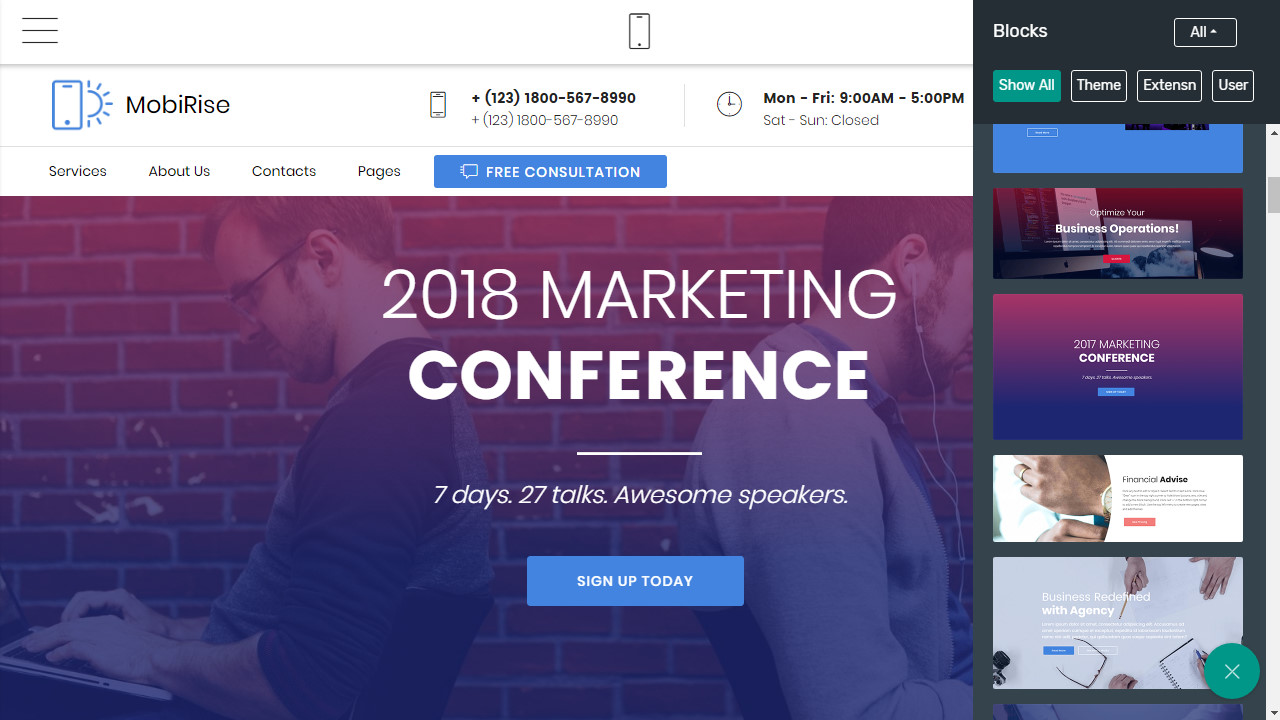 With the AgencyM4 theme, you can independently build a unique website that features all your professional services, progress bars, live demos to show your smart solutions, testimonials, images and videos, sliders and galleries to show what you professionally offer to clients, article blocks, social blocks, pricing tables, social media integration, counters and countdowns, your preferred headers and so much more.
PortfolioM4 Theme
With an impressive portfolio, you will easily be able to seal the best deals and build stronger relationships with your clients. A good portfolio also exposes your past jobs to the world. And the best way to show your portfolio online than with a uniquely designed website using the Mobirise website builder.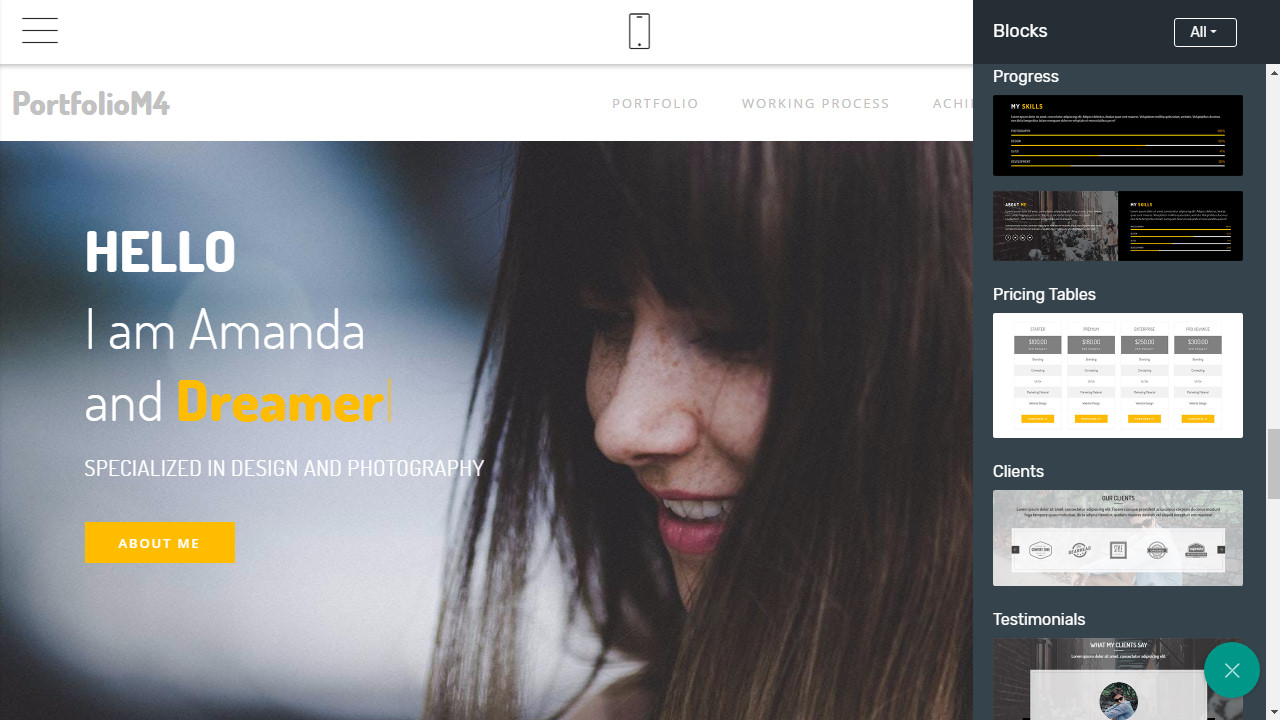 Get a website that does all the "talking" for you; potential clients will be convinced that you can handle their business just by visiting your site which clearly highlights your proficiencies. With this Mobirise PortfolioM4 theme you can take advantage of the live demos and videos to make a short presentation to your visitors, use the parameter blocks to design and customize your portfolio to feature your skills, bio page, total number of clients you have, testimonials, projects completed, the number of hours you have worked, and your awards, etc. you can also include pricing tables, progress bars, contact forms, and chat boxes to discuss projects.
The PortfolioM4 free Bootstrap template also features social media integration which makes it possible for your followers and new contacts on the social media to view your website via links posted on your social media accounts.
Preview and Publish
When you are done, you can review your work so far by previewing the new website to see how it has been optimized for mobile or desktop view. You can edit certain features after previewing. And when you are satisfied, feel free to publish your new website.
Conclusion
With the Mobirise website builder and its responsive HTML5 templates, you can make choices from the numerous options available. It offers you to build the best website for your business according to the outcome of your market research study. This means your website will have features that will appeal to your target audience based on your marketing research.
The testimonials are lovely; everyone who has used the Mobirise website application has provided amazing feedback. It is easy to use by everyone without special coding skills. Make your business stand out from the competition; download the Mobirise website builder for your customized website.