Responsive Website Builder Tutorial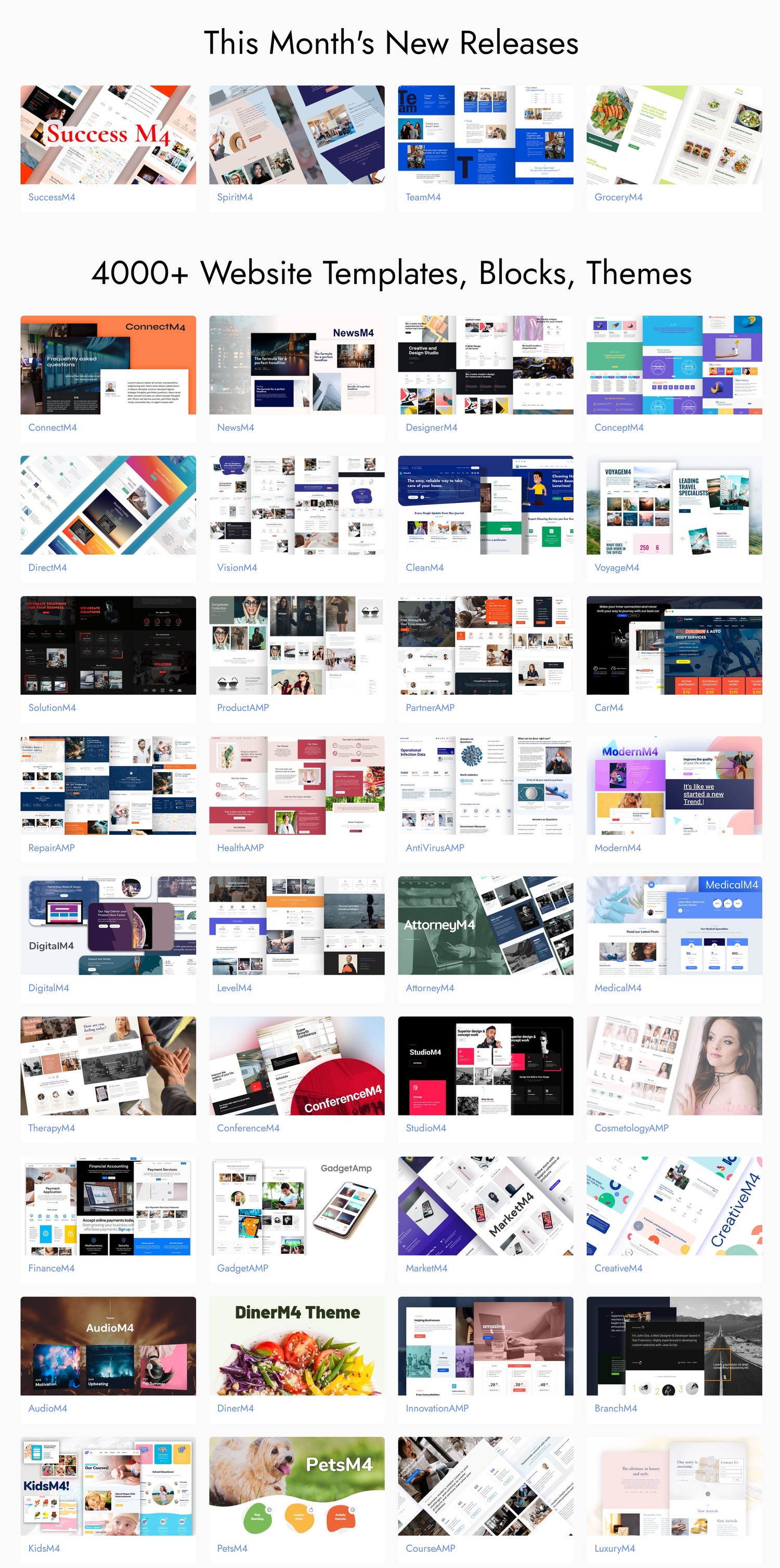 The 21st century's demands on websites are incredibly heavy. There are a lot of requirements web designers should consider in order to create a website that will engage the discerning present-day audience.
First of all, a modern website should be mobile-friendly or responsive. This means that the website should respond to the screen of whatever device it displays on. Building this kind of websites manually could really be a super-hard task even for professionals. Luckily, there are good tools called website builders which can help you build responsive web pages without coding skills.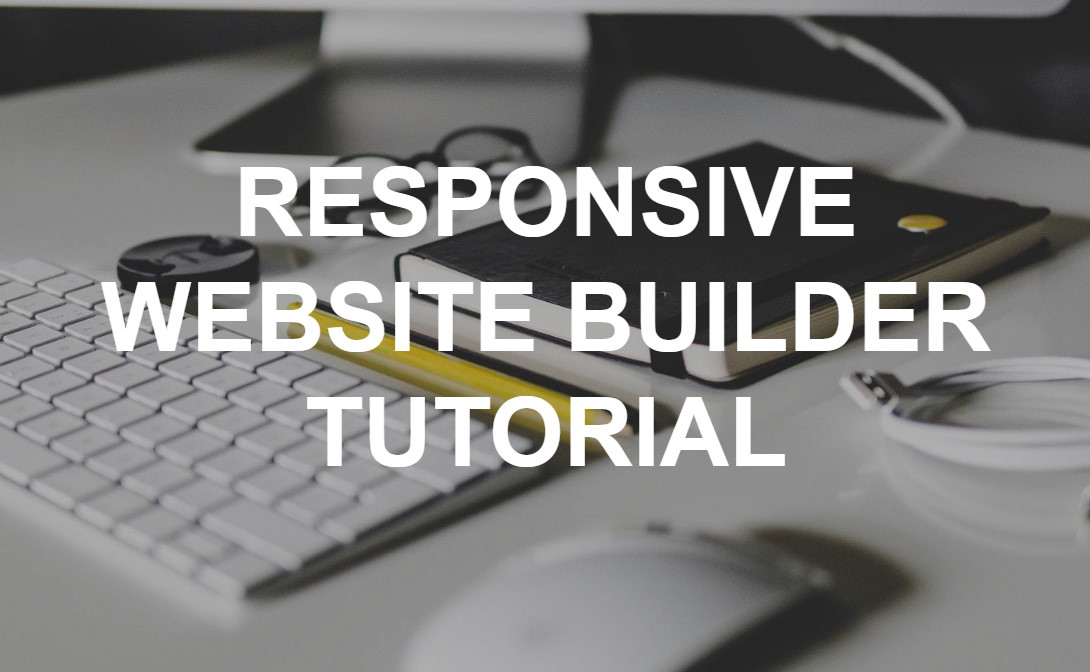 One of this web building software is Mobirise Responsive Website Builder that allows you to make a responsive website in a day.
Here is a responsive website tutorial for those who would like to create engaging mobile-friendly websites without much input of time and money.
What exactly is Mobirise?
Before we start working on a website with Mobirise, we should acquaint ourselves with it.
Mobirise in comparison to 8b Web Builder is an offline website builder what implies it can be downloaded and used without any internet connection.
Mobirise is based on the drag and drop technology and the latest version of Bootstrap web framework. These two features allow non-coding development of mobile-friendly websites.
Mobirise is a free web design software. You don't have to pay for downloading and there are no monthly/annual charges. Everything that stands between you and website development without spending a penny for it is a one-minute installation of this software.
How to create a site
As soon as Mobirise mobile website creator is installed, you can create your first page.
Go to "Sites" and click on "Create New Site". After that, you will see a window with available website themes to choose from. There are standard and special themes you can pick for your website. Special themes are mainly supposed to be used for creation of specific kinds of websites: LawyerM4 is a site template for legal people, AgencyM4 for companies and organizations, RestaurantM4 for food outlets and much more. But there are no restrictions: you can use these templates to easily build another type of website. This way you will learn how to make your own website for free.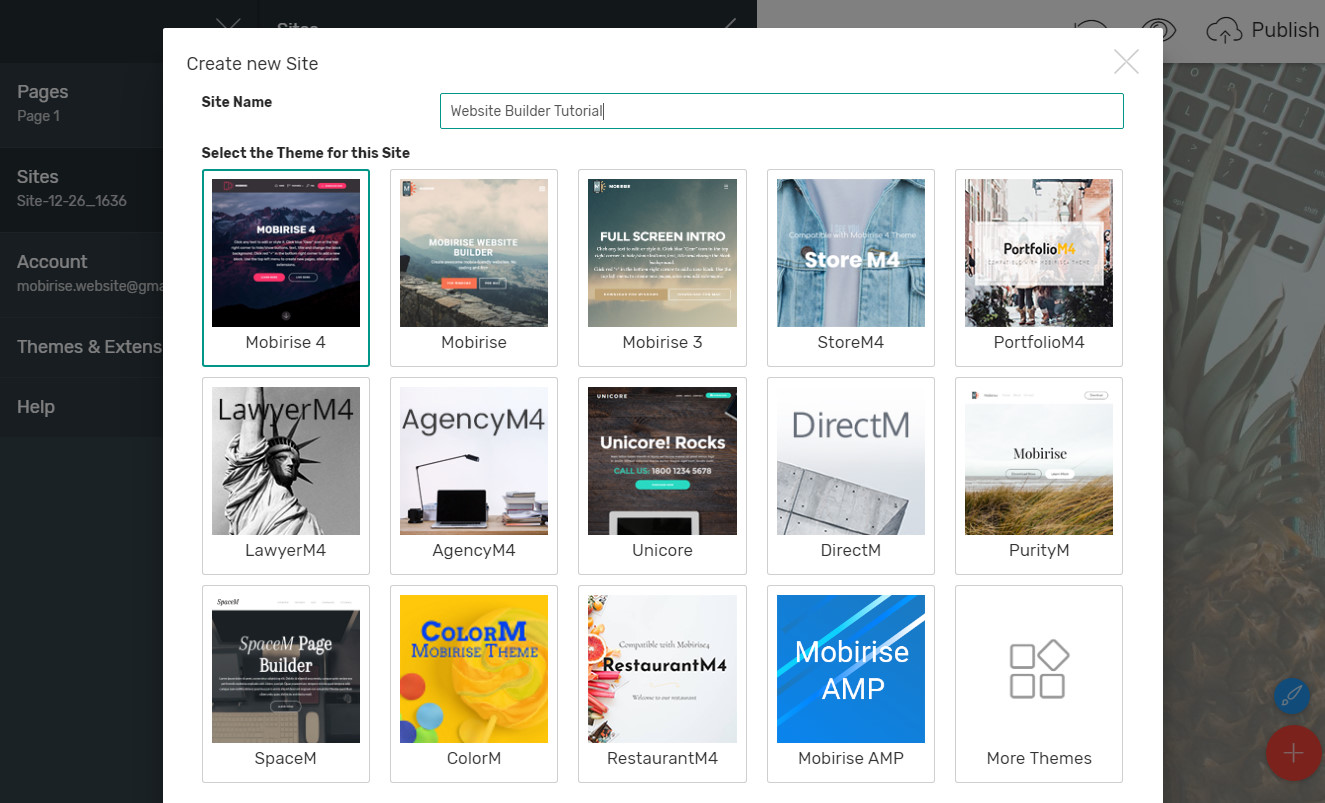 There are by and large 15 website templates available in Mobirise Responsive Website Builder. Just click on one of them and press "OK" to proceed further.
Constructing a web page
The next thing you will encounter is a blank page. When clicked on the red plus button at the bottom you will see a sidebar roll out that contains website blocks every website should have.
Menu
Drag and drop one of the menu blocks direct on the page. You can click on the blue "gear" button in the upper right corner of the menu block to see its parameters. That's the point where you will start designing your own menu: turn off/on your logo, make it large or small, change the background color, make your menu transparent, collapsed and sticky.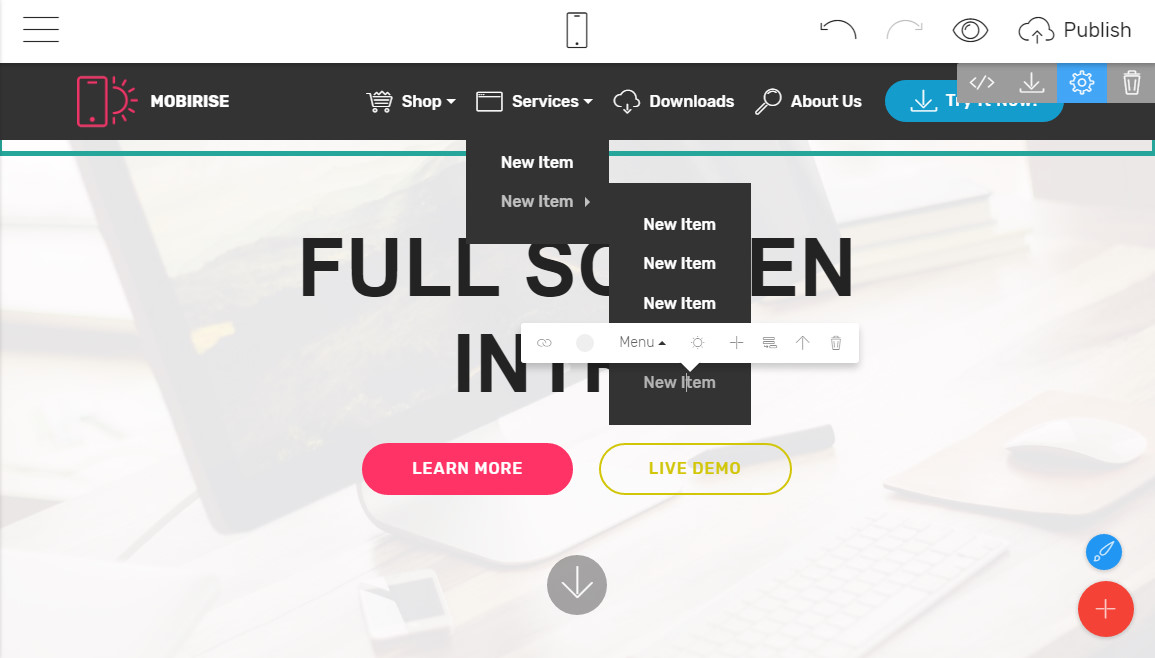 If you click of a menu item, you will get more possibilities for its customization: link it to whatever you want, change its color, font, size, add icons and submenus for a dropdown.
Header
There are several headers or so-called intro blocks available that are ready-made as well: full-screen and full-width headers with background image or video which include titles, subtitles, buttons, embeddable images and videos, video popups, responsive icons, contact and subscribe forms and much more.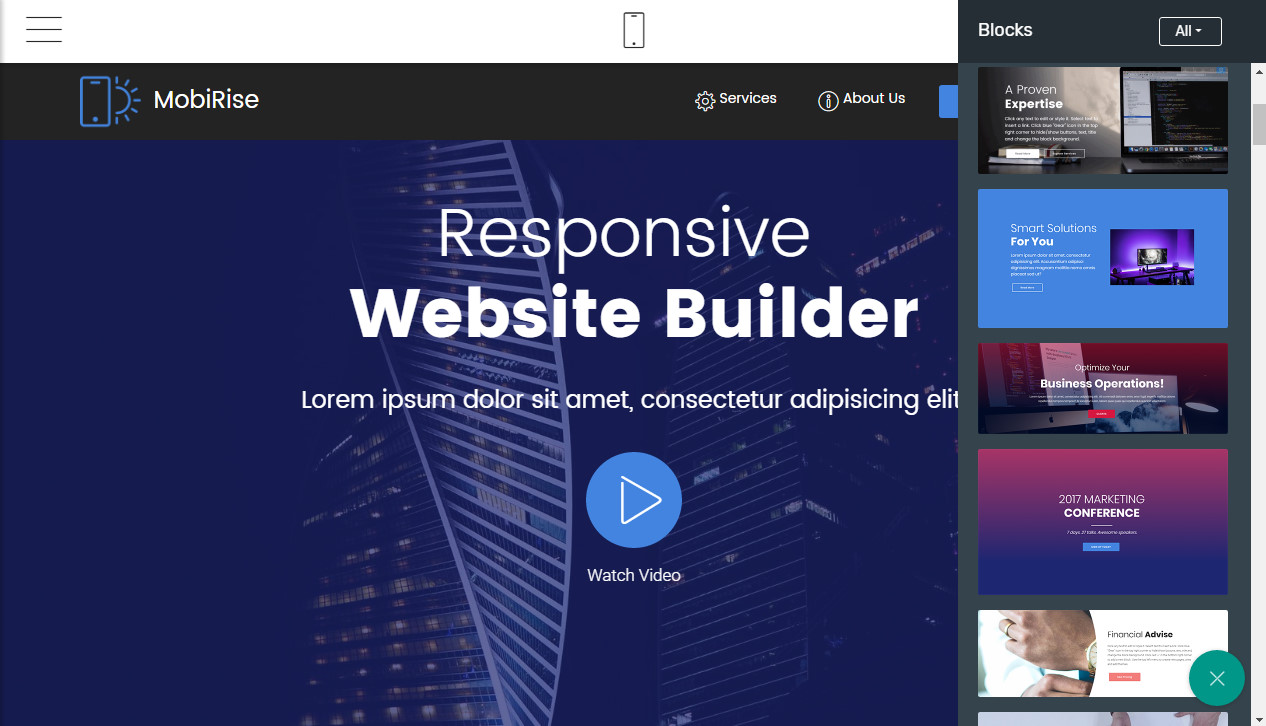 Using block parameters you will be able to design your header as you wish: type your own text with your own font, swap out images and videos, add overlay color and parallax scrolling effects and others.
Galleries and sliders
Do you want to showcase your own pictures on your website? That's way too easy with Mobirise free and awesome Bootstrap builder and its gallery or slider blocks.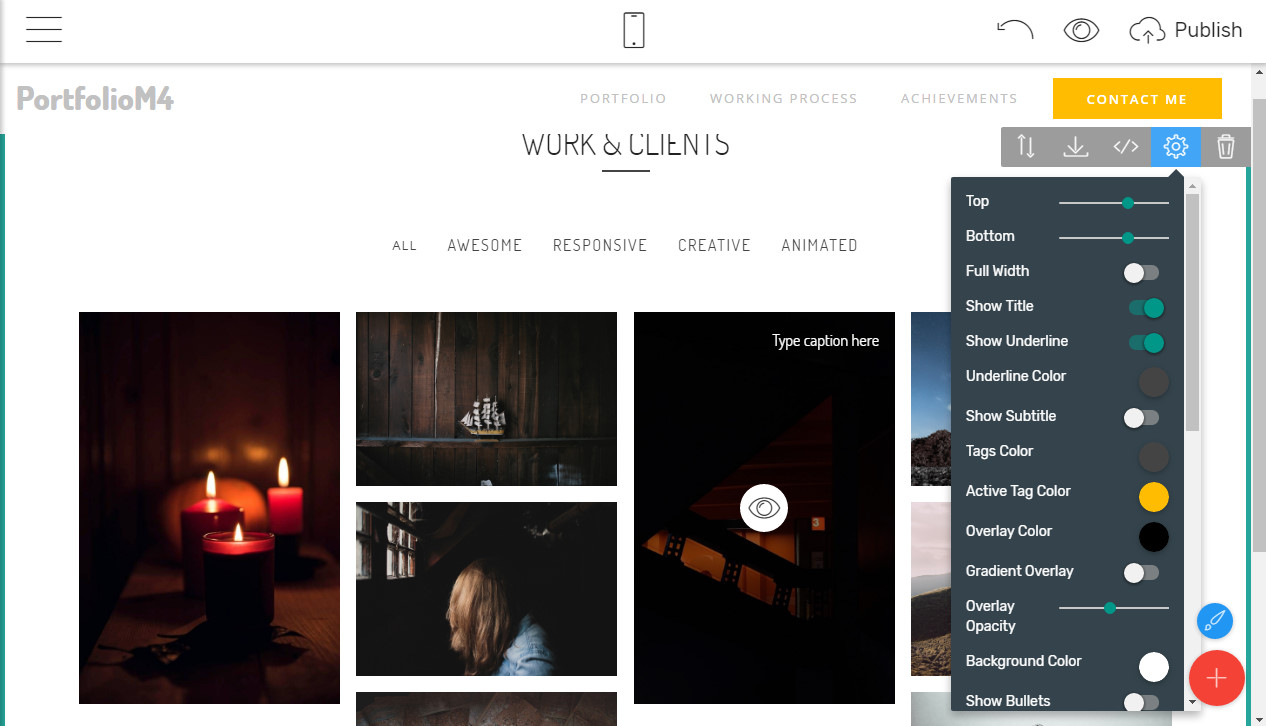 You can use full-screen or boxed sliders on your site. Just drop it on your page, go to slider parameters and change images. Add text, buttons, overlays without efforts. With galleries, you can have your pictures placed like masonry blocks. It's simple to add captions, spaces, tags and others. If you click on a gallery image of your published website, you will see a mobile-friendly slider lightbox pop up which guarantees an outstanding user experience.
Forms
Mobirise also has a couple of Bootstrap form templates. To run these forms, you don't have to think about installing back-end for your website: all forms are processed by Mobirise free website builder. You can choose a contact or subscribe form and style them as you desire.
Creating multiple pages
As soon as your work on this one page is finished, you might need one more page for your website. It's easy to achieve as well: Open the left dashboard and go to "Pages". Click on "Create New Page" to add a new page to your website.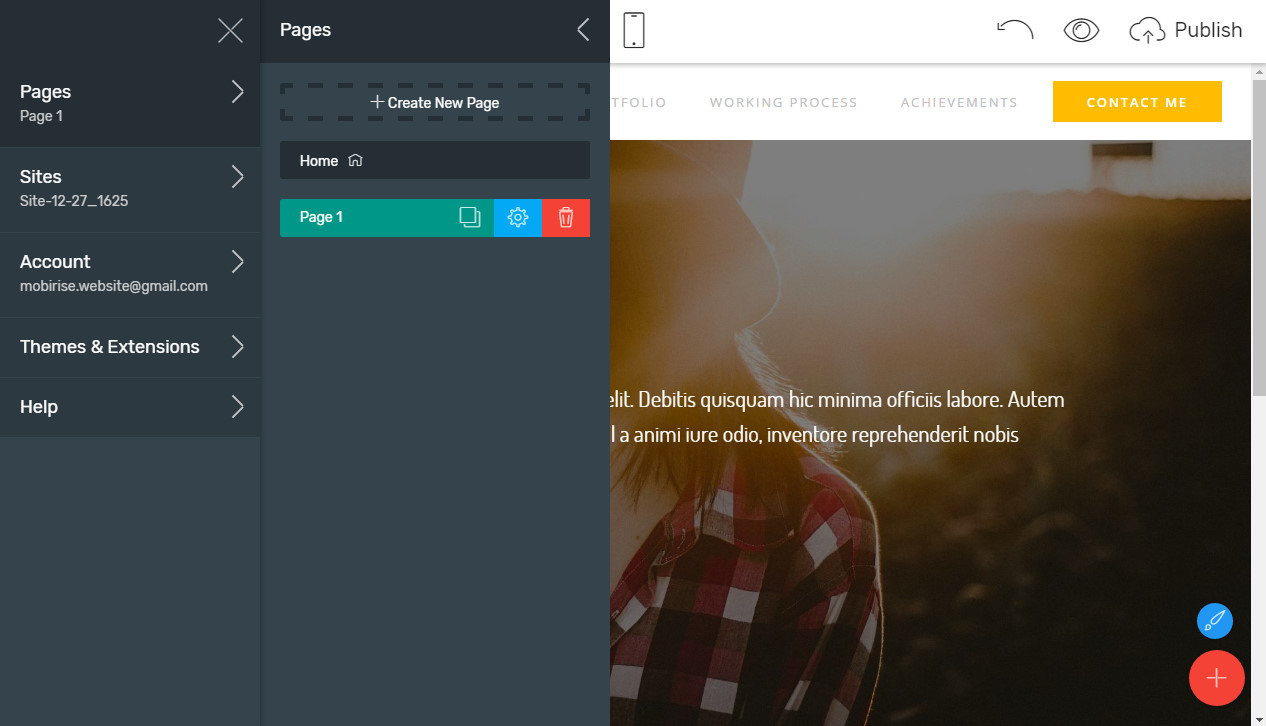 This page will already have the menu and footer you used on your main page, so you don't have to recreate them. You can also clone your page to build a page with minor changes.
Publishing a website
In the upper right corner of the Mobirise mobile website builder, you will find a publish button. Once you've clicked on it, you have 3 options: publish your site to a local folder, to your server via FTP or to Github Pages. It means you aren't restricted by one hosting provider and you can upload your site wherever you want what is an advantage of Mobirise.
Conclusion
Using Mobirise Responsive Website Builder is just one way to achieve goals if you want to create a modern and up-to-date website. There are much more tools and much more options within the Mobirise application you can use to make your website stand out from others on the web. Hopefully, this responsive website tutorial would help you build your own stunning website as easily and quickly as possible.