Best Free Website Maker? Mobirise Review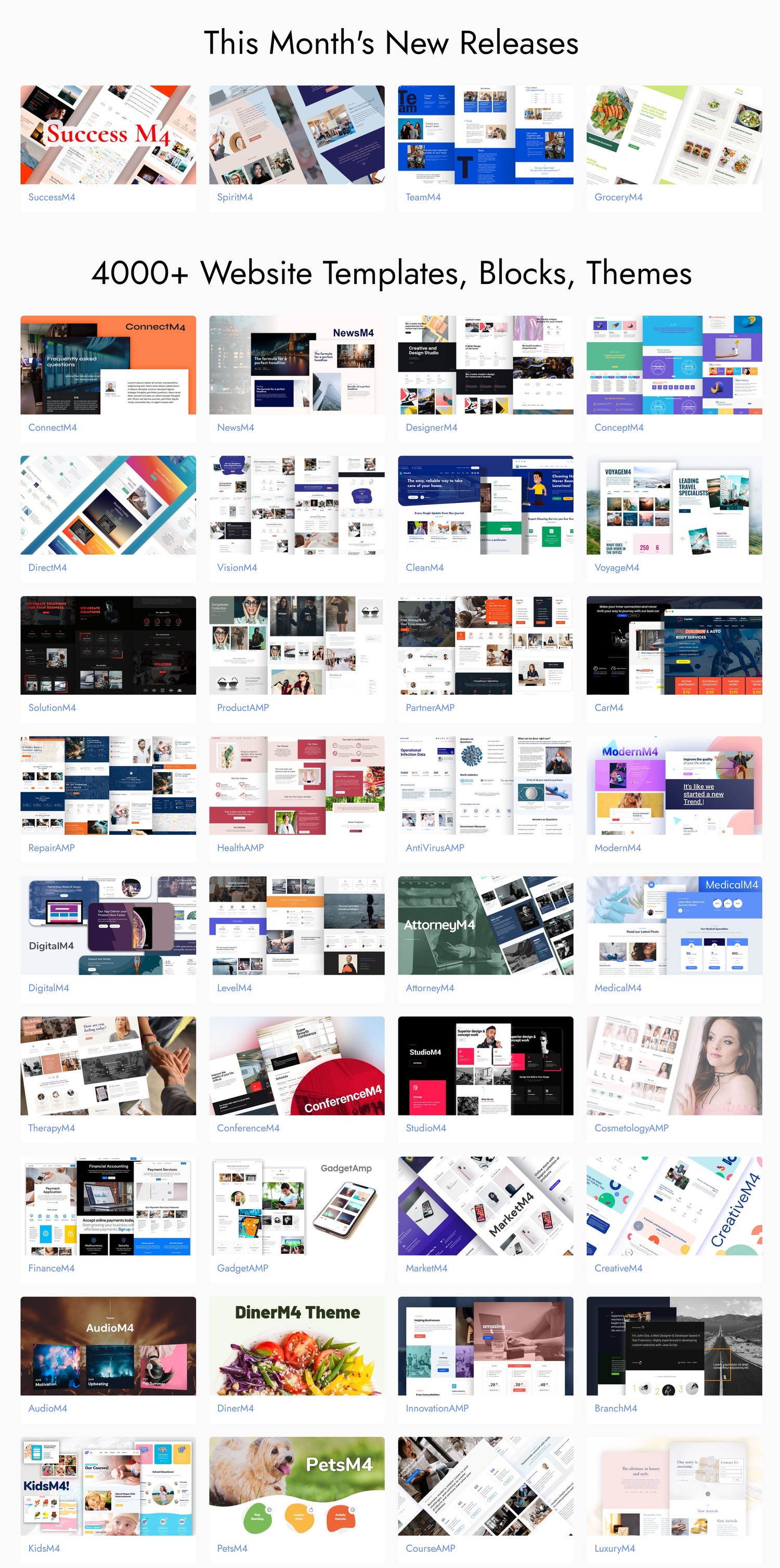 The amazing Mobirise app. Deep look into the brand new exciting features and all the ways to expand them even further. Mobirise Best Free Website Maker Review
As we talked many times before nowadays having a website presenting you as an individual or your business has already became some kind of necessity. The first place everybody looks for when needing something is, of course the Internet, so the most reasonable thing to do seams putting the information where people are looking for it, right? Furthermore the Internet gives us free and accessible from everywhere and at any time tribune to share our point of view if we have something to share with the world. So yes, the presence on the net has become a part of our lives alongside with the smart devices we use to access it and basically carry with us at all time.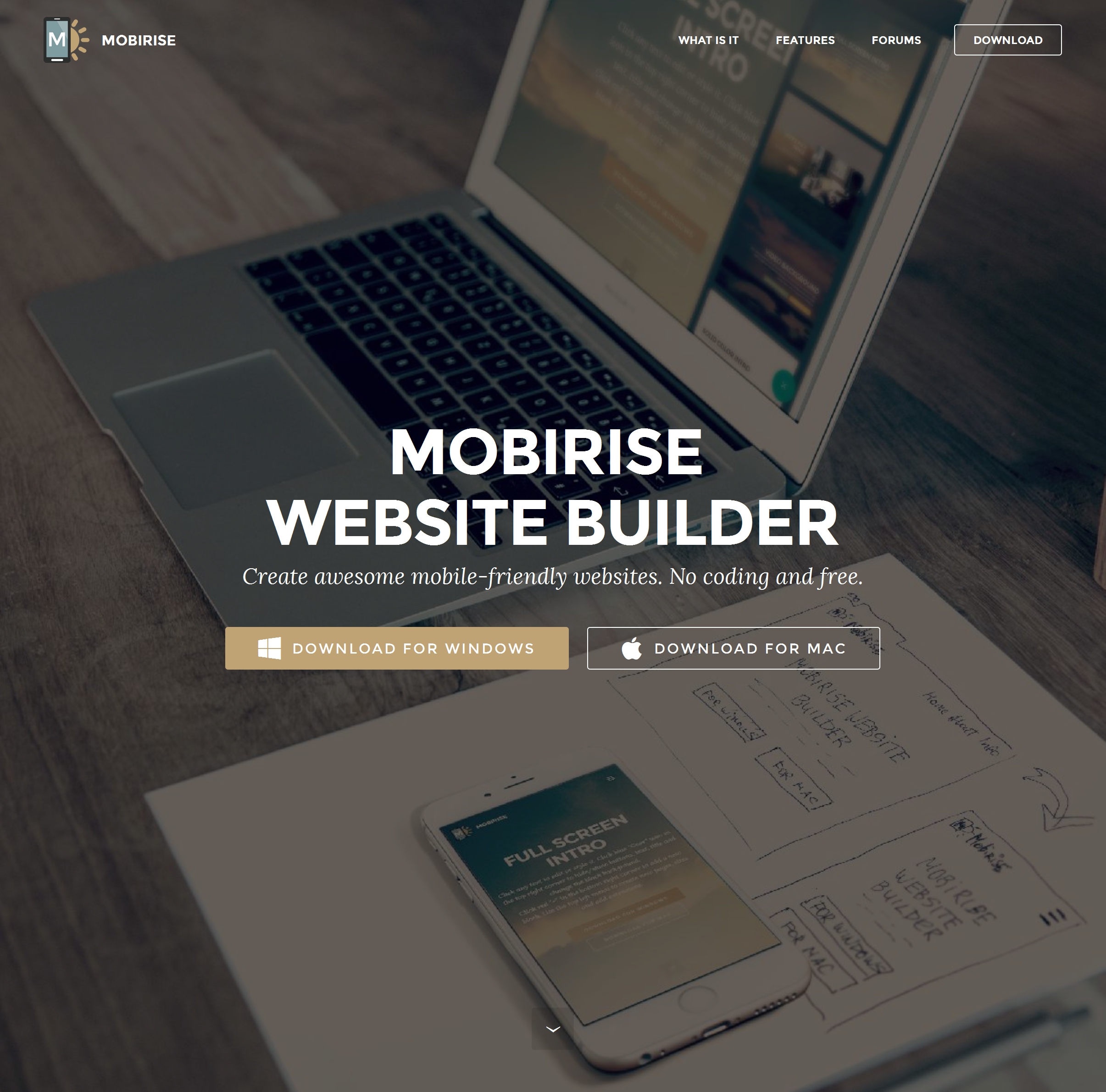 The most common way being present online are of course the social network platforms – using them don't require any special technical skills and actually gets kind of addictive. But nevertheless the ease of use and the popularity of these a social network personal or business page lacks personality and most of all – weight. Yes it's better than nothing but couldn't be nothing more than a temporary solution. And again we come back to ones need of an own website in order to expand further.
And here comes in aid the magnificent Mobirise – a revolutionary free website building software allowing almost anybody with basic computer skills to create and later on take advantage of amazingly looking entirely mobile friendly and up to date with the latest web design trends websites. The time required to get familiar with the software's interface is actually less than half an hour and the first rough version of the site could be ready just a few hours later. And this whole thing is entirely free of charge. The building process happens entirely offline on your machine and you're free to host it anywhere you find appropriate. Wow!
I discovered Mobirise Free Website Builder, one of the best free website builder tools, a few months ago – the version was an early 2 as I recall. I was mostly a graphic designer trying to expand my capabilities further. I liked the software at once. In time it became my favorite web design tool because of the simplicity, freedom and reliability it provided me. We actually grow up together these few months – I got a witness of the Mobirise becoming better and more powerful with every next subversion and the working with it on multiple projects helped me expand my own knowledge and web design skills exponentially. By the way in my opinion creating things with Mobirise is the best way learning HTML and CSS – make sure you check out why in my last article – we discuss this vastly there. Here is my Mobirise review.
Most importantly in time Mobirise Free Website Builder came to be more than just a software solution – it became a community. The development team listened to what the users needed and had to say and provided bit by bit – something valuable in every sub version.
So today I'm proud and excited to be one of the hundreds of users of the online website builder greeting the next step in this ascending path – the Mobirise version 3! Novelty, speed, stability, flexibility, reliability – these are just some of the words that come to my mind trying to describe it. But why you may ask I'm speaking so passionate about this program – I'll tell you - I've used it multiple times creating real websites for real people I aid standing up from the crowd and it never let me down – not even once. That's why it's my favorite and main web design tool.
In this article we'll dive into the deep with the new Mobirise 3 and the free html website templates with the same name introduced there. We'll explore the newly added features – nevertheless 3.0 came just a week after the previous 2.14 review there is a lot of new in it to see. We'll discuss the amazing flexibility the native blocks provide, look over the multiple different functional uses a single block can have and since it's part of the human nature to always want more and more I'm going to share with you some "Just add water" Copy/Paste free html site templates giving you new dimensions of control to the predefined elements. Some of these literally turn the blocks around – we'll observe what will come out of that. All of this entirely preserving the Mobirise best website maker visual editing capabilities and without breaking the code. Furthermore we'll explore some html web templates and techniques giving us even more functionality showcasing our content. And all of this is possible because of the great new development environment provided to us free by Mobirise best free site maker 3.
So let's dive in!
What's new?
Mobirise Free Website Builder comes just a week after the previous update – 2.14. It's common to suppose nevertheless the big version number change it wouldn't carry that much more new features. That's not entirely so and there is why: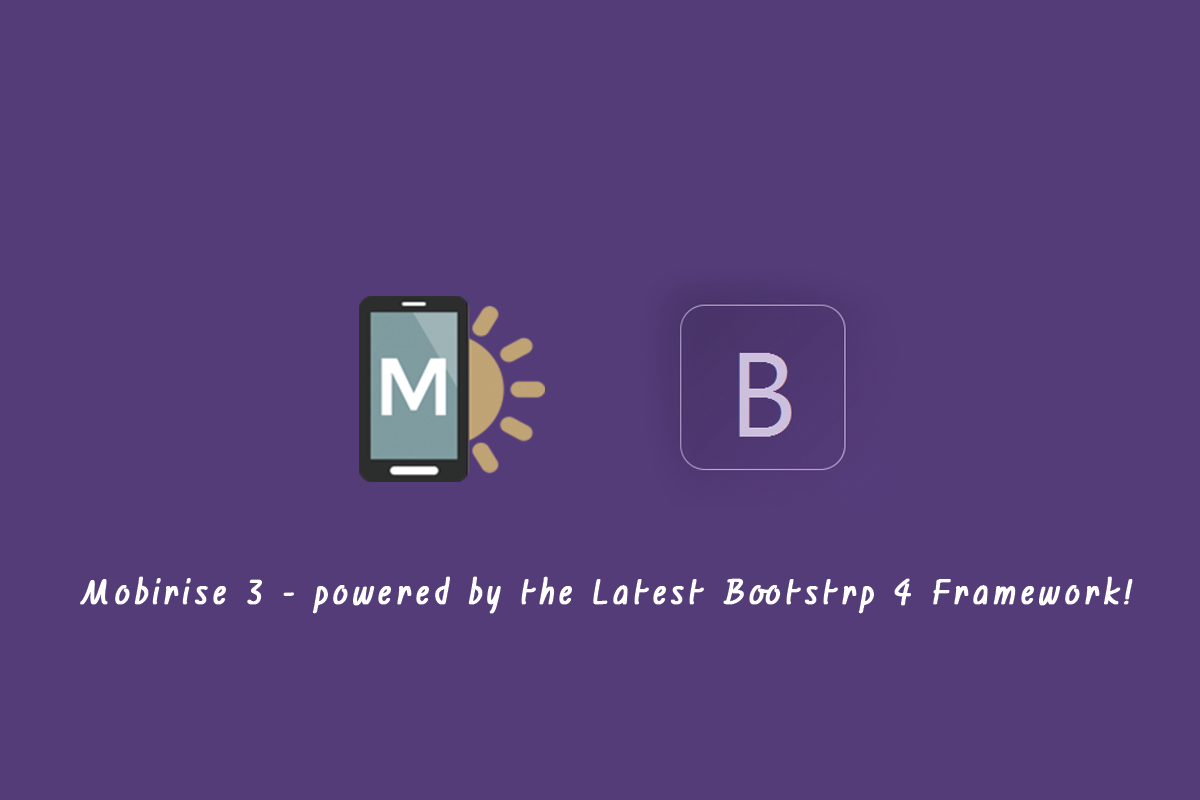 Three is actually four!
As most of you probably know the entirely responsive websites created with Mobirise are actually powered by Bootstrap - the most popular and the best responsive framework. After the great success of Bootstrap 3 in the end of 2015 the first betas of Bootstrap 4 were released. And since the things always flow forward, no matter we like it or not it is the one that should be implemented in the new sites to be created no matter how comfortable we've already got with the old Mobirise review. Mobirise got you covered – the 3 theme is entirely powered by Bootstrap 4. And you won't feel any different creating and styling your content through the builder – it's the same fun and easy process but the results of your work at the end will comply with the latest web design trends. Bootstrap 4 is actually easier, more convenient and intuitive than its predecessor as we discussed in some of the previous articles so if you need more detailed information – make sure you check them out.
From a designer point of view one of the great new features Mobirise 3 html web templates carry is the new way content gets wrapped and presented to the user. The block layouts have light and fresh look. The content is given a lot of space to breathe giving the overall feeling of purity and freedom. The wider layouts and the bigger font sizes used provide with legibility on any screen even for a bigger group of users, including those who can't spot a fly from a mile.
The default Bootstrap 4 color scheme has been replaced by a stylish mild palate giving the feel of comfort personal touch and style. This improvement has also affected the additional palate of predefined colors. For even lighter appearance some of the blocks give the designer the choice of predefined outline buttons. The overall feeling is for a product being given a professional and personal touch.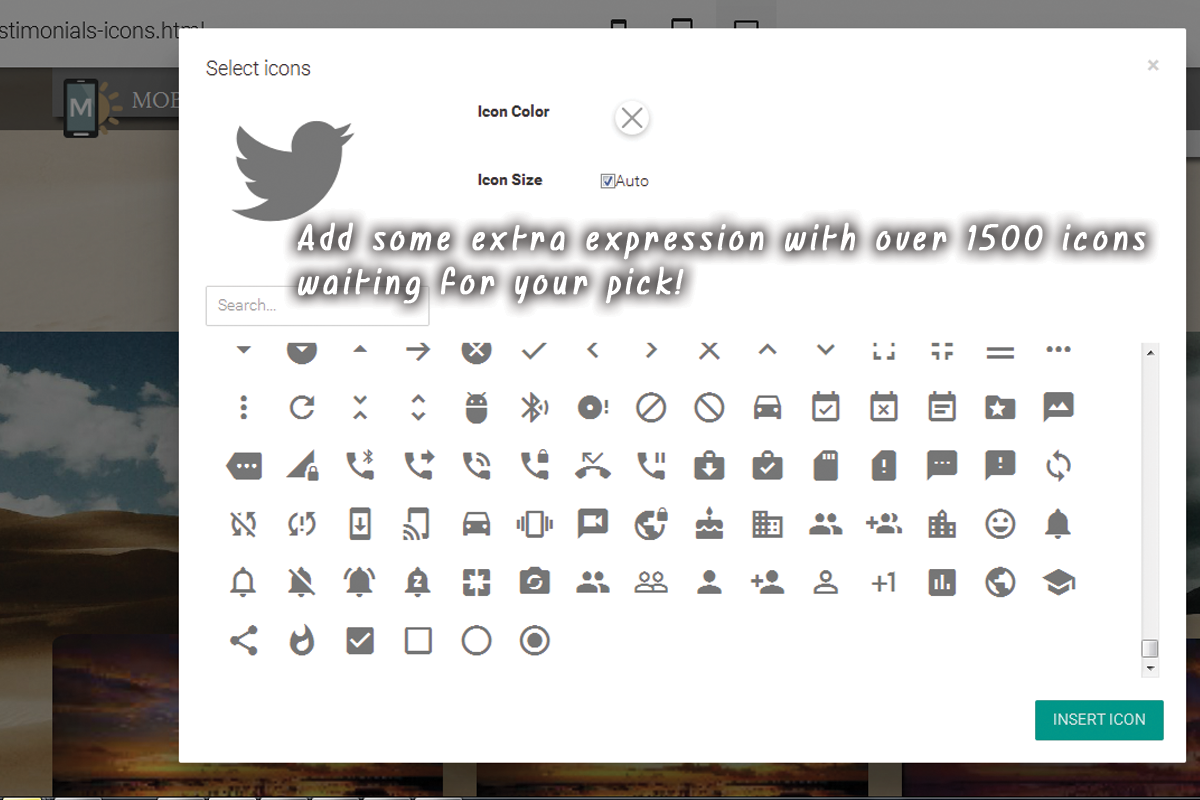 Even more icons!
As you probably recall Mobirise Free Website Builder 2.14 introduced two new sets of iconic fonts for giving your content fresh and legible touch. With Mobirise 3 we've got two sets more! The cool and detailed Socicon Font Pack provides detailed imagery of the 100 most popular platforms to be freely implemented when and wherever you need. Since the common iconic fonts imagery tend to be rather oversimplified – I guess since the icons started form a 16x16px square back in the day this is understandable – the introduction of the subtle and detailed Linecons font in 2.14 was quite a pleasant surprise – clean detailed and beautiful imagery but unfortunately small in number. This issue has been taken care of in the new Mobirise 3 with the addition of the Elegant Font Pack. Totally light in weight, feel and appearance containing about 100 multi-functional symbols this font pack adds us the power to easily achieve the feel of lightness in our web pages when we need to.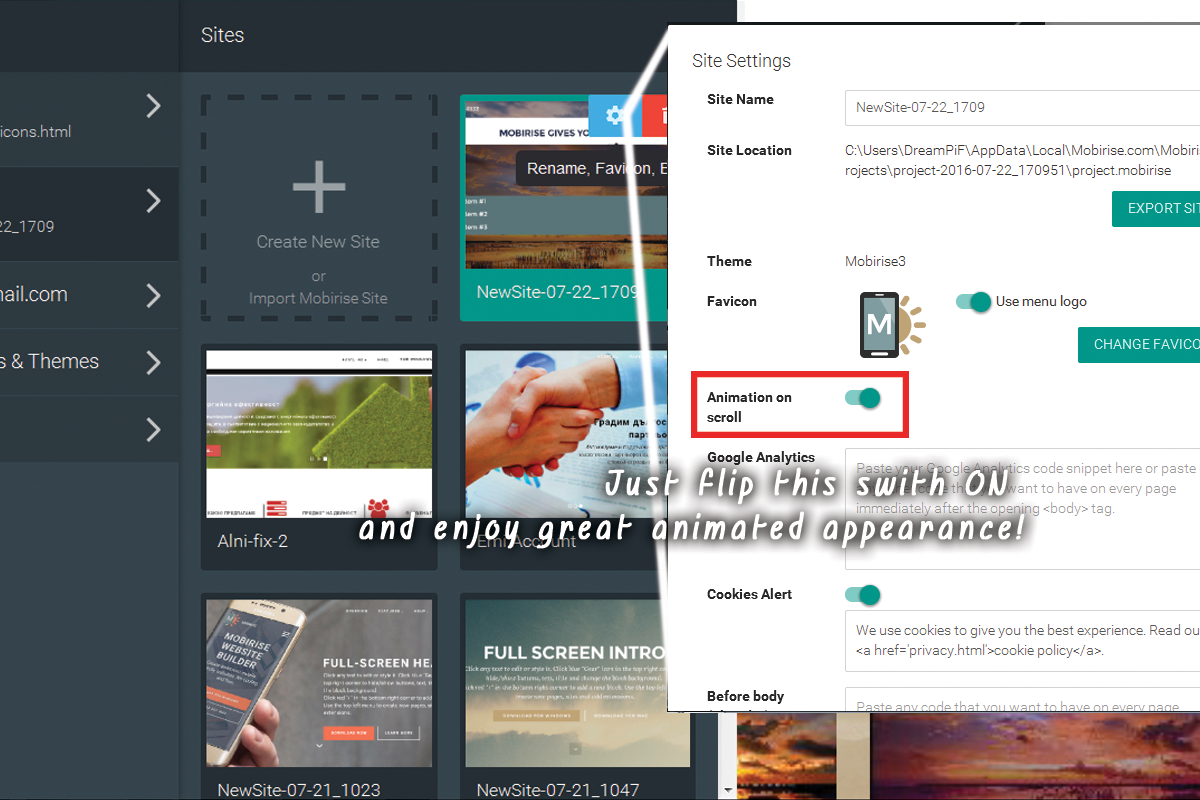 I like to Move it! Move it!
Motion is classy. Motion is fun. Having the content of your site animated gives this little pinch of extra flavor which can sometimes distinguish it from the crowd. There are many free animation libraries and scripts for triggering them out there but unfortunately until now in order to take advantage of them we had to unlock the Custom HTML section in order to get access to the code this way losing some of the so useful Block Properties controls. This is no more! Everything you create with the new Mobirise 3 theme gets instantly animated – the content gracefully emerges in the user's viewport. The effect is set up to be so subtle and balanced that after a while you get used to it and it becomes a part of the landscape. But that's just until you jump to another site and the lack of it strikes you.
Furthermore – since the speed and performance always come first this doesn't harm the browsing experience at all and can be safely turned off or on again from the Site Properties panel at any time without losing any functionality or content.
Since a general rule of mine is any spice (or effect) should be used with measure my initial approach to this new feature was rather negative. The type of transition is a global setting for the entire project, changing it or excluding particular elements from being animated happen in a rather complicated with a lot to be messed up. But then I spent some time experimenting with various theme features and of course previewing again and again and I guess it kind of charmed me. I realized I was approaching it from the wrong side. And the right approach, I think, is this – the Animation setting is not a customization option – there will be such in the future I suppose – it's just more like the pinch of cinnamon over your coffee making it an entirely different drink. You don't change it – you just use and take advantage of it – simple and impressive at the same time. In addition the fluent way it works gives the website some extra lightness, so I like it!
Haven't I seen you somewhere? – No, it must have been my brother.
At first scrolling down the panel with the predefined blocks of the new Mobirise 3 theme one gets the impression one block appears multiple times in different sections which obviously can frustrate you a bit. You are wrong. The blocks in different sections look much alike but each carry its own different functionality in the Properties panel – some of them are intended to display full screen, others have adjustable padding options or boxed layouts and so on. Since a single block contains multiple customization options which combined give you entirely different appearance in order to help you generate some ideas few different implementations using one block engine can be showcased in the blocks panel but always in one section and next to each other. So my suggestion is – do as I do at every new version – take your time, drag out all the blocks at a single page and explore the customization options you have. This way you could get some unexpected ideas and also test the overall performance and stability of the best web site maker which after the last update is actually even better.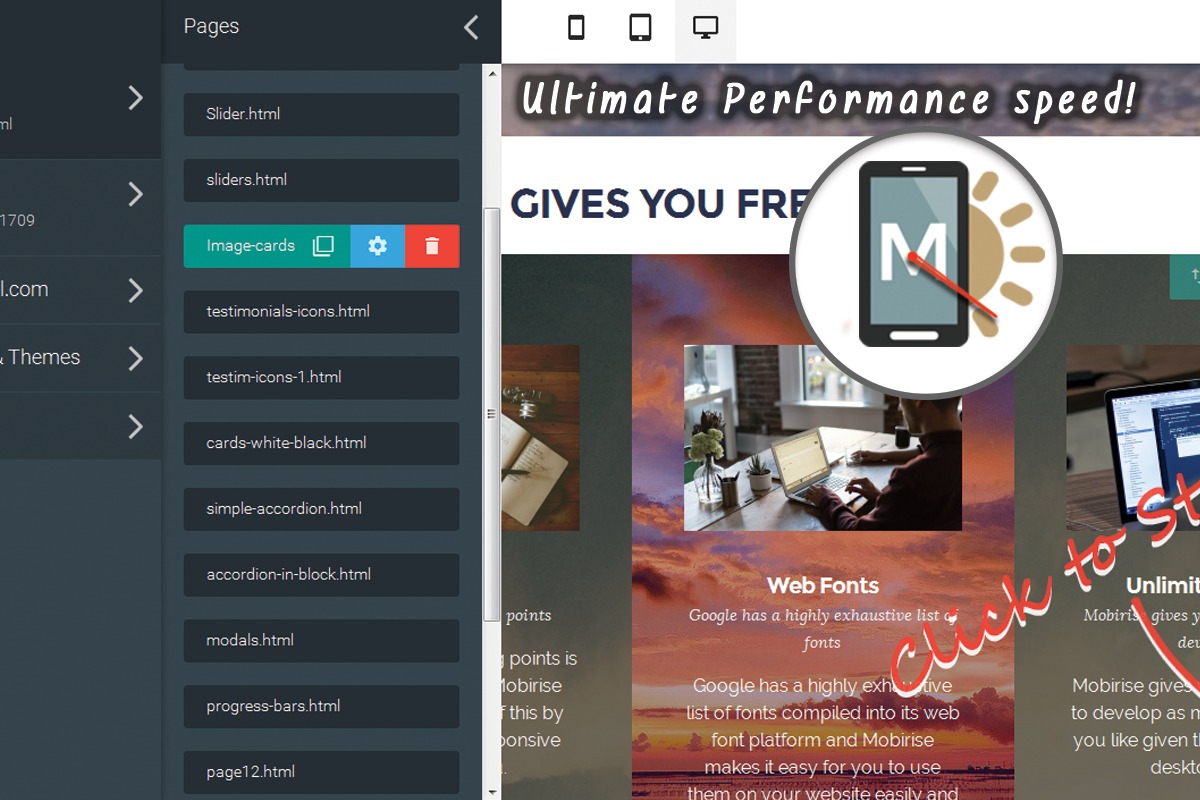 Speed is crucial
Have you had this situations when the deadline knocks at your door or your mind flies on the wings of the new idea you just thought of and the equipment brings you down deciding to go in Siesta? The cutest feeling when everything on the screen kind of freezes up or even better – moves like in some kind of jelly and the most natural thing to do seems using a hammer to give the machine some extra motivation? Or even going on a coffee break until the task you have given finally gets completed?
I'm sure you have.
I'm also sure you won't experience it with Mobirise Free Website Builder. After the first baby glitches of the preview the application runs smooth and stable like a well-greased machine. During my preparations for this article I did try distorting the best free web site maker work with heavy snippets, tons of pages and dummy content, opening multiple instances of the application and so on. I failed. Even if you mess up trying to tune a module up to your taste the program loads ignoring the mistaken module and when the error is being removed or you roll back to the initial module state and restart the application – everything gets back to normal.
I also did not experience any lags in my work – it seems like the new Mobirise 3 is almost like the good old WV Golf 2 – indestructible ;)
Now that we had a quick glimpse over the new features Mobirise 3 introduces, let's take a deeper look over some of the elements of the new theme and explore some ways of expanding their functionality even further: