WOWSlider is designed to be completely flexible, so that you can get exactly the slideshow you want. If you want a simple slideshow with no extraneous details, you can simply follow the instructions below to turn off all the additional features:
In the menu bar, go to 'Slider' and then 'Properties'. (You can also go to the properties window by clicking on the button with the icon of the screwdriver and spanner in the top navigation bar.)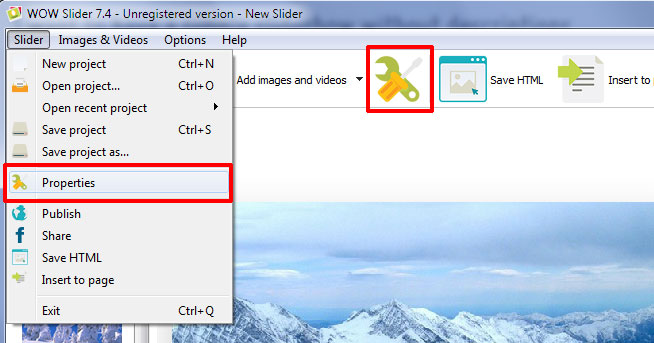 The properties window contains many different options for your slideshow.
To turn off all the extra features, change the following options:
Show Prev/Next buttons — unchecking this will remove the navigational arrows either side of the slideshow.
Show descriptions — unchecking this will hide the titles/descriptions that show in the corner of the slideshow.
Remove frame and shadow — checking this will remove any styling that has been applied to your slideshow, for example a frame or shadow effect.
Show bullet navigation/Filmstrip — unchecking this will remove the thumbnails and dots/bullets that can be used to navigate around the slideshow.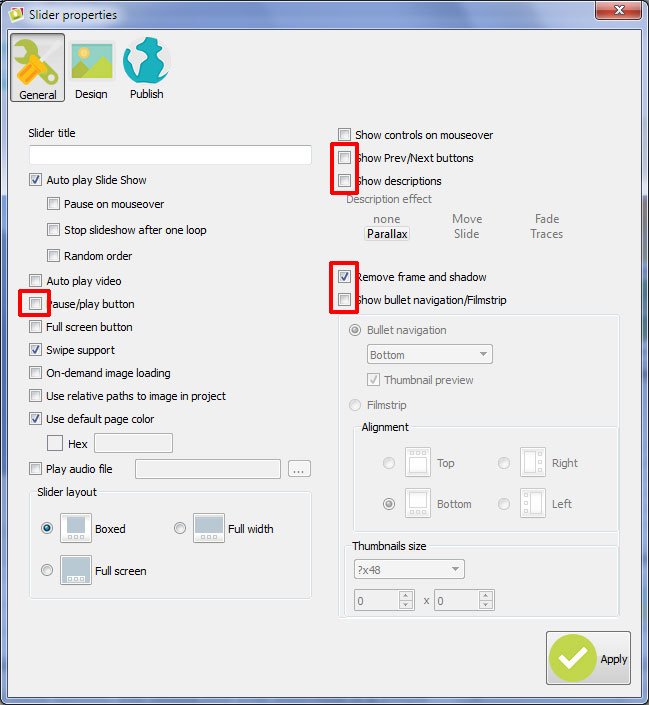 Once you have changed all these options, you should find your slideshow is a simple set of scrolling images. You can save and publish as normal.