Fade Effect & Sunny Template Html5 slider
This Sunny Fade slideshow template offers a soft and very chill transition from slide to slide, allowing your website users to enjoy a relaxing slideshow of all of your best images. With a built-in preview panel and an audio feature that they can control, both the eyes and ears of your guests will be entertained while they check out your pictures at their own pace. As always, you'll have the best slideshow technology at your service, allowing for glitch-free and uninterrupted displays that are sure to stay in the minds of your customers for days to come. WOWSlider's templates work equally well whether your audience is using it on a desktop or mobile device, so it will never limit your ability to capture the imagination of visitors to your site, no matter how they are accessing it.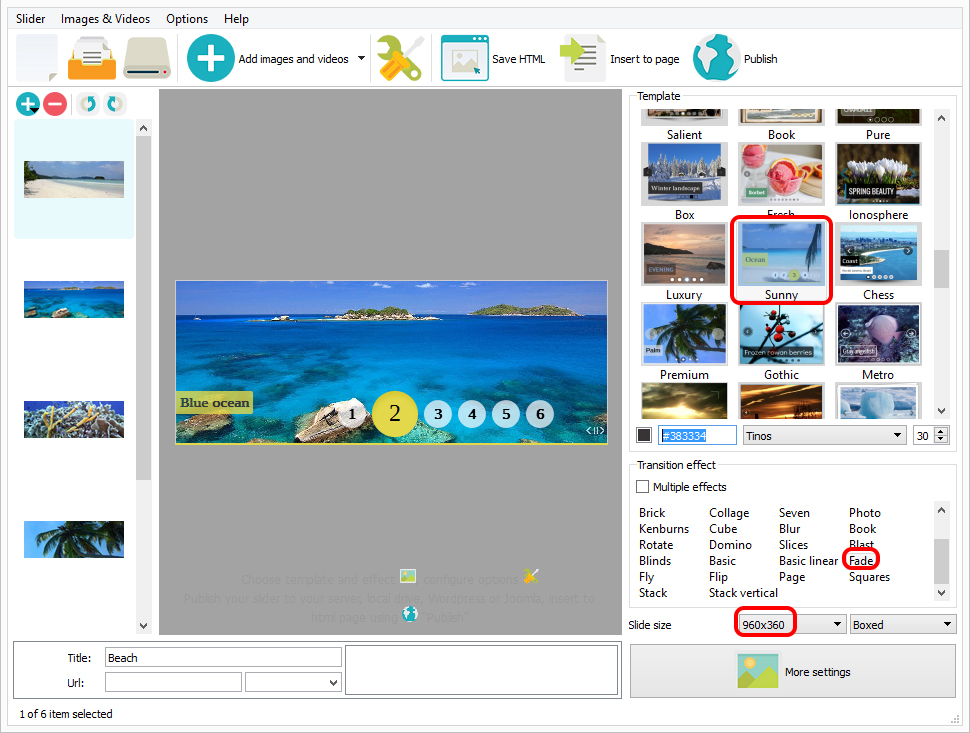 Upon their arrival to your website, the slideshow will begin to play automatically, accompanied by the background music of your choice. Images fade from one to another, as a translucent yellow caption box slides in from the left side of the display. Holding the cursor over the caption box will hold the current slide in place, so that it can be studied for as long as the viewer would like. With the crisp, clear font that is used in the caption boxes, Sunny Fade will work beautifully in a variety of different designs.
An unobtrusive white band across the bottom of the slide fades out in the center so as not to distract from you picture, while the visible areas to the right and left serve as the controls for the music and as the home of the panel preview. The row of numbered circles on the right side of the band corresponds to each slide in your show, so guests can easily find their way to the image of their choice. The numbered circle linked to the current slide on display will be highlighted with the same soft yellow as the caption boxes, making it simple to see where you are in the show anytime. Click on any number to pull up the corresponding slide immediately. Meanwhile, just click anywhere on the left side of this white band in order to silence the music, and click on it again in order to turn it back on. This freedom to customize their experience will definitely have your customers heading back to your website again and again.