Dribbles Effect & 155 Slides Huge Skin Jquery slideshow
The current demo uses a Balance theme. Arrow button is made of green round and a green arrow inside. The arrow becomes transparent on mouse hover which makes a nice effect. Thumbnails are simple: small white dots and green dots when selected. The description is written with the help of Source Sans Pro font. It looks modern and stylish on a white transparent background.

Customization
The text elements of the presentation may be customized as it is being developed. For instance, the font color may be changed to match the background. During the example, the text appears as gray letters in a white box. While there were no links associated with the text in this demo, in your own presentations it is a simple matter to utilize this to help direct readers to different parts of your online store or site. This demo is the example of the 'On-demand image loading' option.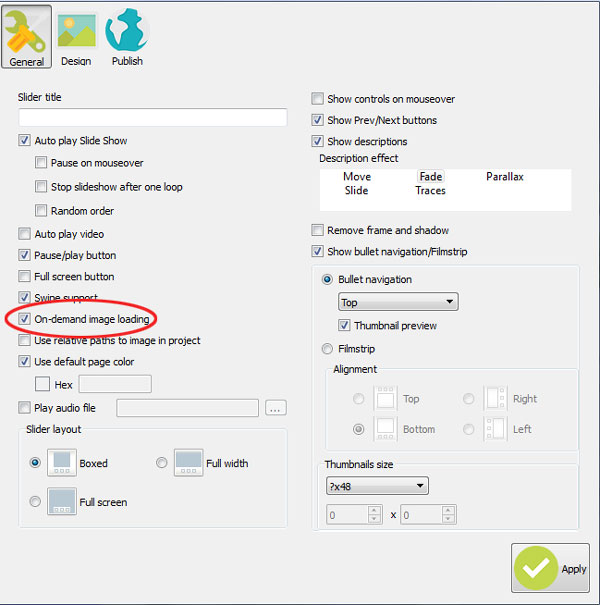 When you turn this option on, your images will be loaded from script, you won't waste your time waiting when all of your images will be loaded in the page. Each image loads only when you click on an appropriate bullet or when you click on a next/prev arrow. This function makes your slider work faster. If you want to enable this function, click 'Slider' - 'Properties', you can see an 'On-demand image loading' checkbox there. Select it. Now you can generate your slider with a huge amount of images.
Responsive Slideshow
Built using the latest web technology, the presentation is filled with highly responsive elements that fade to the background when the cursor is not actively over it. For instance, the forward and backward elements (shown as green circles with their respective arrows) only appear when they are needed. The same goes for all elements, except for the background image. This enables people to see what you are offering, and quickly learn more without becoming overwhelmed with text. The transitions are smooth as well, swiftly swapping out the background image in a manner similar to an old projector. This gives the viewer the chance to quickly see what is coming next, while being able to remain on the same slide if he so chooses.
Communicating the specifics of your product with consumers has become a challenge in this fast paced, mobile world. People simply do not have the time to waste reading page upon page of text. Interactive media has proven itself more effective in reaching potential customers, and in increasing the number of sales on a site. Interactive media, such as WOWSlider Presentations, may be utilized in both traditional and mobile settings, and can be utilized to display material for everything from content production sites to ecommerce establishments.