Seven Animation & Grafito Style Wordpress gallery plugin
This slider has an old-fashioned elegance and an unusual color scheme. The result is very unique and eye-catching!
There is no frame effect to the slides, allowing the pictures to take up the maximum amount of space. However, the images do have a 'rounded corner' effect, which makes them look like old-fashioned photographs.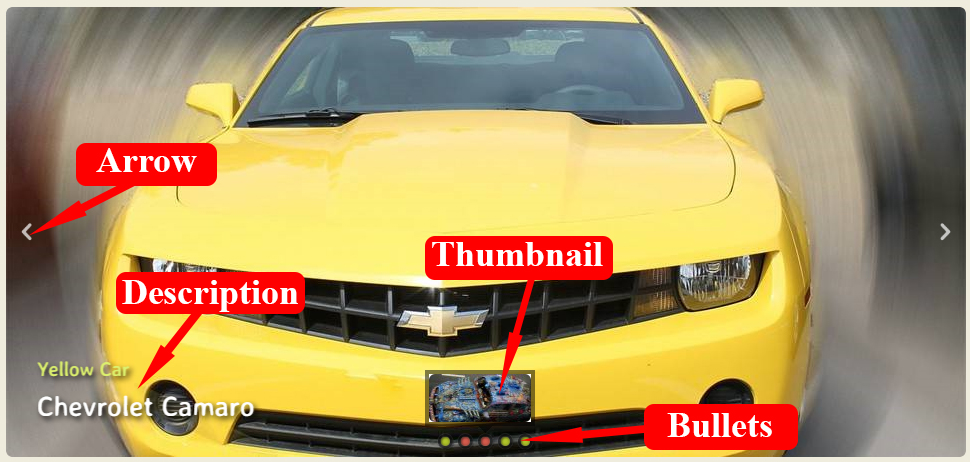 The navigation arrows appear when you over over the slider, and are white, semi-transparent arrowheads with a drop-shadow to help them stand out. Hovering over an arrow turns it a slightly faded orangey-red, an unusual color in web-design, but which really helps reinforce the 'old fashioned' feel.
Clicking on the arrow cycles you through the slides.
At the bottom-center of the slider are a series of yellow-green dots with a black border and 'drop shadow' effect which represent each slide in the slideshow. When the dot related to the current slide is highlighted, it turns the same faded red as the navigation arrows. The green and red together is really eye-catching.
Hovering over a dot brings up a small preview of the relevant slide in a black semi-transparent frame.
The caption sits in the bottom-left corner. There is a small title in a yellow-green color, with an optional white larger sub-title below. The text has a dark drop-shadow, which helps it stand out against the images as it has no colored background.
The font used is Averia Sans Libre, a unique font that was created from the average of many other fonts. It has a fun and slightly hand-drawn look to it, which complements the quirky but old-fashioned feel of the slider well.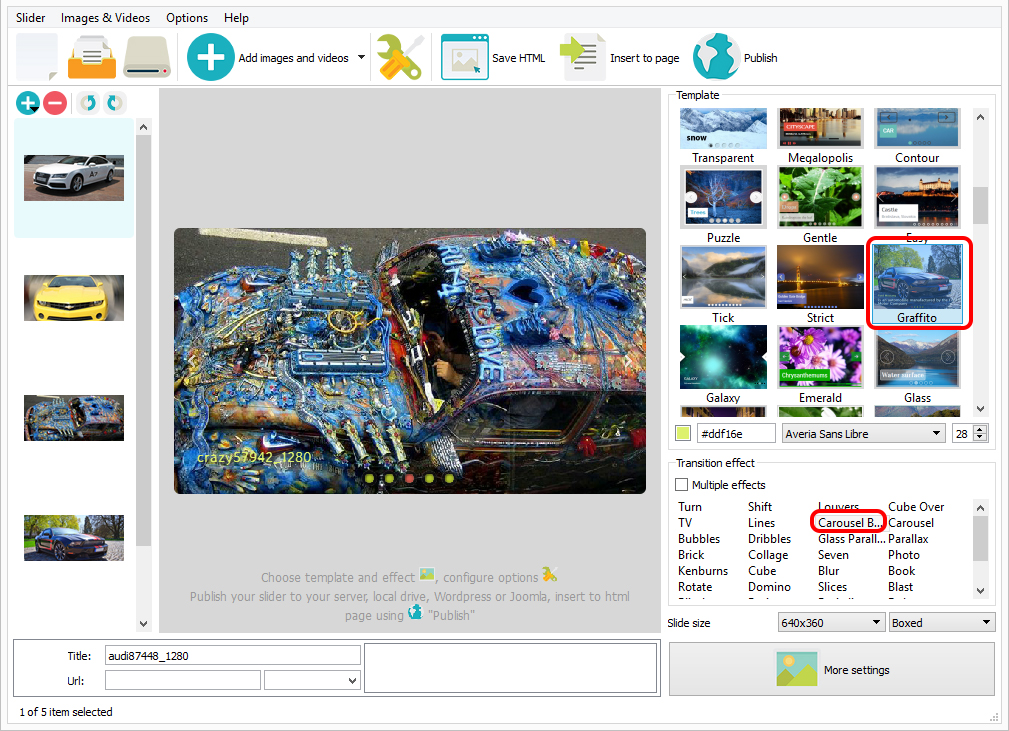 There are a number of change effects to choose from, but the default 'seven' has the image break apart in squares and fly off the screen, whilst the next image forms from squares flying in from the other side of the screen. It's a good, fun choice that complements the quirky design of the slider and has a lot of movement to attract the eye. If you wanted to play up the old-fashioned feel a bit more, 'kenburns' would be a good choice as it fades the photographs into each other, or you could use 'book' which simulates turning a page in a book.
This slider would be perfect for anyone with a vintage or retro site design. 'Mommy bloggers' would love this, as it would work well with a 1950's vintage 'house-wife' vibe. The slider would also work well for sites that discuss the history of buildings, towns or people, particularly if they have old photographs to display. Antique dealers would also benefit from the quirky, old-school design.