This slider is now avalable with our Free Website Builder!
This easy web design software comes with 5300+ awesome website blocks: image galleries, lightboxes, image sliders, bootstrap carousel, counters, countdowns, full-screen intros, features, data tables, pricing tables, progress bar, timelines, tabs, accordions, call-to-action, forms, maps, social blocks, testimonials, footers, and more... Free for commercial use.

Page Animation & Emerald Skin Slider javascript
Questa demo utilizza un template completamente verde netto e pulito per mostrare le vostre immagini con ingombro minimo. Le foto visualizzano la loro descrizione in un box compatto piacevole e pulito nell'angolo in basso a sinistra della presentazione con un font bianco semplice da leggere che appare dal lato mentre cambia l'immagine. Le frecce utilizzate per navigare tra le immagini manualmente sono presenti anche all'interno di box verdi simili a sinistra e lungo i bordi più a destra dello schermo e appaiono solo quando il mouse passa sulla demo per tenerle fuori dall'inquadratura e mantenere una visuale pulita quando non vengono utilizzate.

Potete inoltre tenere traccia di tutte le immagini della vostra presentazione come piccoli rettangoli nella parte in basso a destra dello schermo che possono essere allargate per mostrare l'immagine all'interno piazzando il mouse in cima ad esse. Quella attiva viene evidenziata da un verde acceso mentre altre rimangono oscure per facilitare la visualizzazione.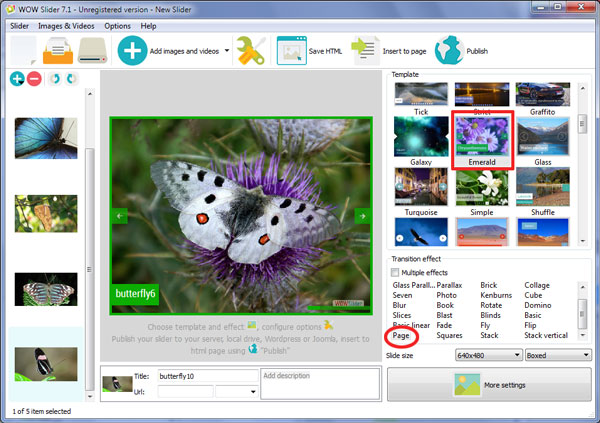 Questo tema funziona al meglio per mostrare ampi spazi aperti per scopi turistici o ambientali.
Questo slider che è stato menzionato sopra è completamente compatibile con il mobile. Potrete ricevere un incantevole slider ottimizzato per il mobile creato istantaneamente per voi partendo dai vostri contenuti in modo che le vostre immagini e video siano accessibili da ogni tipo di gadget.