Blinds Effect & Dominion Design Html gallery
The interface of WOWSlider is quite easy to use and very straightforward. Users can just drop the images that they want to add as the slides. They can then choose skins, effects and options available to customize their sliders and then save the slider as a standalone page. WOWSlider supports Wordpress plug-in, Joomla module and have options for publishing to server via FTP client built-in and also Insert-to-Page wizard to allow users to embed the slides in the page.
The current demo uses a Dominion template which looks brilliant with a filmstrip on the top of the slider.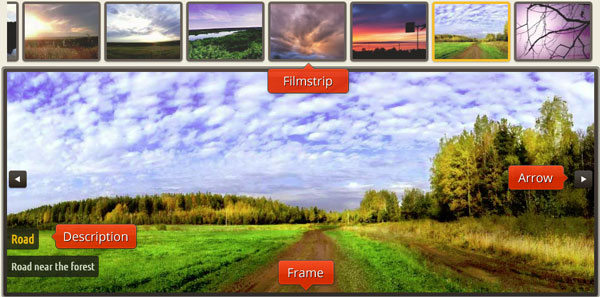 An arrow button is built with the help of a black rectangle and a white arrow. Also, it has a transparent frame which could be seen when you hover your mouse over it. The description uses an Ubuntu Condensed font which is colored in orange and looks beautiful. The frame is quite simple. It is made with the help of 2 rectangles: black and gray.
WOWSlider offers touch/swipe navigation option to its users. This is a great feature because smart phone usage is growing and it is essential that websites and the images they contain are easily accessible on all mobile devices. WOWSlider is designed to support touch screen gestures as well so that viewers can receive a smooth experience.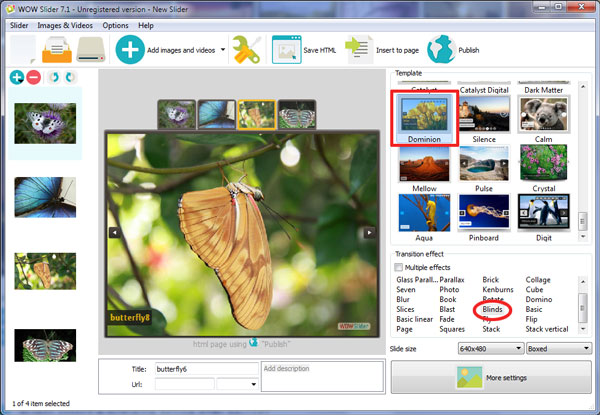 WOWSlider is what website owners needs to keep their customers' attentions focused on their web pages. Also WOWSlider is compatible with all smart phone devices and web browsers which means that users will have no problem whatsoever viewing images and staying hooked on to the creator's website and the html slides it contains courtesy of WOWSlider.