Stack Transition & Ionosphere Template Javascript slider
This slideshow demo utilizes the well know, 'stack' effect for slide transitions. In this effect, each new slide simply swipes in from the right side towards the left. No fancy popping and distracting magic tricks, a simple swipe. This way, the viewer isn't distracted and focuses directly on the picture in front.

The slideshow demo has sharp, angular rectangular boxes for text, placed in the lower left corner. Each box is a translucent black with white opaque writing. There are two rows of text boxes and each of these can randomly swipe in from either right to left, left to right or top to bottom. These text boxes have a simple blue border on the left side, in complement with the blue border on the bottom of the entire slideshow frame. Otherwise, the rest of the frame is borderless.
The bullet points are placed in the lower middle in the shape of plain gray circles. Simple blue arrows for navigation are present in right and left side. They are both invisible until the pointer interacts with the show. If you want your message to stand out, it needs to be surrounded by things which complement it. This slideshow demo is exactly that. It's simple, it's effective, it's easy on the eyes and it highlight the one thing that matters, the picture.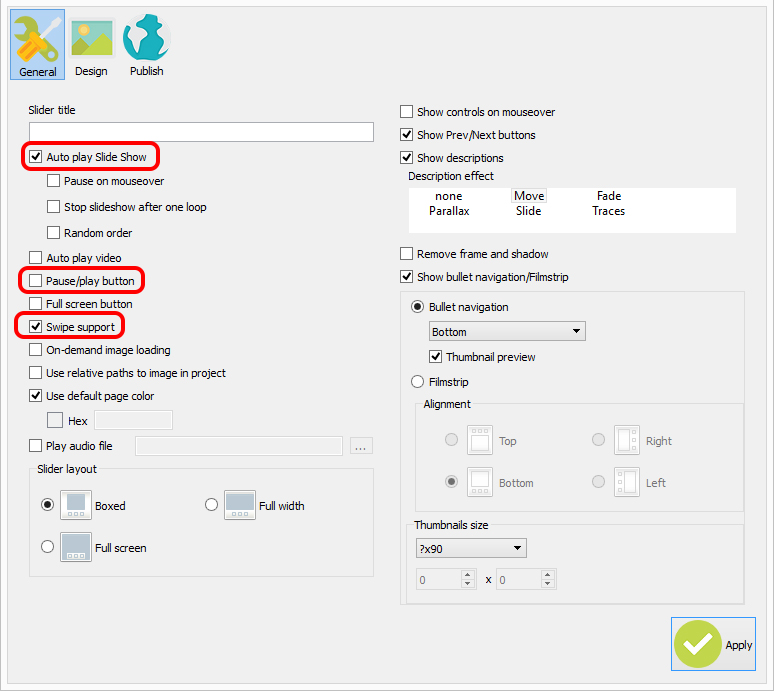 The current slideshow starts automatically because the 'auto play slide show' option is enabled. You also don't see the play/pause button because it is disabled in a general properties tab. This slider has Swipe support so you can easily manage the slider on your mobile devices.