The sun shines through the ears
Golden clouds at sunset
Misty sunset
Seed in the sun
A cloud covers the sun
Tree at sunset
javascript web photo gallery generated with WOWSlider.com
This slider is now avalable with our Free Website Builder!
This easy web design software comes with 5300+ awesome website blocks: image galleries, lightboxes, image sliders, bootstrap carousel, counters, countdowns, full-screen intros, features, data tables, pricing tables, progress bar, timelines, tabs, accordions, call-to-action, forms, maps, social blocks, testimonials, footers, and more... Free for commercial use.

Basic Transition & Subway Skin
Questa demo presenta il vostro slideshow con una visualizzazione panoramica di alta qualità che sicuramente stupirà ogni spettatore. Questa demo presenta meno ostruzioni possibili per assicurarsi che le vostre immagini vengono visualizzati senza ostacoli, infatti la maggior parte degli strumenti scompare quando non viene utilizzata. Delle frecce bianche su box grigi da ciascun lato vi permettono di saltare attraverso le immagini e i piccoli cerchi in fondo ricordano quale immagine è in the visualizzazione in ogni momento. Passando il mouse sui cerchi farete apparire la vostra immagine in un pop-up e cliccandoci sopra verrete trasportati sulla stessa immediatamente.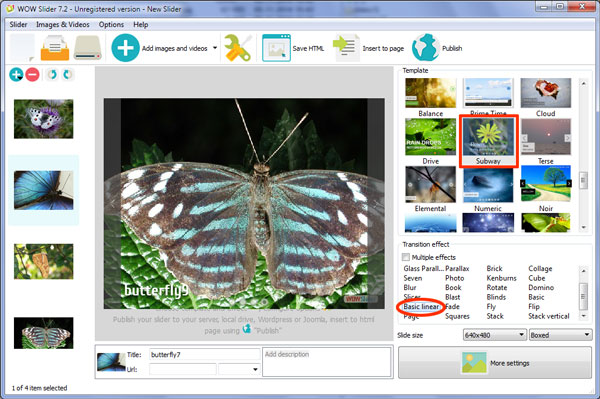 Titoli e descrizioni appaiono nell'angolo in basso a sinistra della demo utilizzando un font affascinante bianco e pulito. Grazie all'impressionante design in stile cinematografico, questa demo di presentazione potrebbe essere adatta ad ogni immagine relativa ai film.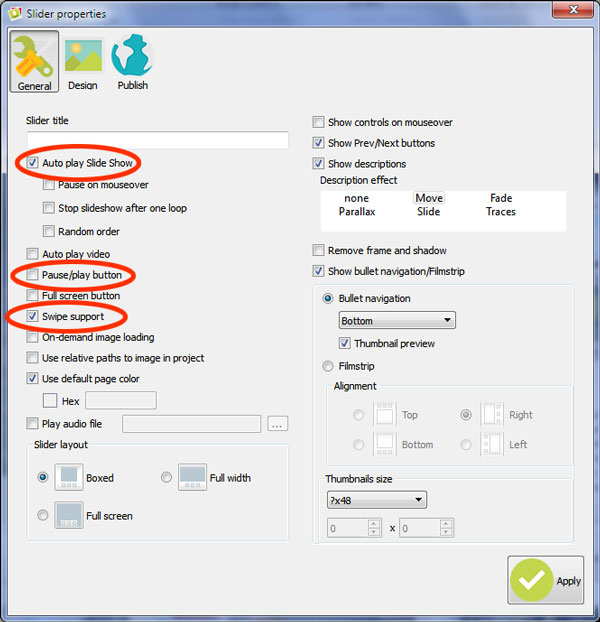 Questa demo non ha pulsante play/pausa quindi non potrete interrompere manualmente lo slider. All'inizio la presentazione parte automaticamente poiché è abilitata l'opzione 'Auto plaSlide sHow'. Potete inoltre gestire il vostro slider sui dispositivi mobile con l'aiuto e la funzione 'Swipe Support'.