Seven Transition & Aqua Theme Css slider
Design can be considered as one of the most important aspects of your website. You need to be equipped with a well-designed website in order to make your online presence more effective. Adding a slideshow to the homepage can be considered as one of the best methods available out there to enhance your website design. Some people think of this as a tedious task. But tools like WOWSlider have made the things easy for all the website owners. You just need to install the widget and customize according to your specific needs and requirements.
WOWSlider can be defined as one of the most attractive website slideshow makers available in the market. It is equipped with several unique features. These features will assist you to create the best looking slideshow in your home page. You can simply add over 10 different images to the slideshow and customize their appearance. The play/next arrows will assist visitors to move across the images with less hassle. The arrow button consists of a blue rectangle with rounded bounds and two little white arrows inside it. This combination of colors looks perfect. If visitors want to get a detailed view of a specific image, they can seek the assistance of pause/play button. But this slider doesn't contain pause/play button because it has 'Auto play' option enabled. Don't forget that you can swipe the slideshow on your mobile devices. You can even do it on your desktop PC with the help of a mouse.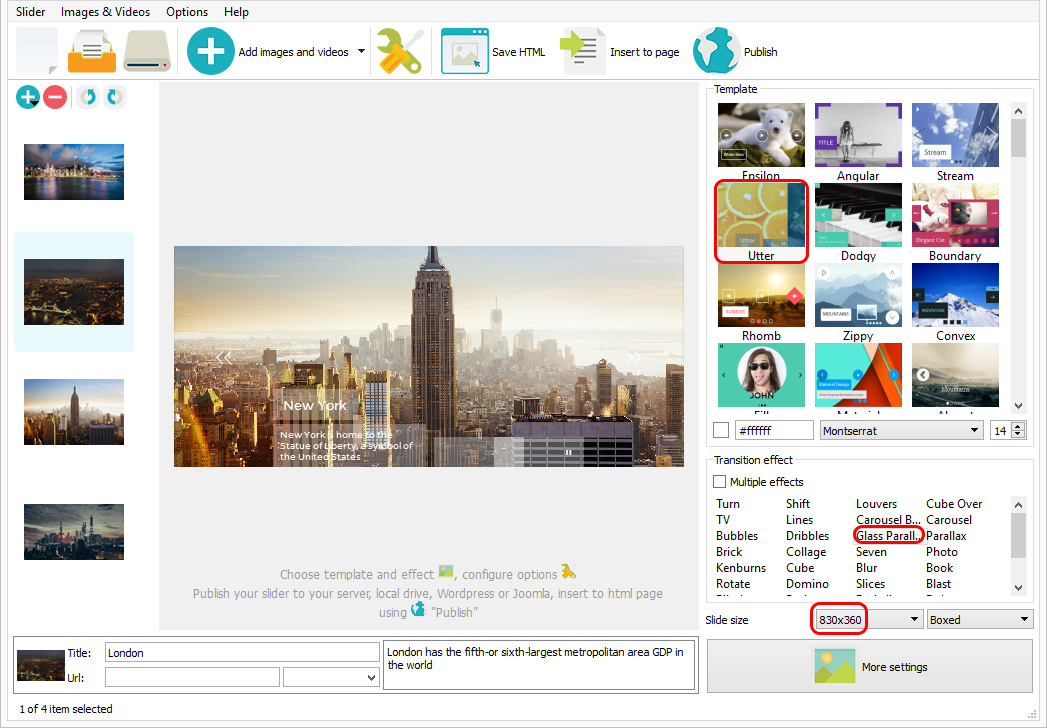 The other appearance enhancement tools include bullets or navigation dots, small thumbnails and text descriptions. Bullets are small white rounds but they are colored in blue when selected. Tahoma font with a transparent background makes the description look stylish. Talking about a frame, it is a white rectangle which doesn't look extraordinary but perfectly fits all the other elements. In other words, almost all the tools are available to make your slideshow look better and the combination of blue and white colors gives this slider a unique style.
The Seven transition effect is splendid. The whole image is divided into small particles and then they fly away from the screen. This kind of animation is really cool.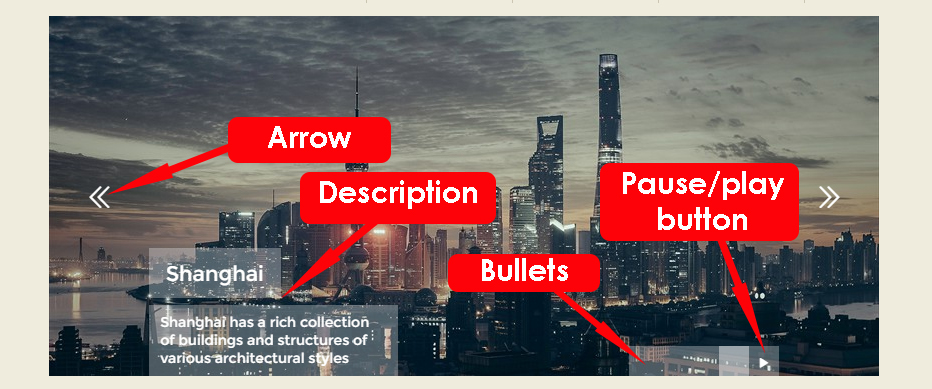 WOWSlider has also given options to enhance the appearance of the entire slideshow. You can use those options to change the color, style, shape, font and position of your slides. This will assist you to brand your slideshow according to the branding guidelines of your company. You can even select when and how the images should appear on your slideshow. As it is based on JavaScript, you can select how it behaves on mouse over, mouse click, swiping and dragging.
The WOWSlider fits perfectly well to any kind of website out there. If you want to highlight the important aspects of your business right on the home page, there isn't any other convenient method than using a slideshow. You can create a good impression on the minds of your visitors with the assistance of a good slideshow. It is much convenient than displaying large image thumbnails on your website. You can make your website load faster and keep the visitors away from hassle. Therefore WOWSlider is something that all the website owners out there should think of getting.