Basic Effect & Numeric Skin Html5 image gallery
This slider gallery demo has a very classic, narrow white straight edge border that will match well with any page design.The text appears on the left bottom side of the slide in a white rectangular box. The font used is also traditional and easy to read and is in all capital letters.
Each image pauses in increments of about 5 seconds and then literally slides right to the next image. This is the result of the 'auto play' option. As you can see this slider has no play/pause button so you can't stop this slideshow. When leaving the screen the picture is swept smoothly from right to left. Once the slider reaches the end of the group of images it very quickly slides through all the pictures and takes you back to the first image. When this happens you are not really able to see the images but can see enough to be able to tell that is what is happening.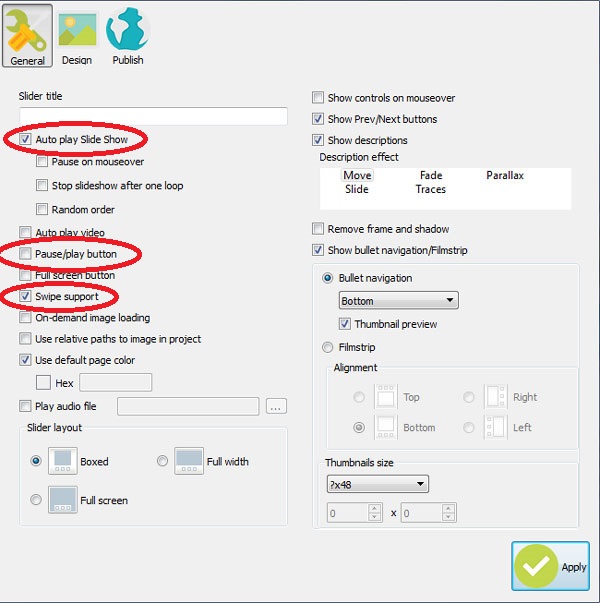 The basic image slider can be navigated with ease in two different ways; the arrows on the sides of the displayed picture or with the navigation bullets at the bottom of the slide. The arrows are sleek white arrow heads that are easily identifiable in their purpose. There is one arrow on each side of the slide, one to direct to the next picture and one for going back. The navigation bullets at the bottom of the slide are small and round white dots; each one numbered. You can select any of the numbered bullets and jump straight to that picture without going through each and every one. Whatever page the slide is on the number bullet corresponding to that picture will be a brighter white. If you do not remember what number the order of pictures are in and are not sure which number bullet to select you can simply hover over the number. By hovering on the navigation bullets a small rectangular preview image and the text of that slide is shown. You can also travel through the images by clicking on the picture and sliding it from left to right to go backwards or right to left in order to go forward at your own pace. Also, don't forget that you can swipe the slider on your mobile devices. It perfectly runs on IOS or Android.

The basic image slider is the absolute perfect image slideshow for just about any business website. Being basic, and without fuss does not mean that this image slider does not do its job. It is the most sensible way to display images on a rotation without taking away from the rest of your site.