Basic Effect & Simple Template Image gallery
This slider has a simple but elegant design that uses a black and white color scheme.
The main slider has a thin white border, that creates a simple but classic feel. The white border would stand out well against a black or dark website background.
The navigation arrows are visible at all times, but they are very discreet — a simple semi-transparent white arrowhead on each side of the slider. Hovering over them makes them lose the transparency and become completely opaque. Clicking on the arrow navigates you to the next or previous slide.

There is a caption in the lower left corner. There is a main title and a sub title, and both are on rectangles that extend out from the side of the frame. The main title is black text on a semi-transparent white background, and the sub title is white text on a semi-transparent black background. The text is also semi-transparent, which helps these captions stay discreet and stops them from distracting attention from the main image.
The font used is 'Istok Web', a modern sans-serif font that is clean and simple, and as a result highly readable.
At the bottom of the slider are a series of numbers in squares. The squares have a semi-transparent black background and a white number. Each square is linked to a slide, and when the square connected to the current slide is on display, the colors reverse, resulting in a black number on a white opaque background.
Hovering over a number square also reverses the colors, and brings up a preview of the slide in a white border. Clicking on a number allows you to skip to the relevant slide. This system allows you to navigate through the slides without waiting for the one you want to come up in the sequence.
All transitions are very smooth and clean. The slider feels modern and pleasant to use. The use of numbers makes it clear how the navigation system works, so this slider is easy to understand and use.
The default change effect is 'basic', which slides images in from the right. Again, the transition is simple but smooth. The overall result is a slider that is sophisticated and elegant but simple.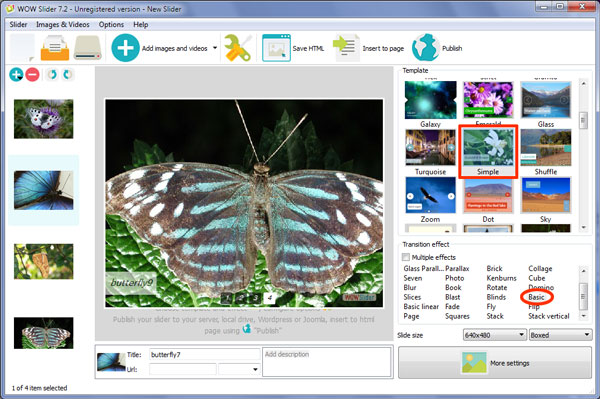 Because the slider is monochromatic, it would work well with a similar website design. It is simple in design, so would work well with modern, minimalist websites. Because it has a sophisticated touch, this slider would be great for fashion websites or wedding photographers.