Fade Effect & Catalyst Template Jquery banner rotator
This picture and graphics slideshow demo features a polished silver border, which gives it a sleek and modern style that fits in well with any professional or business website. Using this slider adds an interesting focal point well-suited to various types of display from artistic photography to sleek product images. However, the slideshow also displays creativity. For instance, the header and description text boxes are placed in the bottom left-hand corner and alternate between dropping in from the top and gliding in from the right side. The movement and flow of each text box attracts the eye directly to the slider and encourages user interaction. The text used in each header and caption box is clean and easy to read. The header is a dark gray color and appears bolded while the caption has a slightly smaller font size in a black color. Both header and caption fonts are Verdana.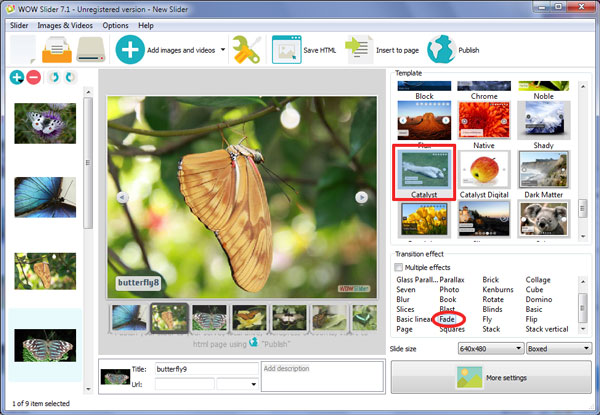 Once the slideshow begins each individual slide is showcased for a few seconds before moving on to the next picture. Clicking directly on the image and holding your mouse causes the gallery to pause, while clicking on the circular arrows on the left and right side of the picture allows users to move forward or backward within the graphics gallery. The left and right arrows do not appear unless you hover the mouse over the featured image. This gives the picture a clean look with no buttons or graphics to distract the eye. Additionally, users can use the mouse to drag an image to the right or left and bring up the next image in the series. By utilizing the mouse or arrows users are able to control the speed of the slideshow and slow it down or speed it up depending on their needs.
The slideshow plays continuously, and as it reaches the end it scans backwards, arrives at the first image, and automatically replays the entire set from the beginning. Users can also choose which image they would like to view by clicking on the thumbnail picture gallery located directly below the slider at any time. Additionally, hovering over the thumbnail displays the image header. The pictures themselves are very large and are able to expose details which might otherwise escapes the human eye. For this reason images should be hi-res and high quality.
This demo uses an Auto play Slide Show function. It means that you don't need to start the slider manually, it begins just as you open it. As you can see there is no play/pause button in the current slider, so you can't stop the slideshow. Also pay attention at the Swipe Support option. This feature can help you to change the slides on mobile devices easily.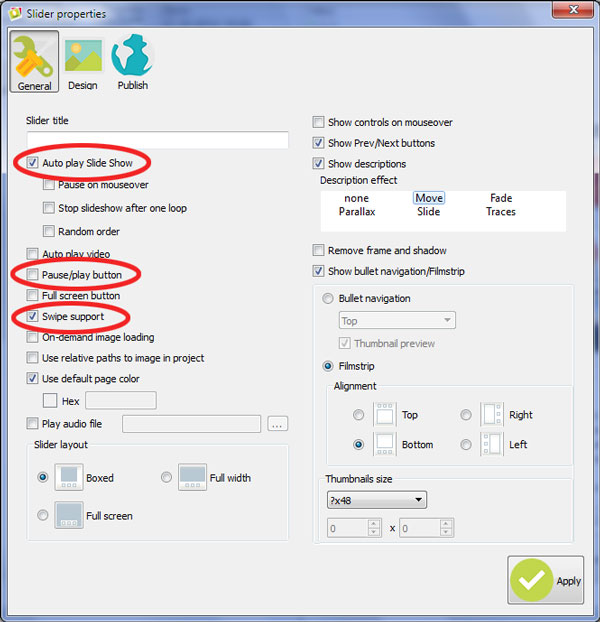 All these options can be found and changed at Slider-Properties-General.