Stack Transition & Mac Skin Jquery slider carousel
As seen in the above demo, the template that is being used offers a very simplistic effect with a straight edged borderless frame that allows the user to concentrate on the visuals. This template works well with any website that has a darker background color. The text that appears in the bottom left hand corner has a white rectangular box around it, giving it a traditional caption look. The font that is being used is very easy to read because of the white backing of the box it is in, and the easy dark grey color of the font. You can change the slides with the help of a 'next' or 'previous' arrow. It is a transparent round filled with blue. It also has a white arrow inside.

Each image that you see pauses between 2-5 seconds and then slides onto the next image with a stacking effect. This particular demo is on an auto play option so it does not have any pause or play buttons to click, therefore stopping or pausing the slideshow is not available. You can however see how many pictures are within the slide by viewing the white bubbles that appear in the bottom middle of each slide. By viewing these bubbles you can see the total amount of pictures, what number you are on, and how far away you are from the end of the slideshow.
During the transition from one image to another, the slideshow uses the stacking effect which allows the leaving frame to be stacked on top by the incoming frame, thus creating a slight lag in between the pictures so that you can see the transition. Once it has reached the end of the pictures, it loops itself back to the beginning and starts again.
The advantage of having a borderless template is it allows the slider to either pop against websites that have dark backgrounds, or it allows it to fit in perfectly by blending the white into lighter colored website backgrounds. The stacking effect allows the user to catch up to the transition because the incoming image stacks onto the leaving image.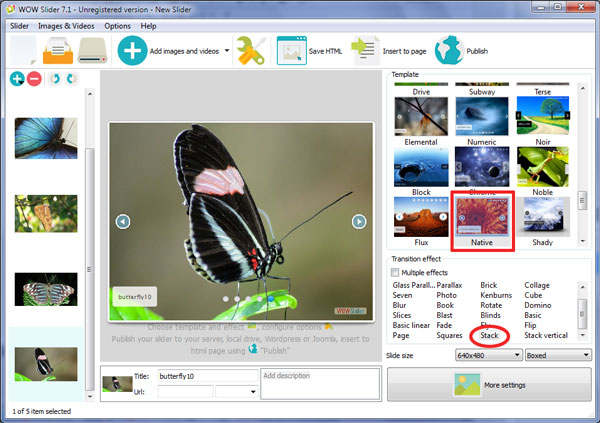 The current slideshow is mobile-ready
Receive a superb mobile-optimized carousel instantly made for you from your contents so your photos and video clip are accessible from all mobiles.
The WOWSlider is an excellent choice when it comes to needing a responsive image slider that has amazing visual effects that go beyond the basics. It allows those who do not have extensive knowledge of coding, to make a stunning and professional image visual on their website. The slider comes packed with a point and click wizard that allows users to create fantastic looking visuals without needing an image editor.