Fly Transition & Cloud Design Photo slider
This demo slider made by WOWSlider has a light and attractive look to it. It is smooth and gives the effect of breeziness to it, which would look great on any photography or travel website, displaying images nicely.
Upon first glance, this slider has no borders, but if you look closely, it has a thin vignette border all around, which makes it very attentive to detail and well designed. To maintain the lightness of the theme, the arrows on the slider that allow users to navigate through the slides manually are extremely transparent and look almost like the color of the vignette border. The arrows are pretty, with double arrows for right and double for left. A smaller arrows shadow the original arrows, giving it the look of a shadow. The slider has no pause or play button but there are bullets placed mid-bottom in the entire frame. The bullets are small circles that are just outlined and the image keeps rolling in between the circles too. The current playing bullet is outlined a little darker than the rest. Upon mouseover on a specific bullet, a small rectangle pops up attached to the bullet, displaying the image it holds.
The transition effect is what makes this slider truly beautiful. Each slides plays for about three seconds before another image replaces it. When the image is changing, the upcoming image's shadow arrives from the left, and from outside the frame. When the image has replaced the current one, users can see the shadow of the leaving image on the outside right of the frame. This effect truly highlights the image and attracts the user's attention, which is why it would look great for photography or travel websites, because it attracts people.

For each slide, there is a descriptive text in a transparent gray rectangle box that is placed on the bottom left of the slider. The text is written in white as a clear and understandable font is used for easy reading. The description effect is 'Fade' which matched well with the 'Fly' animation. The only change that occurs upon mouseover is within the bullets and the rest of the slide maintains its course. When the last image in the slider plays, it is replaced with the same transition effect by the first one again.
If travel websites want to encourage tourism or photography websites need to attract clients to their photography, this slider can help enhance their images and capture attention.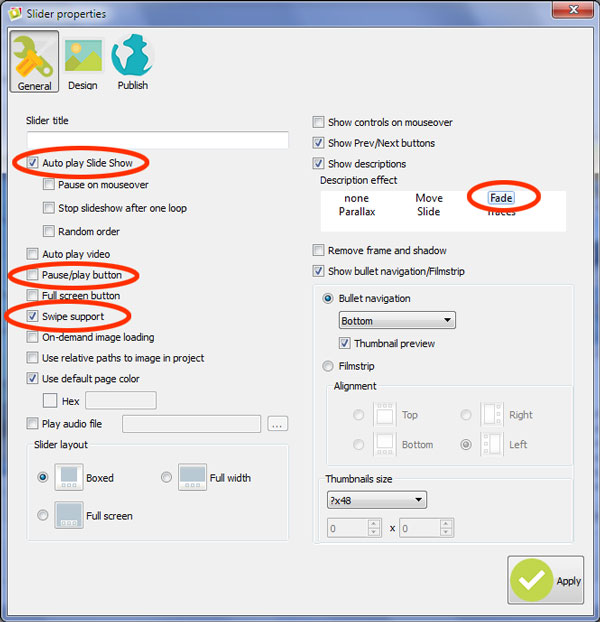 You can see that 'Auto play slide show' function is enabled because you don't need to start the slider manually, it runs immediately. Also, you can't stop the slider because there is no play/pause button. Turn on the 'Swipe support' option to manage your slider on mobile devices.