Blur Effect & Sky Style Wordpress gallery
This slider has a clean and minimalist design that uses blue and white.

The slider has a thin blue border along the bottom of the main image, but has no border on the sides and top. This helps it feel very open, and uses the space well. The blue border would stand out well against both light and dark website backgrounds.
There is a caption in the top-left corner. The main title is white text against a blue background, and the sub-title has blue text against a white background. The main title slides in from the top and the sub-title slides in from the right, creating a squared off movement that is appealing and reinforces the modern feel of the slider.
The font used in the caption is 'open sans', a humanist sans serif font that looks very modern thanks to it's clean appearance and open forms.
In the top-right corner are a series of grey circles with a very faint semi-transparent white border. Each circle represents a slide, and when the circle that is linked to the current slide on display is highlighted the grey circle turns blue and the border becomes less transparent. There is a drop-shadow on the circles which gives it a three-dimensional effect, as though the circles are set into the slide.
Hovering over the circles brings up a preview image of the slides, each one inside a blue frame. There is a very faint white glow around each preview image, which helps them to stand out. Clicking on a circle loads the relevant slide, allowing people to navigate between the different images quickly and easily.
In the bottom-right corner are a set of controls. There is a 'pause' button, a 'previous' arrow and a 'next' arrow. They are white symbols on blue squares, and the squares are stacked vertically. Again, the overall feel is clean and simple. Hovering over a button makes it go semi-transparent, and makes it clear that this is a button you can interact with.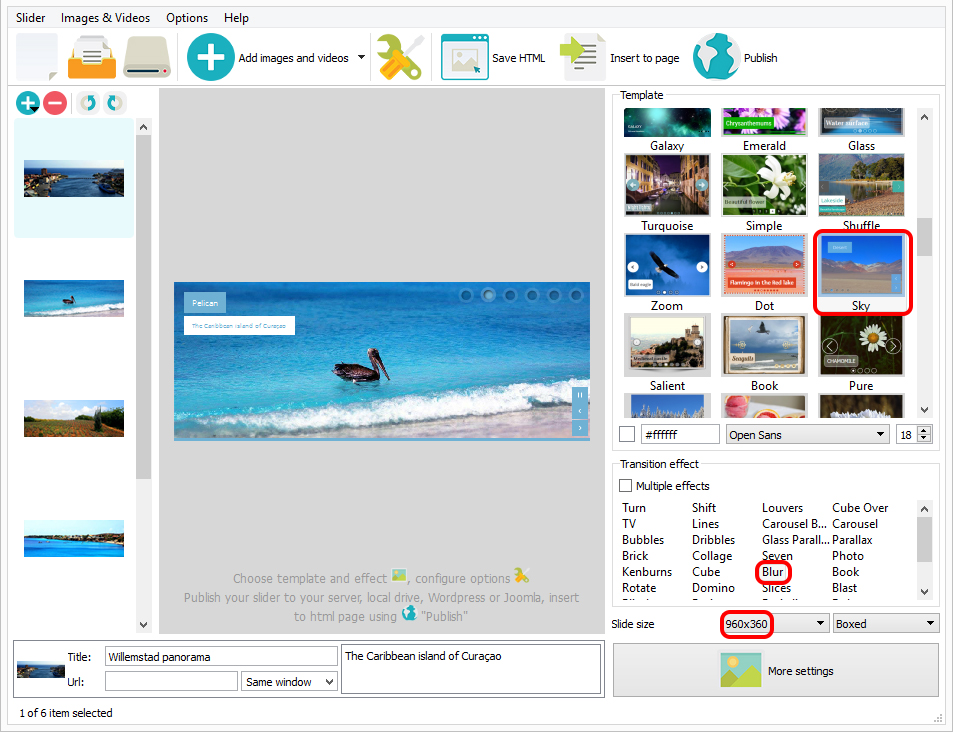 The default change effect 'blur' is beautiful and simple. The image simply 'blurs' into the next one. It is an effective transition, and works well with the design. Other change effects that would work well are 'glass parallax' and 'kenburns', both of which are also simple, clean transitions.
The slider as a whole is simple and clean. It would work well for a travel agent or hotel chain, or even a cruise ship company as the blue and white color scheme has a nautical feel, whilst the design would help the company come across as modern and clean. Restaurants and other service-focused industries would also benefit from the clean and simple design.