Dribbles Transition & 155 Slides Huge Skin Jquery slideshow
La démo actuelle utilise un thème équilibré. Arrow button is made of green round and a green arrow inside. La flèche devient transparente lorsque la souris passe dessus, ce qui est du plus bel effet. Les vignettes sont simples: petits points blancs et points verts lorsqu'elles sont sélectionnées. La description est écrite avec l'aide de de la police de caractère Source Sans Pro. C'est moderne et élégant sur un fond blanc transparent.

PERSONNALISATION
Les éléments de texte de la présentation peuvent être personnalisés pendant le développement. Par exemple, la couleur de la police peut être modifiée pour correspondre au fond. Au cours de l'exemple, le texte apparaît en gris dans un cadre blanc. Bien qu'il n'y ait pas de lien associé au texte dans cette démo, dans vos propres présentations c'est très simple à utiliser pour orienter les lecteurs aux différentes parties de votre boutique en ligne ou de votre site. Cette démo est l'exemple de l'option «chargement d'image à la demande».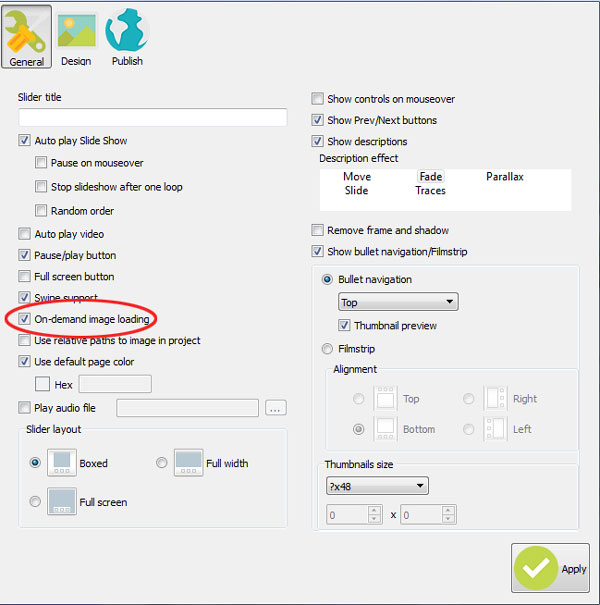 Lorsque vous activez cette option, vos images seront chargées à partir du script, vous ne perdrez ainsi pas votre temps à attendre que toutes vos images soient chargées dans la page. Chaque image se charge uniquement lorsque vous cliquez sur le point en question ou lorsque vous cliquez sur un le flèche Prec/Suiv. Cette fonction rend le fonctionnement de votre Slider plus rapide. Si vous souhaitez activer cette fonction, cliquez sur 'Slider' - 'Propriétés', vous verrez une case à cocher «chargement d'image à la demande". Sélectionnez- là. Maintenant vous pouvez produire votre Slider avec une énorme quantité d'images.
DIAPORAMA REACTIF
Construite en utilisant la dernière technologie Web, la présentation est remplie d'éléments très réactifs qui disparaissent à l'arrière-plan lorsque le curseur n'est pas activement dessus. Par exemple, les éléments avance et recule (représentés par des cercles verts avec leurs flèches respectives) n'apparaissent que lorsqu'ils sont nécessaires. Même chose pour tous les éléments, à l'exception de l'image d'arrière-plan. Cela permet aux gens de voir ce que vous a offrir, et rapidement en savoir plus sans être submergés par du texte. Les transitions sont également très souples, changeant rapidement l'image de fond de manière similaire à un vieux projecteur. Cela donne au spectateur la chance de voir rapidement ce qui va suivre, tout en étant en mesure de rester sur la même image s'il le désire.
Communiquer les spécificités de votre produit aux consommateurs est devenu un défi dans ce monde mobile au rythme rapide. Les gens n'ont tout simplement pas de temps à perdre à lire une page après une autre. Les médias interactifs ont démontré qu'ils sont plus efficaces pour atteindre des clients potentiels, et augmenter le nombre de ventes sur un site. Les médias interactifs, comme les présentations de WOWSlider, peuvent être utilisés à la fois dans les milieux traditionnels et les environnements mobiles, et peuvent être utilisés pour afficher tout type d'information, allant du contenu des sites de production aux établissements de commerce.