Blast Effect & Balance Theme
La démo de WOWSlider ci-dessus est distinctement visible et original. Cette démo a été conçue pour rendre les pages Web à démarquer parmi une mer de sites ennuyeux et terne. Photographes, designers, entrepreneurs et autres institutions créatives seront trouve qu'à l'aide de cette WOWSlider aidera à apporter plus d'attention à leurs produits et de renforcer l'engagement du visiteur.

Une mince bordure encadrée blanche entoure le curseur, et pour les premières secondes, elle semble être juste un autre diaporama simple. Cependant, dès que la première diapositive éclate en vue la différence est facile à voir. Une explosion géométrique se produit presque immédiatement, avec chaque diapositive briser en carrés d'innombrables et comment transformer l'image suivante avant d'être reconstitué à nouveau. Les carrés transparents restants sont autorisés à s'estomper en dehors des frontières de la diapositive et une nouvelle combinaison de zone en-tête et description apparaît rapidement. L'effet est accrocheur et attrayant.
À droite du curseur est une galerie d'image défilement avec toutes les images miniatures encadrés en blanc à l'exception de la diapositive en cours, qui est encadrée en vert. Utilisateurs peuvent faire défiler de haut en bas, ou ils peuvent faire apparaître une image de leur choix en cliquant sur la diapositive qu'ils aimeraient voir. The slide features a pair of large, easy-to-read header and descriptions boxes using sans serif text. The header box features grey text on a semitransparent white background, and the description box features white text on a semitransparent green background. The header also appears if a user chooses to hover their mouse over one of the picture gallery photos.
Aussi apparaissant à droite et à gauche de la diapositive est deux flèches vertes. Ces flèches moyennes permettent aux utilisateurs de visionner les diapositives précédentes ou version ultérieures. Une pause est possible ; les utilisateurs doivent simplement cliquer directement sur une diapositive et maintenir leur souris enfoncé. Une fois que la souris est relâchée le diaporama redémarre où elle s'était arrêtée. Des aspects tels que ces utilisateurs mis en charge de leur site Web d'expérience et leur permet d'interagir avec le diaporama ou laisser jouer ses propres.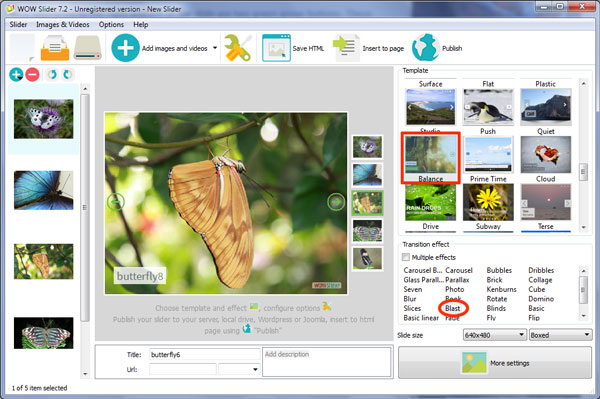 Entreprises et propriétaires de sites Web qui veulent attirer l'attention avec la conception de leur site Web devraient incorporer mouvement fluide et idées audacieuses. Cette démo de curseur fournit tant de ces traits ainsi que le facile à utiliser, la technologie intuitive qui est construite à vitrine produits et services à leur avantage complet.