Ken Burns Transition & Geometric Design Banner maker
This slider has a stylish and minimalist design that only uses white.
The main image has a thin white border, that would help the images stand out against a black background.

The navigation arrows are in an interesting position. The 'next' arrow is in the top right and the 'previous' arrow is in the bottom right. They are squared off arrows, that mimic exactly the shape of the corner of the frame. The result is unique and attractive whilst still being incredibly minimal and not distracting from the images. It creates an almost 'zen garden' feel.
Hovering over the navigation arrows makes them get bolder and move slightly. It is, again, a unique effect that works well. Clicking on the arrow allows you to cycle through the images in the slideshow.
There is a caption in the bottom left corner. It is white text, in all capitals, contained within a transparent rectangle with a thin white border. Again, it is simple and clean. Each caption 'slides' in from the left, which attracts the eye.
The font used in the caption is 'open sans', a humanist sans serif font that looks very modern thanks to it's clean appearance and open forms.
You will need to make sure your images are darker or colored, as you would not be able to read the lettering in the caption against a white or pale image background.
At the bottom of the slider are a series of transparent rectangles with white borders. Again, everything is simple, clean and squared off. Each rectangle represents an image in the slider. The rectangle linked to the current image on display has a slightly thicker border, which highlights it. Hovering over a rectangle does the same thing, and also brings up a preview image of the relevant slide. The preview image has a thin white border.
Clicking on a rectangle displays the relevant slide, and allows users to navigate directly to the image they are interested in.
The default change effect is 'kenburns', which fades each image into the next, whilst also slowly zooming in. It's a gentle transition effect, but with a lot of movement and it really complements the simple and minimalist feel of the slider. There are a range of other change effects that you can choose from, but you will want something simple and clean to work with the design. 'Glass parallax' would be a good choice, and 'book' works surprisingly well, perhaps because it reflects the geometric, squared off shapes of the slider.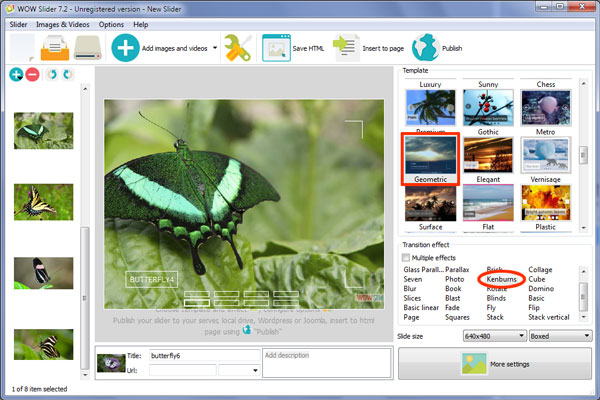 This slider would work well for a website with a minimalist design. Minimalist bloggers would benefit from it's simple, clean lines and and stylish look. It would also suit websites that aim at the tech-savvy, younger demographic thanks to it's modern appearance.