Seven Effect & Dot Template Jquery gallery
This slider has a fun and quirky design that makes it perfect for bloggers and anyone running a slightly offbeat website.
The jquery gallery has a red 'dotted' frame, that is bold and fun. The red stands out well against both light and dark backgrounds.

Hovering over the slider brings up navigational 'arrows'. These are, again, quite quirky and unique in design. The arrows are made up of three white dots in a red circle. Clicking on one of the circles navigates you through the images.
There is a caption for each image in the bottom-left corner. The caption uses a white font on a red background. The font used is 'fresca' a san-serif font with a hand-drawn feel. It is a very friendly font, and would work brilliantly for site s aimed at children as it's both friendly and extremely legible. As the slides change, the caption seems to slide in from the left, creating a sense of movement and excitement.
At the bottom center of the slider are a series of red dots, each one representing a slide. When the current slide is on display, the relevant dot gains a white dot in the center. These dots are quite small and out-of-the way, meaning they do not distract from the main images.
Hovering over a dot brings up a preview image of the relevant slide. Each preview image has a white border, and a small arrow pointing to the circle. Clicking on a circle skips the slider to the relevant slide, allowing users to navigate directly to the slide they are interested in.
The default change effect is 'seven', which seems to 'explode' the slide away to the left by breaking it apart into squares, whilst the next image 'collapses' in from the right, as squares drop into place. It's a transition effect full of movement, and works well with the fun and exciting design of the slider.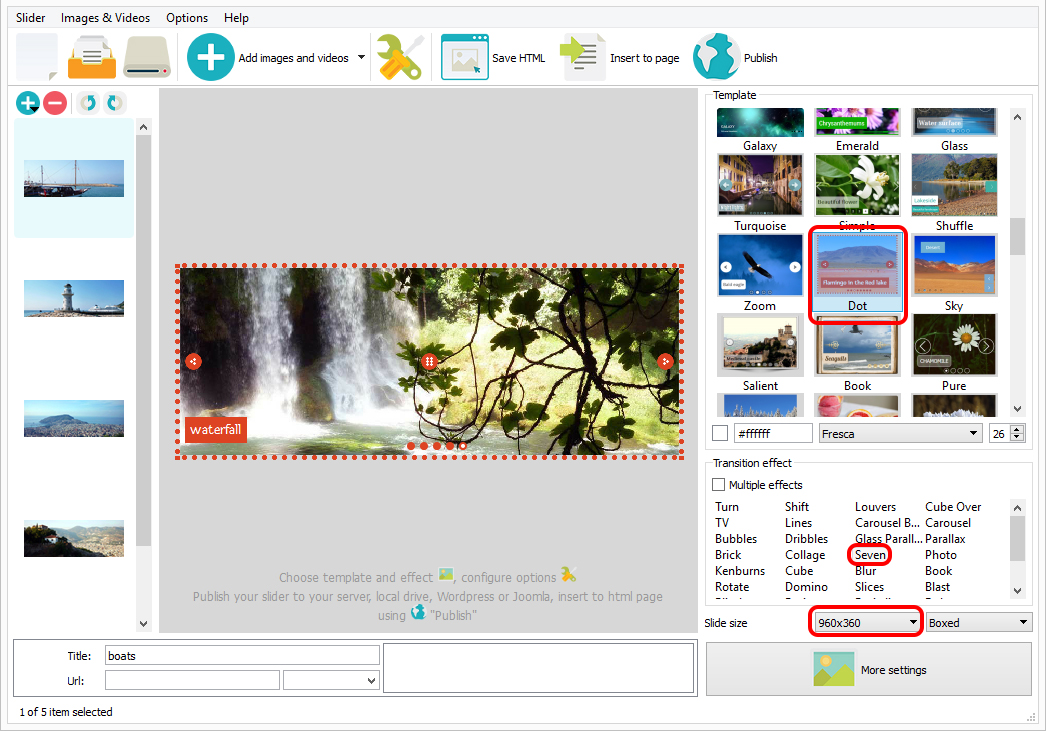 You could use any of the change effects that have a lot of movement. 'Bubbles' and 'dribbles' would also work well, as they are fun and quirky.
This slider would work well on a wide-range of websites. The fun and playful feel would work well on sites aimed at children and parents, whilst bloggers would also benefit from the quirky design. Because the navigational elements do not take up much space, the slider would also be great for photographers who take more off-beat, quirky photographs and want to showcase them.