Fade Effect & Noble Template Jquery slider
The Noble Fade skin presents a graceful display of your images that will undoubtedly keep visitors to your site mesmerized with its seamless simplicity. Each image transitions smoothly into the next at a pace that allows for perusal without ever allowing your audience to become bored. Even better, all of the control is ultimately in their hands, with clearly displayed navigation arrows on both sides of the images for going backward or forward and the ability to stay on any one image for as long as they would like, simply by hovering over either one of the caption boxes that appear in the lower left corner of every image.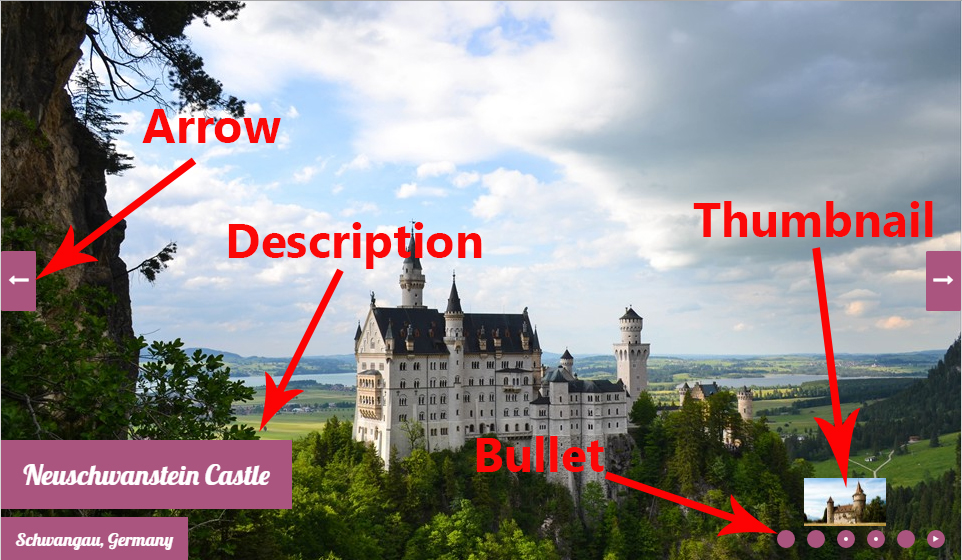 When they hold their mouse over the unobtrusive panel of boxes in the upper right corner of the picture, your viewers will also get a preview of the images in your slider. Clicking on the preview will take them directly to their selected image, enabling your visitors to quickly and easily locate the material that they want to see. This freedom to move about through the contents of a slider without a lot of hassle is a huge part of what has made WOW jQuery Slider so popular. Anyone who wants a professional final look will love what this app can do for their website.
The caption boxes in the Noble design feature a font that is highly versatile, with the capability to work well whether your slide images are modern, classic, or anything in-between. These boxes slide into view from either the top or the left, bouncing into place after they hit the edge of the image and capturing the attention of your viewer in a fun and dynamic way.
jQuery Slider demos are all optimized for mobile devices, so they will work equally well on just about any machine. Because they have been tested relentlessly for performance, you can count on the fact that your slideshow will go off without a hitch, every time. There are also some functions that you would like to use: 'full screen', 'full width' options, 'random order', 'full screen' button and many others. Also turn on the 'Swipe support' function so that your slider would be easy to handle on mobile devices and tablets. Share your slideshow on Facebook directly from the WOWSlider toolbar and you'll be amazed at the impact that social media exposure can have on the number of visitors to your site.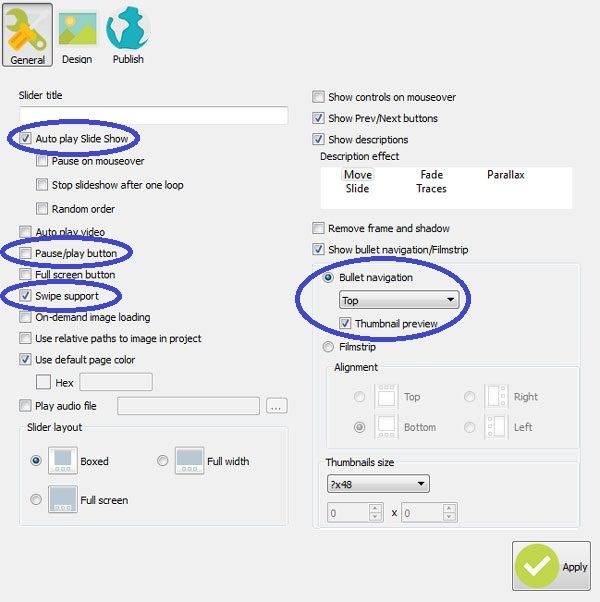 Don't know code? There's no need to worry about that anymore, since these templates have been designed with ease-of-use in mind. The free download will only take a couple of minutes and then you're on your way to slide show success. Just drag-n-drop your images in, fill in the captions and watch your website come to life. Check also detailed "Making jQuery Slider in Minute" tutorial and WOW Slider at jQuery Plugin Registry .