Blast Effect & Balance Skin Online photo slideshow
The above WOWSlider demo is distinctly conspicuous and original. This demo was designed to make webpages stand out among a sea of boring and lackluster websites. Photographers, designers, entrepreneurs, and other creative institutions will find that using this WOWSlider will help bring more attention to their products and increase visitor engagement.

A thin, white framed border surrounds the slider, and for the first few seconds it appears to be just another simple slideshow. However, as soon as the first slide bursts into view the difference is easy to see. A geometric explosion occurs almost immediately, with each slide breaking up into countless squares and transforming into the next picture before being pieced together again. The remaining transparent squares are allowed to fade outside the borders of the slide and a new header and description box combination quickly appears. The effect is eye-catching and appealing.
To the right of the slider is a scrolling picture gallery with all of the thumbnail pictures framed in white except for the current slide, which is framed in green. Users can scroll up and down, or they can bring up a frame of their choosing by clicking on the slide they would like to see. The slide features a pair of large, easy-to-read header and descriptions boxes using sans serif text. The header box features grey text on a semitransparent white background, and the description box features white text on a semitransparent green background. The header also appears if a user chooses to hover their mouse over one of the picture gallery photos.
Also appearing to the right and left of the slide are two green arrow buttons. These medium-sized arrows allow users to view previous or later slides. Pausing is also possible; users simply need to click directly on a slide and hold down their mouse button. Once the mouse is released the slideshow restarts where it left off. Aspects such as these put users in charge of their website experience and allows them to interact with the slideshow or let it play on its own.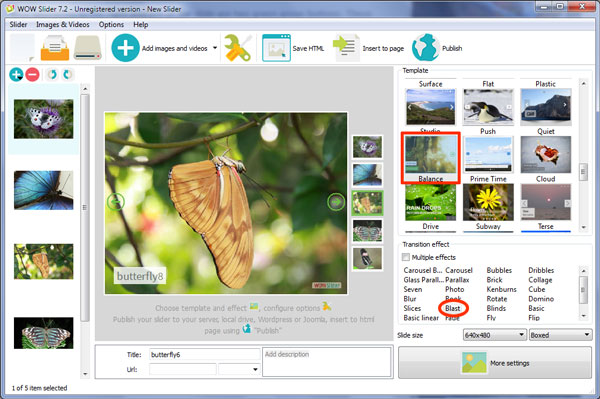 Businesses and website owners who want to attract attention with the design of their website should incorporate fluid movement and bold ideas. This slider demo provides both of these traits as well as easy-to-use, intuitive technology that is built to showcase products and services to their full advantage.