How-to Video: Simple jQuery Slider!
Now it's possible to develop outstranding website slideshows with no effort! just watch this video:
Simple jQuery Slider - Noble Theme!
This video shows you a demo slider that perfectly works on any device!
Simple jQuery Slider HTML Code
Code to paste between the tags <head></head>:
 
<!-- Start WOW Slider.com HEAD section -->
<link rel="stylesheet" type="text/css" href="engine1/style.css" />
<script type="text/javascript" src="engine1/jquery.js"></script>
<!-- End WOW Slider.com HEAD section -->

HTML code to paste between the tags <body></body> in the place that you want the Simple jQuery Slider to appear:
 

<!-- Start WOW Slider.com BODY section -->
<div id="wowslider-container1">
<div class="ws_images"><ul>
<li><img src="images/demo/gentle-linear/data1/images/altare_della_patria.jpg" alt="Altare della Patria - Rome, Italy" title="Altare della Patria - Rome, Italy" id="wows1_0"/>Also known as the Monumento Nazionale a Vittorio Emanuele II or "Il Vittoriano"</li>
<li><img src="images/demo/gentle-linear/data1/images/colosseum.jpg" alt="Colosseum - Rome, Italy" title="Colosseum - Rome, Italy" id="wows1_1"/>It was the largest amphitheatre of the Roman Empire</li>
<li><img src="images/demo/gentle-linear/data1/images/pantheon.jpg" alt="Pantheon - Rome, Italy" title="Pantheon - Rome, Italy" id="wows1_2"/>A temple to all the gods of ancient Rome</li>
<li><img src="images/demo/gentle-linear/data1/images/statue.jpg" alt="Statue" title="Statue" id="wows1_3"/>Rome, Italy</li>
<li><img src="images/demo/gentle-linear/data1/images/tiber.jpg" alt="The Tiber" title="The Tiber" id="wows1_4"/>The third-longest river in Italy</li>
<li><img src="images/demo/gentle-linear/data1/images/vatican.jpg" alt="Vatican" title="Vatican" id="wows1_5"/>A sovereign city-state</li>
</ul></div>
<div class="ws_bullets"><div>
<a href="#" title="Altare della Patria - Rome, Italy"><img src="images/demo/gentle-linear/data1/tooltips/altare_della_patria.jpg" alt="Altare della Patria - Rome, Italy"/>1</a>
<a href="#" title="Colosseum - Rome, Italy"><img src="images/demo/gentle-linear/data1/tooltips/colosseum.jpg" alt="Colosseum - Rome, Italy"/>2</a>
<a href="#" title="Pantheon - Rome, Italy"><img src="images/demo/gentle-linear/data1/tooltips/pantheon.jpg" alt="Pantheon - Rome, Italy"/>3</a>
<a href="#" title="Statue"><img src="images/demo/gentle-linear/data1/tooltips/statue.jpg" alt="Statue"/>4</a>
<a href="#" title="The Tiber"><img src="images/demo/gentle-linear/data1/tooltips/tiber.jpg" alt="The Tiber"/>5</a>
<a href="#" title="Vatican"><img src="images/demo/gentle-linear/data1/tooltips/vatican.jpg" alt="Vatican"/>6</a>
</div></div>
<div class="ws_shadow"></div>
</div>
<script type="text/javascript" src="images/demo/wowslider.js"></script>
<script type="text/javascript" src="images/demo/gentle-linear/engine1/script.js"></script>
<!-- End WOW Slider.com BODY section -->


BASIC LINEAR EFFECT & GENTLE SKIN SIMPLE JQUERY SLIDER
Creating a webpage that appeals to your audience visually is just as important as the information you put on the page. People want to see what you are describing, see what you are selling or see what your business is all about. A great way to display pictures and add interest to your webpage is with an image carousel.
What is an image carousel?
An image carousel or slider, is a tool used to display a collection of pictures on a constant rotation. You can choose from a variety of different frame options as well differences in the animation between pictures. One picture will display on the slider and pause for a moment and then automatically change to the next picture. The way in which one picture leaves the screen and the next one enters is the animation. Some will just show a sliding motion form one to the next or others will have a bigger effect like bricks breaking apart. People visiting your webpage can usually also navigate between the pictures manually. They are able to navigate in a several different ways depending on the specific slider for example; by using bullets at the bottom of the slider or arrows on the sides of the pictures to travel through the collection of pictures themselves.
Why use an image carousel?
An image carousel on your webpage is a good way to draw interest. The motion of the changing pictures is visually intriguing for people viewing your page and a smart way to break up lines and lines of writing. It is also a great way to organize groups of pictures all in one spot. If you have lots of information that you need written out on your page but still want to have some pictures added in too, an image slider will allow you to display the pictures without taking up too much room.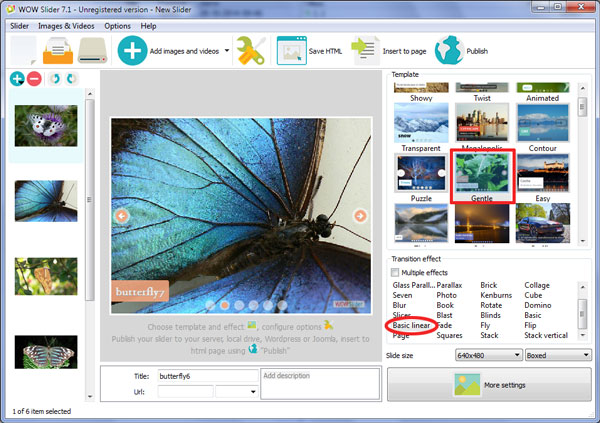 Wow Slider
WOW Slider hosts a variety of image sliders. You can choose from over a dozen different image skins and 7 different effects. WOW Slider has image sliders that are not only nice aesthetically but user friendly. Their image sliders are easy to download and are easy to personalize with your pictures by simply dropping the pictures into place. The image sliders on WOW Slider are also convenient in that they work on many different browser types, including mobile devices.
An image carousel is the perfect addition to any type of webpage and will give it a polished and professional look. Even the most basic web design will look brilliant with the addition of an image slider.

This demo uses Gentle template. It is colored in white and orange colors which looks beautiful together. If you want to watch previous or next image you can use arrow buttons. They are situated on both left and right sides. The arrow button is made of orange round with a white arrow inside it. It also has transparent frame which looks pretty. Navigation dots are situated at the bottom of the page. They are transparent white rounds which can change the color to orange on mouse-hover. At the left-bottom corner you can find a description. EB Garamond font looks modern and nice on a semi-transparent background.