Slideshow Software: Powerful Capabilities!
Follow simple steps from this video to build and design your own slideshows:
Live Demo: Slideshow Software!
Here you can see how this demo gallery slides on the page!
Slideshow Software HTML Code
Code to paste between the tags <head></head>:
 
<!-- Start WOWSlider.com HEAD section -->
<link rel="stylesheet" type="text/css" href="engine1/style.css" />
<script type="text/javascript" src="engine1/jquery.js"></script>
<!-- End WOWSlider.com HEAD section -->

HTML code to paste between the tags <body></body> in the place that you want the Slideshow Software to appear:
 

<!-- Start WOWSlider.com BODY section -->
<div id="wowslider-container1">
<div class="ws_images"><ul>
<li><img src="images/demo/zoom-domino/data1/images/accra_beach.jpg" alt="Accra Beach" title="Accra Beach" id="wows1_0"/>Barbados, Caribbean Sea</li>
<li><img src="images/demo/zoom-domino/data1/images/bridgetown.jpg" alt="Bridgetown" title="Bridgetown" id="wows1_1"/>Barbados' capital and main city</li>
<li><img src="images/demo/zoom-domino/data1/images/monkey.jpg" alt="Monkey" title="Monkey" id="wows1_2"/>Barbados' fauna</li>
<li><img src="images/demo/zoom-domino/data1/images/mullins_beach.jpg" alt="Mullins Beach" title="Mullins Beach" id="wows1_3"/>Barbados, Caribbean Sea</li>
<li><img src="images/demo/zoom-domino/data1/images/sandy_beach.jpg" alt="Sandy Beach" title="Sandy Beach" id="wows1_4"/>Barbados, Caribbean Sea</li>
<li><img src="images/demo/zoom-domino/data1/images/st._james,_sunset_point.jpg" alt="St. James, Sunset point" title="St. James, Sunset point" id="wows1_5"/>Barbados, Caribbean Sea</li>
<li><img src="images/demo/zoom-domino/data1/images/worthing_bay.jpg" alt="Worthing Bay" title="Worthing Bay" id="wows1_6"/>Barbados, Caribbean Sea</li>
</ul></div>
<div class="ws_bullets"><div>
<a href="#" title="Accra Beach"><img src="images/demo/zoom-domino/data1/tooltips/accra_beach.jpg" alt="Accra Beach"/>1</a>
<a href="#" title="Bridgetown"><img src="images/demo/zoom-domino/data1/tooltips/bridgetown.jpg" alt="Bridgetown"/>2</a>
<a href="#" title="Monkey"><img src="images/demo/zoom-domino/data1/tooltips/monkey.jpg" alt="Monkey"/>3</a>
<a href="#" title="Mullins Beach"><img src="images/demo/zoom-domino/data1/tooltips/mullins_beach.jpg" alt="Mullins Beach"/>4</a>
<a href="#" title="Sandy Beach"><img src="images/demo/zoom-domino/data1/tooltips/sandy_beach.jpg" alt="Sandy Beach"/>5</a>
<a href="#" title="St. James, Sunset point"><img src="images/demo/zoom-domino/data1/tooltips/st._james,_sunset_point.jpg" alt="St. James, Sunset point"/>6</a>
<a href="#" title="Worthing Bay"><img src="images/demo/zoom-domino/data1/tooltips/worthing_bay.jpg" alt="Worthing Bay"/>7</a>
</div></div>
<div class="ws_shadow"></div>
</div>
<script type="text/javascript" src="images/demo/wowslider.js"></script>
<script type="text/javascript" src="images/demo/zoom-domino/engine1/script.js"></script>
<!-- End WOWSlider.com BODY section -->


DOMINO ANIMATION & ZOOM LAYOUT SLIDESHOW SOFTWARE
This slider combines a simple design with just enough quirky detail to help it feel fun and playful. It uses white and grey.
The main slider has a thin white frame. This would stand out well against a website with a dark background.

Hovering over the slider brings up two navigation arrows, one on each side of the slider. The navigation arrows are grey arrow-heads on a white circle. They again are a simple design, but the arrow-head has a slightly rounded look to it which makes it friendly. Hovering over the arrows makes the whole circle grow in size, an unusual hover effect that again is just different and quirky enough to off-set the otherwise simple design. Clicking on the arrows allows you to navigate through the slides.
There is a caption in the bottom-left corner of each slide. The caption is grey text against a white rectangle with rounded corners. There is a large main title in dark grey and a smaller sub-title in light grey. The font used in the caption is 'open sans', a humanist sans serif font that is natural and friendly in appearance, yet modern thanks to it's clean appearance and open forms.
At the bottom-center of the slider are a series of semi transparent grey circles, with a smaller circle inside that is just a thin white border. Each circle is linked to a slide, and when the relevant slide is displayed in the slider, the smaller circle fills with white.
Hovering over the circles enlarges them, in the same way that hovering over the navigation arrows enlarges them. This again is a unique effect, and really attracts attention to the slider controls.
In addition, when you hover over the circles, a preview image appears above them, in a white frame with a subtle drop-shadow effect. These preview images allows the user to select which slide they want to see, and navigate directly to it.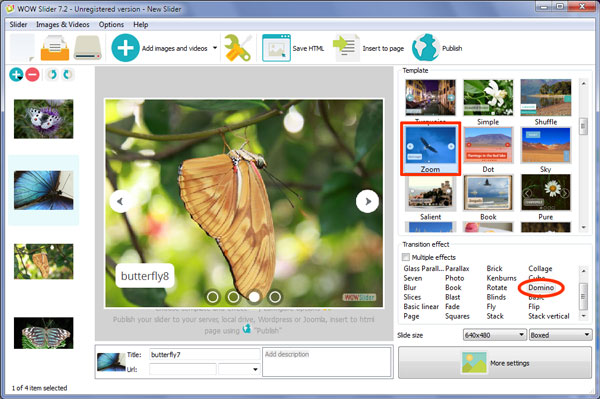 The default change effect is 'domino', where the images slide into place across a series of squares. Again, it's an interesting, slightly quirky but modern design choice. If you wanted to play up the quirkiness of your website even more, you could choose 'bubbles' or 'dribbles', both of which are fun and friendly ways of transitioning between your images.
Overall the design is clean, friendly and modern. As such, the slider would work really well for a 'fun' technology website. It would also work well for authors that write witty, modern books or illustrators for children's books.