Video Tutorial: Ajax jQuery Slider!
Learn more about how to create jQuery Sliders without struggling with code!
Demo Slideshow - Outstading Appearance!
Here you can watch the jQuery Gallery sliding on the page!
Ajax jQuery Slider HTML Code
Code to paste between the tags <head></head>:
 
<!-- Start WOW Slider.com HEAD section -->
<link rel="stylesheet" type="text/css" href="engine1/style.css" />
<script type="text/javascript" src="engine1/jquery.js"></script>
<!-- End WOW Slider.com HEAD section -->

HTML code to paste between the tags <body></body> in the place that you want the Ajax jQuery Slider to appear:
 

<!-- Start WOW Slider.com BODY section -->
<div id="wowslider-container1">
<div class="ws_images"><ul>
<li><a href="#"><img src="images/demo/pulse-blinds/data/images/canyon.jpg" alt="Canyon " title="Canyon" id="wows0"/></a></li>
<li><a href="#"><img src="images/demo/pulse-blinds/data/images/colorado.jpg" alt="Colorado " title="Colorado" id="wows1"/></a></li>
<li><a href="#"><img src="images/demo/pulse-blinds/data/images/garden.jpg" alt="Garden " title="Garden" id="wows2"/></a></li>
<li><a href="#"><img src="images/demo/pulse-blinds/data/images/greenmountain.jpg" alt="Greenmountain " title="Greenmountain" id="wows3"/></a></li>
<li><a href="#"><img src="images/demo/pulse-blinds/data/images/grimmialp.jpg" alt="Grimmialp " title="Grimmialp" id="wows4"/></a></li>
<li><a href="#"><img src="images/demo/pulse-blinds/data/images/horse.jpg" alt="Horse " title="Horse" id="wows5"/></a></li>
<li><a href="#"><img src="images/demo/pulse-blinds/data/images/lake.jpg" alt="Lake " title="Lake" id="wows6"/></a></li>
<li><a href="#"><img src="images/demo/pulse-blinds/data/images/lake_road.jpg" alt="Lake Road " title="Lake Road" id="wows7"/></a></li>
<li><a href="#"><img src="images/demo/pulse-blinds/data/images/peak.jpg" alt="Peak " title="Peak" id="wows8"/></a></li>
<li><a href="#"><img src="images/demo/pulse-blinds/data/images/yo.jpg" alt="Yo " title="Yo" id="wows9"/></a></li>
</ul></div>
<div class="ws_bullets"><div>
<a href="#" title="Canyon"><img src="images/demo/pulse-blinds/data/tooltips/canyon.jpg" alt="Canyon "/>1</a>
<a href="#" title="Colorado"><img src="images/demo/pulse-blinds/data/tooltips/colorado.jpg" alt="Colorado"/>2</a>
<a href="#" title="Garden"><img src="images/demo/pulse-blinds/data/tooltips/garden.jpg" alt="Garden"/>3</a>
<a href="#" title="Greenmountain"><img src="images/demo/pulse-blinds/data/tooltips/greenmountain.jpg" alt="Greenmountain "/>4</a>
<a href="#" title="Grimmialp"><img src="images/demo/pulse-blinds/data/tooltips/grimmialp.jpg" alt="Grimmialp "/>5</a>
<a href="#" title="Horse"><img src="images/demo/pulse-blinds/data/tooltips/horse.jpg" alt="Horse "/>6</a>
<a href="#" title="Lake"><img src="images/demo/pulse-blinds/data/tooltips/lake.jpg" alt="Lake"/>7</a>
<a href="#" title="Lake Road"><img src="images/demo/pulse-blinds/data/tooltips/lake_road.jpg" alt="Lake Road "/>8</a>
<a href="#" title="Peak"><img src="images/demo/pulse-blinds/data/tooltips/peak.jpg" alt="Peak "/>9</a>
<a href="#" title="Yo"><img src="images/demo/pulse-blinds/data/tooltips/yo.jpg" alt="Yo"/>10</a>
</div></div>
<div class="ws_shadow"></div>
</div>
<script type="text/javascript" src="images/demo/wowslider.js"></script>
<script type="text/javascript" src="images/demo/pulse-blinds/engine/script.js"></script>
<!-- End WOW Slider.com BODY section -->


BLINDS EFFECT & PULSE SKIN AJAX JQUERY SLIDER
This slideshow has a plain transparent frame which looks good on different backgrounds. Arrows consist of black transparent rectangles with rounded borders and white arrows inside. Bullets are situated at the upper-right corner and it looks like small black dots. Navigation bullet can also change its color to white when you select it. The description uses the same style as arrows: white caption and a black transparent rectangle as a background. The font of the writing is Tahoma.

WOWSlider gives users the options to change effects and provides a wide range of transitions and effects which can be added to the image slides. Users can check out the demos on WOWSlider's official webpage and see for themselves what this amazing image slider has to offer. Select a demo slide, and see how the text and images appear as per the effects added to them. If you want to change the transition styles, slide speed or even the effects added to them, it's as easy as ABC with WOWSlider.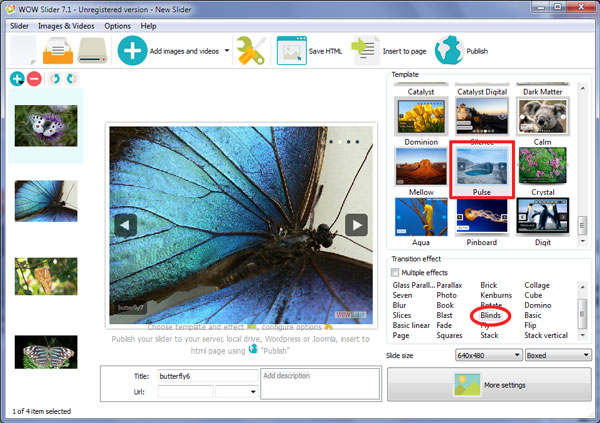 When you need something to add the WOW factor to your html slides, there isn't anything better yet available anywhere other than WOWSlider. WOWSlider is a highly customizable image slider which users can easily customize to suit their website design and its requirements. It offers easy to use features like; the navigation control (it contains thumbnails for actions required to view prev/next images, stop/play buttons, filmstrips and also bullets). WOWSlider also has features for loop play, auto play, random order play, text descriptions, controls hide/show on mouse click or movements, image size and thumbnail options, cropping mode, transition speed control, slide delay, watermark addition and much much more.