Stack Effect & Push Layout Css image gallery
The Push Stack slideshow template offers up a sharp presentation for your images, with a dramatic transition from one slide to the next and plenty of convenient controls for viewers. Visitors to your website will be transfixed by the smooth shift from image to image and they'll no doubt appreciate the ability to stop on images that capture their attention, as well as preview the rest of the slides and go directly to any one of them with nothing more than a click of the mouse.
This template has a stack transition available, wherein each new image appears to push the current one from its place of honor as it slides in from the right side of the css image gallery. The push is slow to start but as the new slide gets to the middle of the display it gives the old one a harder shove, sending the last image out of view and unveiling the remaining half of the new picture with a spectacular effect. A caption box slides in from the left side of the image with every change of a slide and disappears from sight in a fast fade just before the push from the next slide begins. The Push template uses a versatile font in its caption boxes that is easy-to-read, even on a smaller screen, making it exceptionally useful for mobile devices.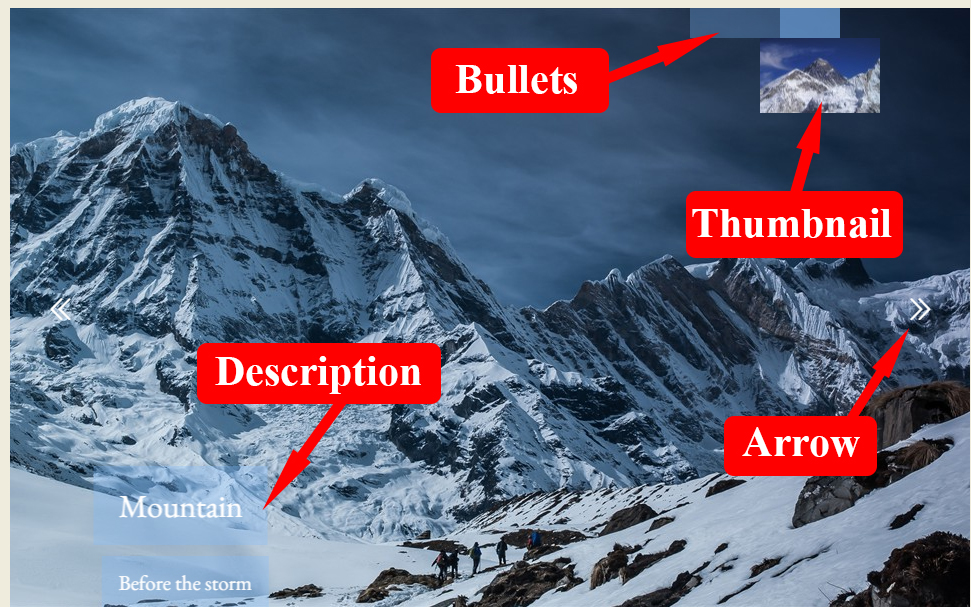 Your audience can stop on any image that captivates them, simply by hovering over the caption box, for as long as they would like to hold the slide. They also have the option of using the arrows on the right and left ends of the slider in order to peruse images that are in place either before or after the one which is currently displayed. A preview panel at the bottom of the main image allows for users to quickly locate the image that they would like to see and pull it up instantly. Placing the cursor over the preview panel buttons will bring up a small inset of the picture, while clicking on it or on the preview itself will take the viewer directly to the chosen image. The slider has a white frame with a shadow at the bottom.
You can expect the same great performance from this Push Stack template that you would from all WOWSlider slideshows. They are all made to work well on any device and they've been repeatedly tested to ensure that they are free of glitches, providing web designers with a fantastic selection of proven winners for their sites.