Stack Vertical Transition & Box Template Html5 image slider
This clean and highly-functional Box template offers a unique Vertical Stack effect so that images appear to drop down from above and dynamic caption boxes accompany every new slide. It also allows for the viewer to hold the current slide in place for longer, by simply holding the mouse over the caption for as long as they want to look at the image. Handy arrows are provided on either side of the slides for navigating forward and back as well, though users can also select from the thumbnail filmstrip images that appear below the main slide deck and click on the one that they would like to view next. Clicking on the main image will automatically send the user to the next slide in the show.
The crisp, white lettering that appears in the dual-caption boxes is in a timeless and very versatile Ledger font that stands out nicely against its dark gray background. With every image, a main title and subtitle bounce into place and give the viewer enough time to take them in before a rapid fade and slide change. This is a result of the 'Move' description effect. Meanwhile, the transitions in this skin are smooth and error-free, resulting in a finished look that is positively captivating. You can choose from a variety of other effects besides stacked vertical images, from a simple and classic carousel deck to the more dramatic bricks or photo effects. This slider has 'Auto play' option enabled, so you don't need to start it manually. That's why the play/pause button is not shown in this slideshow.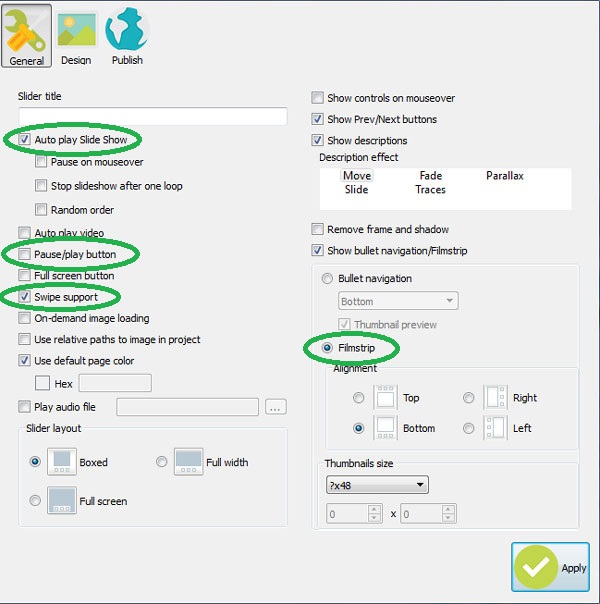 WOWSlider templates are fully compatible with all mobile devices and they meet critical web standards so that they consistently perform beautifully on virtually any machine. They have been tested on millions of pages and these themes have met the challenge at every turn. The fast, light and easy to install download makes it possible for even a novice web designer to wind up with a professional-looking website in no time at all.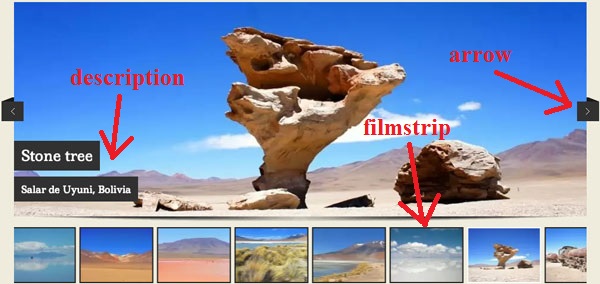 You won't need to learn code in order to use this slideshow, since the WOWSlider features a drag-n-drop maker that allows it to automatically be exported as an HTML page or a Joomla/Wordpress plugin. The Insert-to-Page Wizard means that your job is effectively done once you've selected the style and images that you want to use and told the Wizard where you want the slideshow to appear. You'll even be able to automatically publish your new slideshow to Facebook, directly from your toolbar. It's time to show the whole world just how creative you can be with this incredibly simple WOWSlider app.