Blinds Effect & Chess Style Responsive slideshow
This slider has a simple, clean and very modern design, that uses black and white.
The main slider does not have a border or frame of any kind, but does have a shadow below the slider which helps lift it up from the website background and give it some depth.

Hovering over the slider brings up two navigational arrows, one on each side. The arrow is a white arrow head on a semi-transparent black circle with a thin white border. Hovering over the arrow reduces the transparency and makes the arrow stand out more. Clicking on an arrow cycles you through the images.
There is a caption in the bottom-left corner. The main title is white text on a black rectangle that emerges directly from the edge of the slider. The main title slides into place from any direction. There is a little 'bounce' at the end of the slide, which makes the movement feel very organic and natural.
The sub-title is black text on a white rectangle, that emerges directly from the side of the slider. Again, the sub-title slides into place from any direction, with the same little 'bounce' at the end.
The font used is 'Play', a minimalistic sans-serif font with a very modern look. The use of rounded squares makes it look almost futuristic. Overall, the letters are large and open, helping the text remain very legible.
Down the right side of the slider are a series of square preview images, stacked vertically. Each one has a thick white border. When the preview image linked to the image currently on display is highlighted, the border turns black. Hovering over the preview images scrolls through them. Clicking on a preview image allows you to navigate directly to the image you want to look at.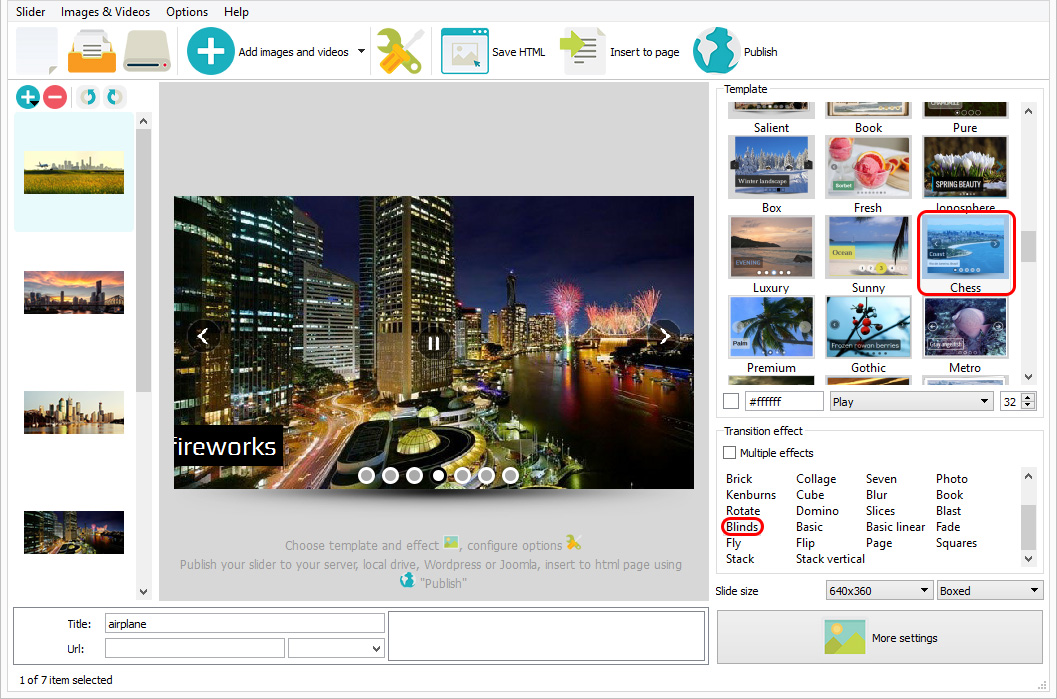 Because the preview images take up some of the width of the slider, the slider design works well for less panoramic images than many sliders.
The default change effect is called 'blinds'. This transition effect splits the image into three rectangles and each rectangle has the new image slide into place. It's a modern, almost futuristic looking transition that is very effective. Other change effects that have a similar look include 'Glass Parallax'. A more simple, but just as modern looking transition effect is 'Kenburns'.
Because of this websites clean and modern design, this slider would work well on technology websites, software companies and websites about modern architecture. It would also be a great choice for science-fiction authors and any website about outer space or future thinking.