Stack vertical Transition & Shady Skin Wordpress gallery css
This slideshow demo is clean and minimalist which makes it an appropriate choice for websites with a spare design. It also works well for webpages with a more embellished style looking to add a slider without overcrowding the page or a visitors senses. The deceptively simple design works especially well for up-and-coming industries or more traditional business looking to add a modern touch to their site.
A fresh, no-border style means that the pictures remain the center of attention at all times. The bottom border utilizes a drop shadow to give the slideshow substance and heft. As each slide drops into view from the top it replaces the previous slide, which is then pushed down towards the shadowed area below.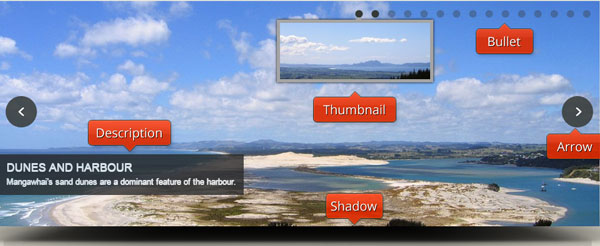 In the bottom left corner users will find a translucent grey caption box. Two sets of large, easy-to-read, sans serif text appear in the box: a large upper case header and the corresponding picture description in normal font. The only other adornment on the slider are two arrows which appear to the left and right side of a slide when the mouse hovers over it. By using the left and right arrows users can speed up the slideshow or change direction of the gallery. If a user wants to pause the slideshow they can click on a slide and hold down the mouse button. The design is intuitive and simple and allows for easy user interaction without a lot of distracting buttons getting in the way.
Adding to the clean design is the picture gallery that is included within the slideshow itself. In the upper right corner users will find a line of large grey and black dots. Each grey dot corresponds to a picture within the slideshow with a lone black dot signifying the current slide. When the mouse hovers over a dot a smaller, grey-framed picture appears floating within the large slide. Jumping to a specific picture within the slider is easy, simply click on the matching grey dot and that photo will appear on the slider.
This slider demo stretches across the website, drawing the eyes in, and allowing the pictures to speak for themselves. This is why any picture ultimately used within the slideshow needs to be of high quality. Large slides allow for website visitors to view detailed pictures and gives them an unfiltered glimpse into any business.