Squares Effect & Dark Matter Layout Free image slider
Dark matter template is used in this demo. You can see a thick doubled frame colored in black and white. This contrast looks great. Bullets are white rounds situated at the upper-right corner. It also has a black color when selected. If you want to see a next or previous image you can do it with the help of arrow buttons. They are situated on the both sides of a slider. Arrow button consists of a white round with an arrow inside it and a dark rounded frame. Pay your attention at the description. It uses a very stylish Nunito font and looks awesome on the dark transparent background.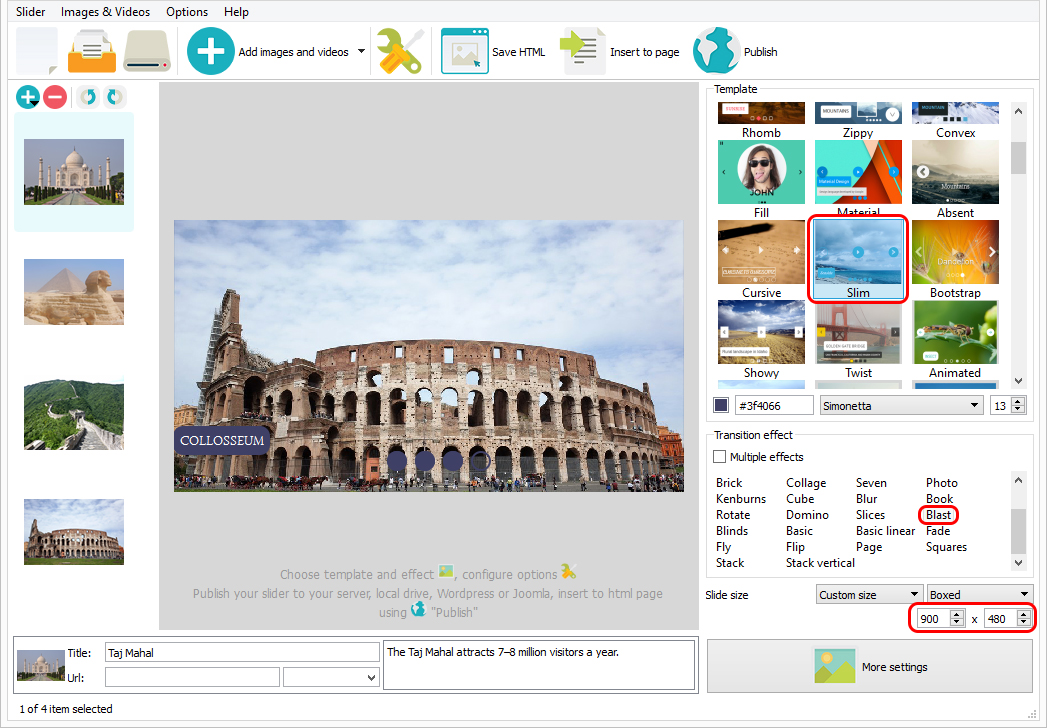 The photo transition effect is splendid. On the background you can see all the images which mix nicely. It looks like you are flipping through your photo album.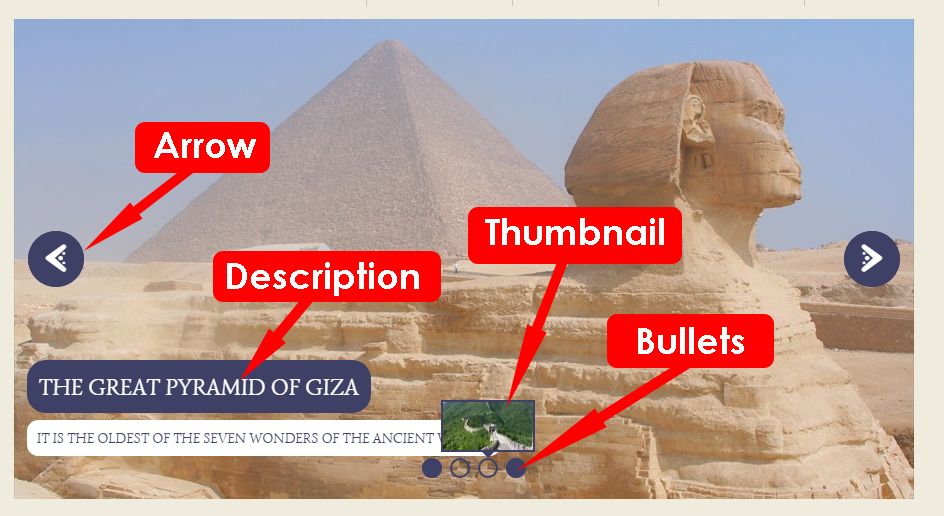 Banner sliders enhance the beauty, elegance and attraction of a website. But what is important about the WOWSlider that makes it unique and special? Our WOWSlider has a WOW factor in it. It comes with several unique features that many other jQuery sliders in the market don't offer. Here are some of the features:
1. Drag drop images - No coding experienced required. Just drag and drop images in the plug-in, and your website banner is ready to display.
2. Compatible with Wordpress and Joomla - Our plugin is compatible with the two most popular CMS.
3. Customizable - WOWSlider is extremely customizable and easy to use. You can insert/remove functions such as play/pause button, bullets/navigation, text descriptions and do a whole lot more.
4. Change color and style - You can change the color and style of text to display in our slider. These texts appear at the end of the image, making it easier for your readers to understand your image.
5. Cross-browser compatibility - Our plugin is tried and tested to work with the latest versions of modern browsers such as Safari, Chrome, Opera, IE and Firefox.
6. Touch/swipe navigation for easy use - WOWSlider is optimized to be used for smartphones and touch devices. Today is the age of mobile phones. If your site slider is not optimized for various screen sizes, you are losing your customers.
7. 38 language support - WOWSlider has support for 38 languages of the world, making it easier than ever for most webmasters to develop slider in their own language.
8. Mac & Windows support - WOWSlider is supported to be used by Windows and Macintosh.
9. Cross-browser compatibility - Our slider is compatible to work with all versions of the modern browsers such as Firefox, Chrome, Opera and Internet Explorer.
Why is it beneficial for your website?
WOWSlider is beneficial for your website, because it is SEO-optimized and ready to go live on any website. Moreover, it has the option of deleting all Java script files and simply be used as a pure CSS script, which makes it even faster to load on websites.
Which type of websites it fits best?
WOWSlider works best for websites in the following themes:
1. Real estate agents/companies
2. Professional photographers
3. Website designing/development companies
4. Media and advertising agencies
Use WOWSlider today to wow your audience. You have nothing to lose since you get this slider absolutely free of cost. Enter your name and email address and you will receive a download link for this slider.